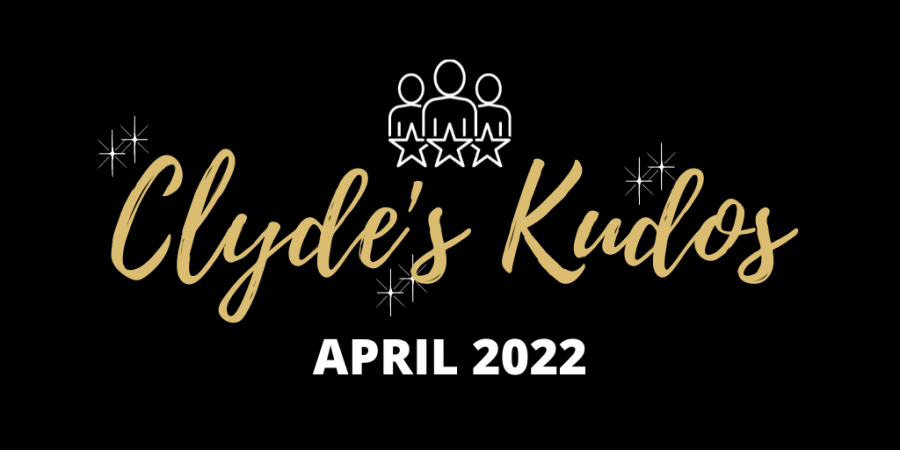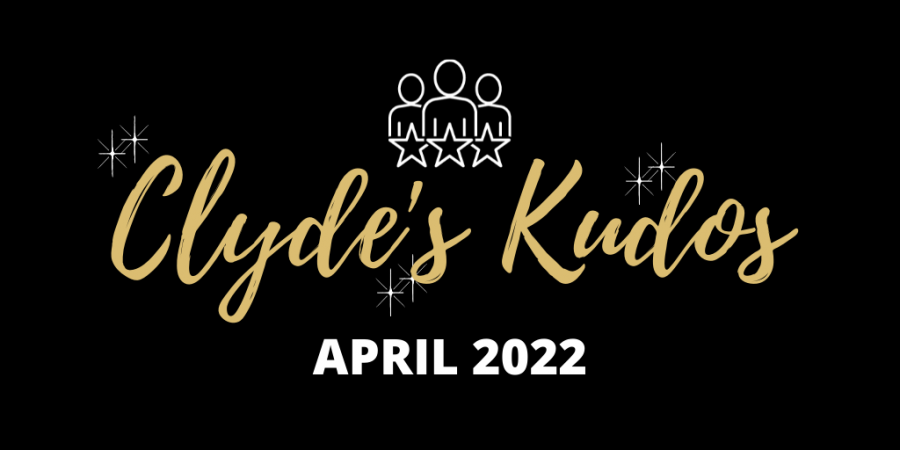 Clyde's Kudos are a Staff Association initiative celebrated each month on Communique. Nominations are also recognized through a variety of forums including the Staff Association website, the Staff Association newsletter, event shout-outs, handwritten cards and other methods of distribution.
Clyde's Kudos: April 2022
Featured this month:
Teams:
Jacqueline Bisaillon, Dining Services, Colleges & Student Support Offices | University Marketing and Communications | Wellness Center Administrative Staff
Individuals:
Amy Box | Andy Johnson | Casi Frazier & Krista Herring | Chrissie Bailey | Cindy Rupp | Danielle Wright | Danielle Wright & Kristina Coggins | Danny Pape | Dave Fehring, Marcus Graves & Damin Bowen | Eric Nissen & Kayla Gronseth Boyer | Erin Klein | Greg Williams & Mark Hilberg | Isaac Poole | Jacob Guilez | Jeff Foster, Gabby Hensley & Jenna Press | Jennifer Biga | Jennifer Newcomb | Jesse Perez | Jordan Rhodes | Kaley Espindola | Kama King | Laura Emmot | Lily Cosgrave | Lucas Ansel | Nancy Hernandez | Nicolas Windesheim | Rose Johnson
Faculty:
Corinne Harmon | Stephanie Gangemi | Terry Boult
Teams
To: Jacqueline Bisaillon, Dining Services, Colleges & Student Support Offices
From: Anon.
Jacqueline is a rockstar! Her logistics and planning are what made our Admitted Student Day a success. Much appreciation to all the Colleges for your academic sessions and student panels. Thank you also to Dining Services and the various offices who participated in the Resource Fair – Student Life and Leadership Programs, Orientation, Career Center, Army ROTC, Financial Aid, Disability Services, Academic Advising, Excel Centers, Housing and Music. With over 300 new Mountain Lions and their families in attendance, what a way to showcase our campus.
To: University Marketing and Communications
From: Joanna Bean
Thank you for providing excellent customer service to students who stop by the suite when we are away, helping them with Traditions Challenge swag, legacy cords and other programs that our office runs. You are great ambassadors for the Alumni Relations and Annual Giving team.
To: Wellness Center Administrative Staff
From: Benek Altayli
Chrissie, Vonda, Meg, Trina and Dawn are exceptionally kind, patient, helpful and compassionate to all of our students and the Wellness Staff every day. They work hard and in addition to what is in their "job duties," they regularly advocate for students and make sure no one falls through the cracks, even during our busiest days. They make the whole place run smoothly and I don't think we could keep the department going without them. I am so thankful for each and every one of them, every single day.
Individuals
To: Amy Box
From: Anon.
Amy came onboard in February in the role of Senior Program Specialist. She has hit the ground running and has already made great improvements to processes. Beyond that, her positive approach to every situation has contributed to a positive working culture and collaborative team.
To: Andy Johnson
From: Wendi Clouse
I have been on at least three search committees in as many months where Andy has been our HR Talent Acquisition contact. Andy is extremely knowledgeable about issues that come up during the search process and always provides a thoughtful response to inquiries. However, he goes above and beyond. A few weeks ago, I had a question related to a last-minute data request that was needed at the close of business and, despite being late in the day, Andy took the time to help. He is kind and professional during every interaction we have, and I want him to know that he is appreciated.
To: Casi Frazier & Krista Herring
From: Stephanie Hanenberg
Thank you both so much for all of your work on the Director of Campus Recreation search. You go above and beyond with your regular duties and are always so willing to assist with anything else that is needed which is so appreciated!
To: Chrissie Bailey
From: Stephanie Hanenberg
Thank you Chrissie for all of your work to help spread the word about wellness breaks to other departments at UCCS, as well as other campuses. Your efforts have helped others adopt practices to enhance their well-being which is greatly appreciated.
To: Cindy Rupp
From: Anon.
Thank you for your willingness to learn, absorb, and jump in wherever and whenever you can! Being new is difficult and you're doing it with such grace. You are such an asset to our college already. Thank you for being awesome!!
To: Danielle Wright
From: Lynn Vidler
Danielle went above and beyond in two recent catering events to ensure that there were Passover-friendly dining options for me and others who were observing the holiday. I can't express what it meant to feel thought-of during my celebration! This is a great example of how inclusivity matters in all aspects of the university.
To: Danielle Wright & Kristina Coggins
From: Liz Bunkers
Huge thank you to Kristina and Danielle for all their help and expertise prepping and planning for our volunteer appreciation event on April 5. They are great at offering expertise and supporting all our event needs. I enjoy collaborating with them and appreciate their friendship!
To: Danny Pape
From: Jen Furda
Danny does an INCREDIBLE job with the Career Center! He cares so deeply about our students and their futures. AND he is also a GREAT search committee chairperson!
To: Dave Fehring, Marcus Graves & Damin Bowen
From: Stephanie Hanenberg
Thank you all so much for stepping in to assist with so many additional responsibilities the past couple of months. I appreciate how willing you are to do what is needed to keep things up and running. We are lucky to have you in our department and at UCCS.
To: Eric Nissen & Kayla Gronseth Boyer
From: Janet Van Kampen
I would like to recognize Eric and Kayla for going above and beyond! While they are always available for assistance with anything and everything related to campus Marketing and eComm, I cannot say enough about what they have done for me over the last three weeks. I had a marketing "emergency" and they jumped in to assist. It was amazing! From site design, to invitations, to advertising — they helped with everything! The impact they made? I went from 0 to over 230 registrants in three weeks! Eric and Kayla genuinely care and they really "had my back." UCCS is very fortunate to have these two! And, I am beyond grateful for the work they do! Thank you so much Eric and Kayla!
To: Erin Klein
From: Brynne Thompson
On behalf of the LAS Dean's office, I would like to recognize Erin for her accomplishments during this semester. Erin joined the office and immediately began to demonstrate and utilize her managerial and professional skills as she assisted Dean Vidler and the numerous other staff in the Dean's office. It is with pleasure and honor that I share my gratitude for Erin.
To: Greg Williams & Mark Hilberg
From: OIE
Greg and Mark graciously and patiently shared their time and knowledge to help our team learn new ways with existing tools to improve efficiency in workflow and tracking processes. Thank you!
To: Isaac Poole
From: Anon.
Isaac has always been cheerful and makes it fun to be in the office! Aside from always being friendly towards colleagues and students, he is always more than happy to help other with projects, or speak about his experiences. Thanks for always being an awesome teammate Isaac!
To: Jacob Guilez
From: Liz Bunkers
A huge thank you to Jacob for working off hours to take photos at our volunteer event on April 5. Jacob is a wonderful collaborator, photographer, volunteer, and person. We are lucky to have him, thanks Jacob!
To: Jeff Foster, Gabby Hensley & Jenna Press
From: Nick Lockwood
So grateful for the support, enthusiasm, and professionalism of this group and their assistance with the UCCS Guide and Calendar. I appreciate our collaborative relationship and your willingness to provide assistance with the printing, editing and development of this piece. Thank you!
To: Jennifer Biga
From: Marshall Ferguson
Thank you Jennifer for all your student stipend processing guidance!
To: Jennifer Newcomb
From: Noelle Abbott
Jennifer has gracefully and effectively taken on many additional duties as the College of Education continues to undergo a large period of transition. Her dedication, care and discerning efforts to support the Student Resource Office and academic departments do not go unnoticed. Thank you Jennifer!
To: Jesse Perez
From: Anon.
Jesse has gone above and beyond this year participating on and leading so many committees! His support has been so valuable and his commitment to DEI in every role has led to growth for the individuals he interacts with and the university as a whole.
To: Jordan Rhodes
From: Laura Emmot
Jordan provides excellent customer service and her warm, welcoming demeanor toward everyone creates an inclusive culture. Thank you, Jordan!
To: Kaley Espindola
From: Laura Emmot
Kaley is a rockstar! She balances a heavy workload and addresses tough issues in a professional, caring manner. She is a tremendous asset to UCCS!
To: Kama King
From: Michael Sanderson
Kama King went above and beyond recently to meet with researchers and undergraduate students on a Saturday to discuss human subjects research and the role of the Institutional Review Board (IRB) on campus.

Thanks, Kama, for always taking the time to lead the way and always being a positive resource for campus.
To: Laura Emmot
From: Ann Amicucci
Thank you to Laura for your all of your expertise and for your kindness. I appreciate that you are always willing to help and to answer questions when someone is navigating a new situation. We are so lucky to have you as a campus leader!
To: Lily Cosgrave
From: Brynne Thompson
Lily has seamlessly and quietly taken on more responsibilities over the past two semesters in the LAS Dean's office to make certain that the LAS Dean's office continues to operate as smoothly as possible. Lily shows composure and professionalism as she takes on the tasks of the everyday demands of the office. Thank you Lily.
To: Lucas Ansel
From: Colleen Stiles
Lucas is our TA for Technical Writing, Presentations, and Proposals. He is excellent in supporting students, and last week stayed over an hour late to help another student who was struggling. Lucas graduates this semester and we will miss him.
To: Nancy Hernandez
From: Joanna Bean
A big thank you for her act of kindness, in picking up the name badge I dropped at a campus event, and letting me know she had it.
To: Nicolas Windesheim
From: Colleen Stiles
Nic is always supporting the Bachelor of Innovation lab. He finds cameras for students, google Chromebooks, speakers, etc. For the last three years, he has been the go-to guy for assistance and help. He works in the VAST lab and shares his knowledge with students and faculty alike.
To: Rose Johnson
From: Ann Amicucci
Rose enabled the English Department to roll out proactive advising of our majors, and thanks to her, faculty and students will be able to connect in new ways. She organized a list of all our majors by their areas of focus and divided the list across faculty, matching students' areas of focus with our areas of expertise so we could reach out to support students as they register for Fall classes. We couldn't do this work without Rose, and I am grateful to her!
Faculty
Please note that while submitted faculty kudos will be published, Clyde's Kudos is a staff recognition program.
To: Corinne Harmon
From: Colleen Stiles
Corinne is a great teaching partner. When I experienced the death of my parents, just three months apart, Corinne stepped up and supported me, carried a load, and made it manageable for me. Thank you!
To: Stephanie Gangemi
From: Robyn Colbert
I am a new guest lecturer to the School of Public Affairs (Social Work department) for this semester and she was great with support and assistance whenever I needed or requested it. She spent several planning days with me prior to the semester getting started and made the onboarding transition very smooth and comfortable. She has also provided that second look and input from another professional when I needed it and it was great to get another perspective (lens) on discussing students' work and talking about how to improve upon this course for next time. You can say…'well, this is what she is supposed to do' and I would agree but she went above and beyond for me and it was greatly appreciated and valued. Sometimes, the everyday tasks and assistance does not get recognized and I would like for her to be recognized for this as some just take it for granted or do not put in the extra effort to go the extra mile like she did for me. For that, I am most grateful.
To: Terry Boult
From: Colleen Stiles
Terry provided a listening ear when I was so frustrated. Terry Boult always puts students first, education first, and supports his fellow faculty. I am grateful for the opportunity to work with him the last 13 years.
Want to celebrate your staff colleagues? Submit kudos anytime through the Staff Association website. Communique publishes Clyde's Kudos on the first business day of each month.