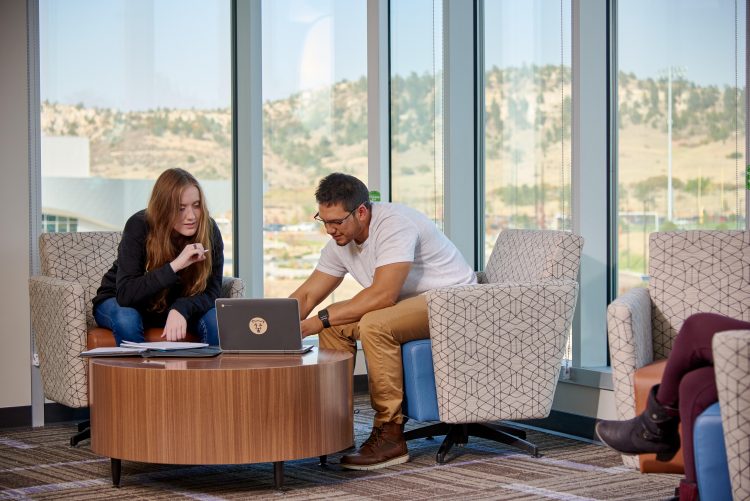 The UCCS Ethics Bowl team placed 31st at the 2022 National Intercollegiate Ethics Bowl Competition. The team advanced after winning fourth place in the regional competition, earning the final spot for nationals for the region. Over 150 teams from more than 120 schools competed in the various regional competitions.
"A lot of folks never make it out of their region, so the fact that we did was pretty exciting," said Jennifer Kling, the faculty advisor for the Ethics Bowl club.
This is only the third year UCCS has had an Ethics Bowl program, and the first time the team has gone to nationals. It was also the first year of Ethics Bowl club for all four team members: Mike Acevedo, Foster Shay, Brandon Ward and Amber Woodside.
"It's completely on the students' own time, which I think makes it even more impressive that our students did so well this year," said Kling. "Many of the teams that make it to nationals have Ethics Bowl as an official class instead of a club. Our team was homegrown, doing it on their own time in addition to all of their studies, so I'm even prouder. It shows that really great ethical thought and discussion can come from anywhere. We don't have to wait on the Harvards of the world — we can do it too."
This year's team put in the work, meeting twice a week for two hours at a time to prep for the competition.
"I am incredibly proud to have placed nationally in the Ethics Bowl, especially because this is the first time our team ever participated in a debate-style competition," said Mike Acevedo, team captain. "My favorite part of being on the Ethics Bowl team is the connections that I have made with outstanding, hard-working peers. As a result of my involvement with the club, I am a stronger orator, and feel like I have made progress in my personal quest of discovering the truth of 'the good.'"
Ethics Bowl teams get judged not on how well they debate, but how well they take into account all the ethical issues in play, how well they respond constructively to the other team, how well they pay attention to objections that people who disagree with them might have, and how well they handle those objections, explained Kling. Then, once the debate is over, they get judged on how well they can answer judges' questions.
"One of the biggest benefits of Ethics Bowl is that it teaches you how to have deep discussions that are aimed at solving a problem, rather than scoring debate points," said Kling. "It encourages real ethical reflection and constructive discussion about what to do when we're faced with these really tough real-world cases."
Teams receive a packet of 16 cases to prepare ahead of the competition, containing factual information and the pros and cons of each case. Topics this year included the environmental impact of lawns and if individuals have a moral obligation to switch to something more environmentally friendly, whether private museums have an obligation to return stolen historical artifacts to their original countries, and a question surrounding law enforcement agencies' use of facial recognition software, to name just a few.
At this year's competition, the UCCS team was also the second runner-up for the Spirit of the Ethics Bowl award, which is a recognition voted on by the participants themselves. The designation demonstrates that, in the eyes of the other teams competing, the UCCS group embodied what Ethics Bowl is supposed to be about — real, honest, nuanced conversations about difficult ethical cases that are appreciative of the difficulties involved.
"It matters how you compete, as well as how you finish," Kling said. "Clearly, the other participants saw that our team was doing it right, doing the competition how it was supposed to be done."
Kling is excited to be offering an Ethics Bowl class for the fall 2022 semester, which will be called 3010: Ethics in Action and fulfills the oral requirement in the College of Letters, Arts & Sciences. Next year, Kling hopes to take two teams to the regional competition, and hopefully build up a team over time and give students more opportunities to hone their skills.
Ultimately, the goal is for students to take the skills they've learned with Ethics Bowl and apply them to their everyday lives.
"Imagine if we had more people in businesses, in power, in political spaces, being able to say, 'hold on a minute, I can see why someone would disagree with me,'" Kling said. "It's about how we take folks who are coming from different spaces and try to come up with something that everyone can at least see the value in. What Ethics Bowl teaches, if nothing else, is how people can stop pounding their fists and start making their case, and that's the best thing about it."