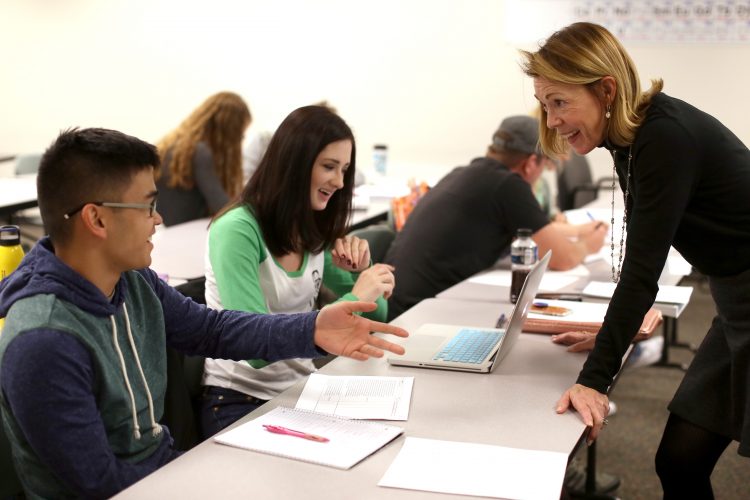 Patty Witkowsky, Assistant Professor in the Department of Leadership, Research, and Foundations, is now serving as the Director of the UCCS Global Intercultural Research Center (GLINT). Witkowsky was a founding member of the GLINT executive board and has been supporting the center since its inception in 2014.
"There's so much movement these days, especially in higher education with our international students, and our goal is to help students become world citizens," Witkowsky said. "We want to make sure they're knowledgeable about current issues, as well as historical contexts, as they think about what's happening in their local sphere. Supporting faculty in their intercultural and international research efforts is the main way that GLINT can promote the development of global citizens."
Also on the GLINT executive board are Stephen Suh, Assistant Professor of Sociology; Peter Gorder, Associate Professor in the Department of Mechanical and Aerospace Engineering; Deborah Kenny, a professor of Nursing; and Kate Angulski, Assistant Professor from the School of Public Affairs.
"We really strive to have representation of faculty engaged in intercultural and international research from the various schools and colleges across campus," Witkowsky said. "It's important for the internationalization of our campus and encourages people from all different disciplines to engage with our resources and activities."
GLINT's resources include grants for faculty, awarded each spring, and a series of three talks each semester. This year, GLINT is also offering a student research grant.
"We've been successful with our faculty grants in terms of productions and publications, and there's been a really nice connection between the financial support we've been able to provide through the grants process to faculty's published scholarship," said Witkowsky, "so that's been a really tangible outcome of GLINT."
Examples of international-based research GLINT has supported through funding and highlighting research through the GLINT Talk Series include topics ranging from water use and migration among Indigenous groups in Northwest Bangladesh to culinary entrepreneurship among 1.5- and 2nd-generation Korean Americans. Grants can be applied to any area, Witkowsky says, including biological, educational, sociological and artistic – and the list goes on.
In the future, Witkowsky hopes to offer a professional development opportunity to teach faculty how to internationalize their curriculum, so students can get exposed to international and intercultural topics without having to leave the campus.
This spring's semester talks, which are delivered via YouTube, will be held on the following dates:
Thursday, Feb. 10 from 1-2 p.m.
Dr. Julie Torres: "Somos Orlando" (We are Orlando): The Intersections of Mass Violence
Tuesday, March 29 from 12-1 p.m.
Dr. Nick Tapia-Fuselier: Naming and Disrupting Whiteness in Education Policy and Practice Research
Thursday, April 14 from 12-1 p.m.
Dr. Esther Lamidi and Dr. Sudhanshu Semwal: Title TBD
Learn more at glint.uccs.edu.