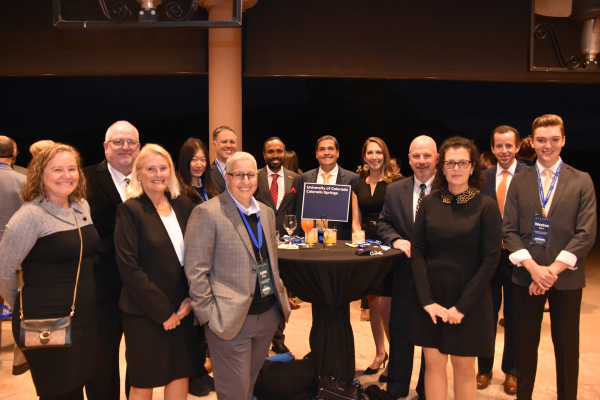 Focused on the topic of "Accelerating Ethics in the New Workplace," a UCCS delegation comprised of four students, four faculty members and four business members attended the annual Daniels Fund Ethics Initiative Collegiate Program Summit on Nov. 2–3 in Santa Ana Pueblo, New Mexico.
All participating Daniels Fund Ethics Initiative Collegiate Programs were in attendance and participated in supplemental workshops and small group discussions.
The annual summit provides an immersive and up-to-date educational opportunity that demonstrates the importance of principle-based ethics. Summit attendees are exposed to direct interaction and conversation among other participants that includes small group discussions, panels, and a series of keynote presentations.
"We especially appreciated the businesspeople sharing their experiences of ethics while responding to the emergence of COVID-19," said Tracy Gonzalez-Padron, Director of the Daniels Fund Ethics Initiative Collegiate Program at UCCS College of Business. "Each member of the UCCS group left the summit with a commitment to continue conversations on ethics at UCCS and their place of business." 
The Daniels Fund Ethics Initiative at the UCCS College of Business selected their summit representatives by identifying key leaders in ethics from both UCCS and the community. The 12 participants, joined by Dean Karen Markel and Dr. Tracy Gonzalez-Padron included:
Students
Weston Buhr – first-year Business, with double emphasis in Marketing/Administration
Cameryn Fox – senior, Business Administration
Steve Jacobs – graduate student, MBA
Terri Johnson Akse – doctoral student, Executive Doctoral in Business Administration, Cybersecurity Management
Faculty
Benjamin Kwitek – Director of Innovation
Todd Edres – Instructor, Human Resources
Jin Peng – Assistant Professor, Finance
Lynn Vidler – Dean, Letters, Arts & Sciences and Professor, Spanish Languages & Cultures
Business
Jagadeesan Ponnambalam – IT Director, Takasago International Corporation
Robert Bussey – Owner, Vurohege LLC
Marjorie Noleen – Marketing & Growth Director, Stockman Kast Ryan + Company
Zachary Barker – Executive Director, Startup Support Center
Over the course of two days, attendees listened to a series of keynote presentations, panels and small-group discussions designed to promote ethical business conduct in the workforce. Business leaders were a primary focus of the event, encouraging and facilitating conversation to supply students with examples from a real-world professional environment.
"It can be more challenging nowadays to stick to the basic ethical principles when more work is done online, more virtual technologies are adopted, and more people are working from home," Peng said. "But as long as we seek a way to build a solid foundation of trust, integrity, respect, fairness, dedication and devotion, outcomes are often better than expected when we hold hands together."
The Summit included a kick-off dinner with keynote speaker Peter Anderson, Chief Ethics & Compliance Officer with the Carnival Corporation. The following day, participants listened to several keynotes from business leaders Kevin Johnson, CEO of Starbucks; Carrie Freeman, Managing Partner at SecondMuse; and Dale Dekker, founder of Dekker/Perich/Sabatini. The business panelists consisted of Kevin Jameson, Federal Sales Manager at Google; Monica Jojola, President at Montech; and Paul Mondragon, President of Bank of America New Mexico.
"The DFEI Summit 2021 reinforced the idea that principles, not policies, are critical for ethical models," said Robert Bussey. "Starting with integrity as the foundational principle and bedrock of character and having a proper mindset with reflective oversight increases the probability of having a successful ethical program."
The Summit was sponsored by the Daniels Fund Ethics Initiative Collegiate Program, the University of New Mexico and New Mexico State University.
About the Daniels Fund Ethics Initiative Collegiate Program at UCCS College of Business
The Daniels Fund Ethics Initiative Collegiate Program at UCCS College of Business is a resource for principle-based ethics education, serving students, educators and business community. The UCCS College of Business is one of eight original participating schools in the Daniels Fund Ethics Initiative Collegiate Program that now includes twelve participating schools. The DFEI supports the Southern Colorado Education Consortium (SCEC) for nine higher education institutions in the southern half of the state. In 2016, the DFEI Collegiate Program at UCCS launched an ethics champion pilot program to expand best practices in ethics education. Each participating school has educators serving as Ethics Champions on their campus to expand principle-based ethics education and resources throughout southern Colorado. The program has since expanded to include a large variety of events and programs for educators, students and business members throughout southern Colorado. Find more information online.
About the UCCS College of Business
The UCCS College of Business was established in 1965 and has more than 1,300 undergraduates and 350 MBA students. The College of Business and Administration awards the Bachelor of Science in Business and Bachelor of Innovation degrees. The Graduate School of Business Administration awards the Master of Business Administration, Master of Science in Accounting and Executive Doctor of Business Administration degrees. More than 10,000 alumni of the College of Business live and work around the world. For more information, visit business.uccs.edu.