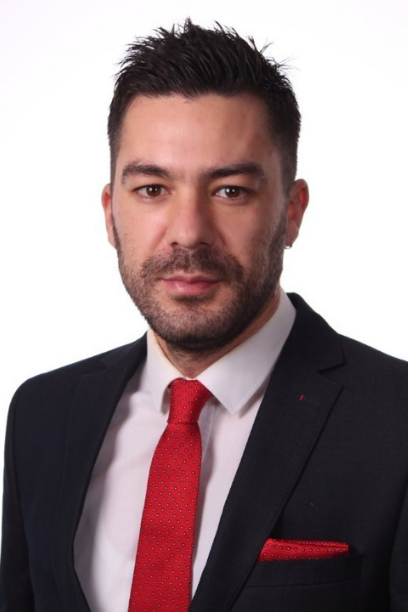 As a leading cybersecurity education institution, the University of Colorado Colorado Springs aims to fuel success in the critical fields of cybersecurity workforce development, faculty research and strategic partnerships with cybersecurity entities.
That reputation is one element that drew Krenar Këpuska, a visiting Fulbright scholar, to UCCS.
Këpuska, a cybersecurity lecturer for AAB College in Pristina, Kosovo, recently completed an extended visit to UCCS as part of the Fulbright Visiting Scholar Program. The program is administered through the U.S. Department of State in partnership with the U.S. Embassy in Kosovo. The Fulbright Program aims to strengthen intercultural ties between Americans and citizens from other nations through exchanging people, knowledge and skills.
During his time at UCCS, Këpuska conducted research on vulnerability scanning and penetration testing, specifically in higher education web applications. To share more, we asked him to answer eight questions about his research, his time at UCCS and the future of his work in cybersecurity.
Q: What were you researching at UCCS?
A: During my research at UCCS, I improved my skills in vulnerability scanning and penetration testing, specifically in higher education web applications. I also analyzed best practices, standards, and frameworks to protect from different cybersecurity threats, including risk analysis and the importance of cybersecurity policies.
Q: Had you been to the United States prior to coming to UCCS?
A: I had never been to the United States before. It was my first trip to the United States as well as my first time attending the University of Colorado Colorado Springs. It lived up to my expectations with a lovely environment and wonderful people.
Q: What were your academic goals for your time at UCCS?
A: My academic goals were to use UCCS resources and digital libraries, to participate in various workshops, and see how they educate and then compare my experience with theirs. At the conclusion of my internship, I planned to publish one scientific publication. I also wanted to look for ways to enhance our collaboration between Kosovo and the United States of America in a variety of fields, particularly academics.
Q: What was the most valuable part of your education at UCCS?
A: I attended many lectures, and each one was quite beneficial to me in terms of expanding my knowledge. Meeting professionals, researchers and students helped me address a variety of cybersecurity topics. I received a lot of support from a few instructors to work on other projects in the future. Conducting scientific study was one of my favorite parts. I'd like to express my gratitude to Jugal Kalita, Chair of the Department of Computer Science in the College of Engineering and Applied Science, for his assistance throughout my internship at UCCS.
Q: What was most surprising to you about UCCS and/or Colorado Springs?
A: I wasn't expecting the campus to be as large as it was. It was a massive complex with several departments. The weather in Colorado Springs was also fascinating. I sometimes got the impression that Colorado had four seasons in one day.
Q: What was your favorite part of your experience?
A: Hiking, especially in Manitou and the Red Rock Canyon.
Q: What was the most challenging part of your experience?
A: Perhaps relocating from one location to another. Many of the locations/institutions were rather far apart.
Q: Will you be coming back to UCCS in the future?
A: UCCS will always be one of my favorite places. I have wonderful friends and coworkers there. We'll also be working on some future cybersecurity initiatives with some of the instructors there.
Këpuska is currently finishing his research in Rochester, New York, where he plans to complete his Ph.D. in December. In the future, he plans to find a job in the cybersecurity industry and move from Pristina to New York City.
About the College of Engineering and Applied Science at UCCS
The College of Engineering and Applied Science enrolls more than 1,700 students and offers 23 engineering and computer science degrees ranging from bachelor's to doctoral. The college is a Department of Homeland Security and National Security Agency Center of Academic Excellence in Cyber Defense and works closely with the National Cybersecurity Center and with more than 250 aerospace and defense, information technology, cybersecurity and engineering organizations in the Pikes Peak region.
About Cybersecurity at UCCS
UCCS is a recognized cybersecurity education leader in the region, awarding hundreds of degrees each year in cybersecurity fields at bachelor's, master's and doctoral levels. UCCS cybersecurity programs train security professionals who work to ensure the nation's security, support faculty research and strategic cybersecurity partnerships with industry, government, military and academic institutions, including the U.S. Space Force and the National Cybersecurity Center.  Due to generous Colorado state funding of cybersecurity education, UCCS students are eligible for significant financial aid towards security degree scholarships. Learn more about Cybersecurity Programs at UCCS.
Fulbright Scholar Opportunities at UCCS
The Fulbright Visiting Scholar Program provides grants to approximately 850 foreign scholars from over 100 countries to conduct post-doctoral research at U.S. institutions from an academic semester to a full academic year. In addition, the Fulbright U.S. Scholar Program offers more than 400 different opportunities to teach, research and conduct professional projects in over 135 countries. Opportunities are available for higher education faculty and administrators as well as for professionals outside of academia, artists, journalists, scientists, and independent scholars.
Faculty, staff and students interested in learning more about Fulbright awards should contact Mandy Hansen in the Office of International Affairs.