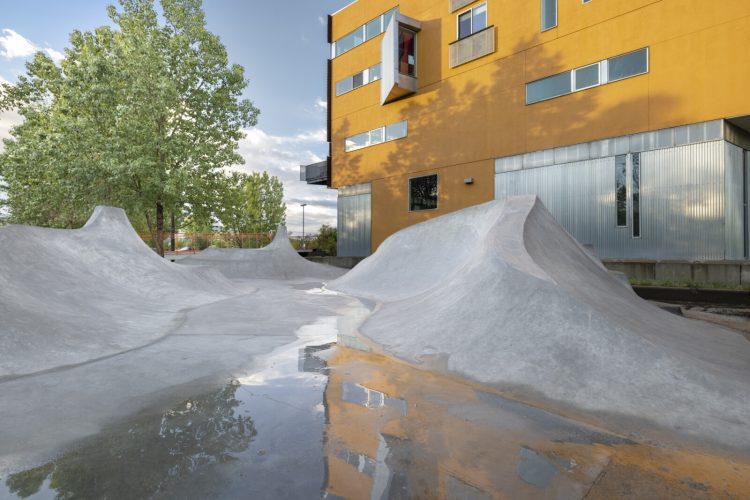 Form and function. Play and structure. When skateboarder, artist, and UCCS Associate Professor of Visual Art Matt Barton speaks about his Community Forms project, he often points to the battle of balancing such ideas to create an installation that's valuable both functionally and artistically.
"I had the idea of doing some public artwork using concrete fabrication methods similar to skate parks, but I was thinking about approaching those methods more naturally and thinking about forms that would invite gathering spaces," Barton said.
In late 2020, Barton teamed up with Black Cube, a nonprofit art museum in Denver, to design a public art installation that would attract more than visual admiration. It would also inspire interaction.
"A lot of public space doesn't seem inviting for people to actually gather. Sometimes it seems like it's deliberately designed to discourage it."
While Barton worked through the early stages of development with Black Cube, the Federal Emergency Management Agency (FEMA) put out a call for submissions for its first ever arts and mitigation grant. The grant would be awarded to projects that called attention to flood water mitigation.
Hoping that the grant could help fulfill their ambition for the Community Forms project, Barton and Black Cube decided to expand on the idea of an interactive gathering space and incorporate a flood mitigation feature. FEMA selected their proposal, and work began to scout a site in Globeville, a Denver neighborhood lined by the South Platte River and a FEMA-designated floodplain.
It wasn't long before they found the TAXI campus, a mixed-use development that houses apartment complexes and small businesses in the Globeville neighborhood.
"This place had a big roof with a downspout that was spewing water into an asphalt parking area against a curb, and it wasn't going anywhere. All this water would come down there, and it had turned into basically a lake. The site was perfect," Barton said.
While Black Cube worked with FEMA, Barton was let loose to focus on the design of the installation. He had three main considerations.
First, he wanted to be sure the project would divert water through the forms so that they wouldn't trap or pool water. Where the water had been pooling, they would perform a curb cut and build a small spillway into an existing ditch that safely drains into the South Platte River.
Second, he wanted to create a work that was artistically satisfying. "I wanted it to visually work as art — in the composition of the forms, how they're laid out, how they work together visually and how they invite social gathering," Barton said.
Finally, he wanted to find the balance between a "found" skate spot — spaces not designed for use by skateboarders — and a skate park that's specifically designed for skateboarding meanuevers. "There are already incredible skate park companies building great skate parks," Barton noted, "so I didn't want to add another skate feature area, especially something that I'm viewing as a sort of sculpture garden installation."
The Community Forms project officially opened on May 22, 2021. The quirky, smooth-surfaced, western-landscape-inspired installation has been a success, depending on who you ask, said Barton.
"The feedback from the community, and the skateboard community, has been mixed. It's not everybody's cup of tea, but a lot of people have said this is one of the most fun places because it's so unique," said Barton.
"It's so different from a lot of parks. It makes people laugh, and that's good. It's about inviting people to assess the space and creatively interact with it and inviting them to play. It's an interesting place to find the balance between all of those design factors, and I love that. I think it's a fun thing."
Matt Barton is an Associate Professor of Visual Art and the Co-Director of the Visual Art Program at UCCS. Learn more about Barton online. Find more details on the Community Forms project on the Black Cube website.
See photos of the Community Forms site below.