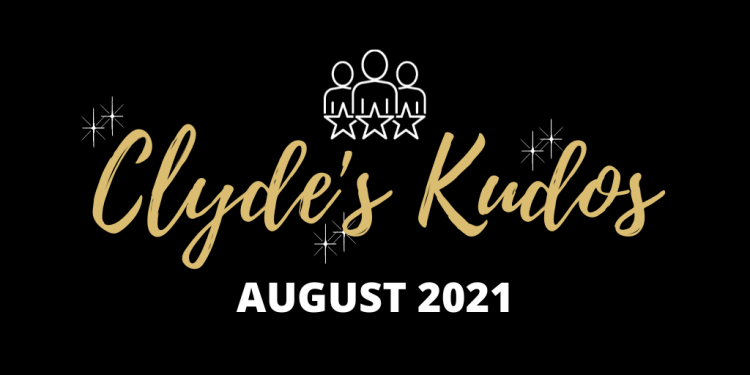 Clyde's Kudos are celebrated each month on Communique. Nominations are also recognized through a variety of forums including the Staff Association website, the Staff Association newsletter, event shout-outs, handwritten cards and other methods of distribution.
Clyde's Kudos: August 2021
Featured this month:
Teams:
Academic Advising Staff | Campus Recreation | Dining and Hospitality Services | Disability Services | Ent Center for the Arts Auxiliary Operations Team | Financial Aid, Student Employment & Scholarships Staff | Marc Pino, Michael Pasque, Deborah O'Connor, Laura Emmot, Lisa Buckman, Ida Dilwood, Ryan Achor, Kimberly Reeves, Caitlin Lowans & CU Benefits | Provost Office Staff | Stephanie Hanenberg, Missy Sernatinger, Ellen Burkhart, Melissa Prinkey, Molly Kinne, Amanda Allee, Alex Baker, Sarah Harring, Lisa Potoka, Kim Guyer & Brad Bayer | Student Life & Campus Partners | University Center Event Services Staff | Wellness Center Health Services & Front Desk | Wellness Center Mental Health Services
Individuals:
Alex Baker | Alexandria Schwartz | Amy Box | Angela Brubaker | Cara Galletta | Charlie Kuehler | Chuck Litchfield | Eduardo Diaz De Ramon | Elissa Stobaugh | Elizabeth Isringhausen | Heath Wagner | Heather Marx and Mallory Tuhkanen | Jacqui Gatlin | Jeff Foster, Crayton Daniel, Jacob Guilez & Jina Fagerburg | Jenifer Furda | Jennifer Biga | Jeremy Tole | Jonathon Graves | Kayla Gronseth Boyer | Kimberly Reeves | Kristina Coggins | Lindsey Duthrie | Liz Bunkers | Liz Quintana | Lynnette Galletta | Marcus Graves | Meghan Stidd | Missy Sernatinger | Nicole Tugg | Polly Knutson | Rashell McCann | Ray Fisco, Laura Emmot, Sarah Harring & Lisa Potoka | Sarah Long | Shelly Raney | Stacey Grose | Stephanie Adams | TJ Peck | Tom Dewar
Teams
To: Academic Advising Staff
From: Academic Advising Lead Team
Since returning to campus on August 2, the team in Academic Advising has shown incredible adaptability and team work to ensure great service to students. Thank you for assisting with training our new team members and for your willingness to step up to support your colleagues in those "all hands on deck" moments. We are fortunate to have such a strong and committed team and appreciate you all.
To: Campus Recreation
From: Stephanie Hanenberg
Campus Recreation staff hosted an amazing Rec Fest to welcome our students back to campus. The energy at the event was palpable thanks to their hard work and commitment to keeping our students engaged at a time when many have felt isolated for months. Students need this type of support now more than ever so we are truly lucky to have this team on campus!
To: Dining and Hospitality Services
From: Gabby Hensley
You have all been doing a wonderful job! I've been to a couple of your events at the Ent Center and everything has been superb! Not only did the food look fabulous, but it tasted great! I keep dreaming about the bacon wrapped bacon. Also, watching you guys work the lunches at Gateway Days was very impressive even with having limited staff.
To: Disability Services
From: Stephanie Hanenberg
Disability Services staff continue to assist students with accommodation requests and do so in a manner that makes students feel supported and cared for. They help navigate what measures will help students be most successful and educate the campus community on their roles in that process. We are lucky to have such a valuable resource on campus.
To: Ent Center for the Arts Auxiliary Operations Team
From: Sabrina Wienholtz
Kudos to Dillon Cordray, Matthew Parrilla, Beth Cecere, Chris Doiron and Phillip Gallegos. The Arts are booming at UCCS, and the team of individuals who support logistics for all auxiliary areas of the Ent Center for the Arts have done incredible things with the resources at hand. Through incredible staff turnover, this dedicated group of individuals keeps moving forward. I personally appreciate the solution focus and practical perspective that each and every one of these individuals bring with them to work every day.
To: Financial Aid, Student Employment, and Scholarships staff
From: Jevita Rogers
This office always works hard to get students their eligible funding as quickly as possible. This year, being short-staffed was tough, however, the staff both full-time and our student employees went above and beyond to meet those same goals doing more with less and yet still getting students taken care of as quickly as possible. HUGE thanks to all for all their hard work and dedication to our mission
To: Marc Pino, Michael Pasque, Deborah O'Connor, Laura Emmot, Lisa Buckman, Ida Dilwood, Ryan Achor, Kimberly Reeves, Caitlin Lowans and CU Benefits (Rebecca Derr and Marita Vieth)
From: Robynne Kiplinger Dahl
I want to thank you all for doing awesome presentations at the New Faculty/Employee Orientation that happened in person on the 18th! It was great seeing everyone!
To: Provost Office Staff
From: Kelli Klebe
Two of the three staff are new and the Provost is new. I'd like to thank the team for their positive attitude, working together to learn how office works, restructuring both the work duties and our physical space to accommodate everyone. Looking forward to continue working with this team.
To: Stephanie Hanenberg, Missy Sernatinger, Ellen Burkhart, Melissa Prinkey, Molly Kinne, Amanda Allee, Alex Baker, Sarah Harring, Lisa Potoka, Kim Guyer & Brad Bayer
From: Robin Margolin and all the DHS Managers
Thank you all for helping DHS at The Lodge and Roaring Fork. Your time spent helps our students to feel welcomed and taken care of; especially for their first few meals away from home.
To: Student Life & Campus Partners
From: Brad Bayer
Congratulations to the Student Life Team and all the campus partners for a very successful Clyde's Kickoff Week! Student attendance numbers for the week of events (over 5,400 student IDs scanned) exceeded student attendance totals from the Fall 2019 Clyde's Kickoff Week (pre-COVID). Thanks to everyone involved for providing such fun and engaging in-person events for our students.
To: University Center Event Services Staff
From: Stephen Cucchiara
The UC Event Services staff have been incredible in making Clyde's Kickoff and Disorientation Week activities come to life! We appreciate your 1-1 support, willingness to help at events, and overall dedication toward our students. Thank you for all that you have done and what you continue to do!
To: Wellness Center Health Services & Front Desk
From: Stephanie Hanenberg
The Wellness Center Health Services and front office team have outdone themselves working countless hours to get housing student immunization records and testing completed. Once again they have proven what an asset they are to our students and campus!
To: Wellness Center Mental Health Services
From: Stephanie Hanenberg
The Wellness Center Mental Health Services team continues to provide valuable support to students at a time when many are learning how to transition back to the campus setting during ongoing difficulties. The dedicated staff are working diligently to minimize an already growing wait list so that our students can be as successful as possible which is greatly appreciated.
Individuals
To: Alex Baker
From: Anon.
For going above and beyond in his support of Dining!
To: Alexandria Schwartz
From: Michaela
She stepped up to help train three new staff members in the Office of Admissions this month (August) while managing her own busy schedule filled with student appointments, walk-ins and the chaos of making sure students are good to go from an admissions standpoint just as the new semester is starting!
To: Amy Box
From: Jessica George
Amy is an integral part of the Pre-Collegiate Development Program, working mostly behind the scenes to help us complete our mission of serving area middle school and high school students. I wanted to give Amy a shout-out for helping manage the finer details of student employee hiring and managing as we enter the new school year. Thanks Amy!
To: Angela Brubaker
From: Anon.
Angela does so much for the C-CAP Team that it would be impossible to name it all. She is constantly helping various members of the team and no matter what she has going on, you can always count on her for assistance. She goes beyond her own job role to offer support to both students and colleagues, and she does it with a positive attitude! She definitely lives the values of the College of Business every day.
To: Cara Galletta
From: Tiyana Hardney Vela
Cara works in IT web services and recently helped me with website changes. She was responsive, friendly, and all parties were pleased with the final updates she made to the site. Thank you Cara for your work!
To: Charlie Kuehler
From: Pop Quiz hot shot!
Charlie has been remarkable with the amount of time he has dedicated to Student Life, specifically assisting in the onboarding of new staff, financial support, and overall guidance. Just this morning, he swooped into the SLL and invited pro-staff to coffee. An amazing human he is!
To: Chuck Litchfield
From: VCAF Staff
It's said that leadership is not about a title or a designation, but rather about impact, influence and inspiration. This is what Chuck's people say about him:

"Thanks for being a leader we can look up to and count on – one who has our back!"

"Thanks for your leadership through COVID, we are lucky to have you!"

"Thanks for modeling the definition of steady and unflappable and for projecting the sense that even when things aren't alright, they'd be ultimately alright."

"Chuck is one to lead by example and shows respect, empathy, and care for those who surround him. Thanks for your leadership."

"Chuck cares about each individual as much as the team, university, and mission. We are truly fortunate to have such a professional, steady, and positive leader for VCAF and UCCS!"

"Chuck is a caring, thoughtful, professional, and supportive leader that I personally strive to be like. He is a huge asset to UCCS and has provided consistent leadership during the most challenging COVID times."

"Chuck is the man!"

"Chuck always listens to his teams and makes us feel included!"

"Chuck is one of the most ethical, noble and virtuous people I have ever worked with. He inspires those around him to be better. We are so very lucky to have him at UCCS. He is the light on the darkest days!"
To: Chuck Litchfield
From: Robynne Kiplinger Dahl
For rocking it at the first New Faculty/Employee Orientation that was in person since February 2020! You did a wonderful job at welcoming the new faculty and staff! Thank you so very much!!
To: Eduardo Diaz De Ramon
From: Michaela
Eddie has been a major help in training my two fellow new staff members and I in the Office of Admissions during our first month! He has taken on difficult tasks that require patience and time in order to resolve — and has taught us how to handle them as well. He has provided us with so much valuable information and training on top of his already busy load of student appointments and walk ins!
To: Elissa Stobaugh
From: Robin Margolin
As the DHS Supply Chain Manager, Elissa does so much more than order and receive food. She is helps our residential students in quarantine due to COVID by calling each one individually to ensure they get the food they need. Her mind for logistics and knowledge of the food service industry has helped DHS serve our students in a time where staffing is short and the hours are long. Elissa has a knack for finding resources to help the department serve our students. A million thanks are not enough!
To: Elizabeth Isringhausen
From: Robynne Kiplinger Dahl
For an awesome job helping with scheduling the room and catering for New Faculty/Employee Orientation! It is always a pleasure working with her and looking forward to more great experiences now that we are back to mostly in person meetings!
To: Elizabeth Isringhausen
From: Stephanie Adams
In the past year, COVID19 has impacted Event Services at an unprecedented level. Wait… is unprecedented still a buzz word in 2021? LOL In that time Elizabeth joined the UCCS team and has led and served our campus with grace and adaptability. She is a kind, detail oriented person who makes a great impact on our campus. Thank you Elizabeth for your Rock Star work over the pandemic. You have been a lighthouse for me in the storm of 2020/2021 events, so to speak. Keep up the great work and know that all your campus customers appreciate you.
To: Elizabeth Isringhausen
From: Robin Margolin
Elizabeth was tasked as the single event coordinator in Event Services, while the new staff was being trained. It is a Herculean task. DHS appreciates her good humor, efforts and hard work.
To: Heath Wagner
From: Robin Margolin
Heath has gone out of his way to ensure our residential students get the best possible dining experience, given a severe staffing shortage in the hospitality industry. He comes to work everyday committed to UCCS and our students, faculty and staff. Despite long hours and lots of puzzles to solve in DHS, he continues to serve on campus wide committees. Thank you for all you do!
To: Heather Marx & Mallory Tuhkanen
From: Stephen Cucchiara
Congratulations Heather and Mallory on starting your new positions in Student Life. You both have been Rockstar's in your first month between Clyde's Kickoff and DisOrientation Week activities. I am so proud, and beyond privileged to have you as a part of the Student Life Team!
To: Jacqui Gatlin
From: Student Financial Services
What can we even begin to say about Jacqui? She is great leader and a true friend to many at UCCS. She has brought about so many incredibly positive and impactful changes to our office and this campus that we couldn't even begin to describe them here. And, after 15 years in the Bursar's office, she is leaving for bigger (though not necessarily better, in our opinion) things and will be the Bursar for CU Denver & Anschutz. We are going to miss having her as a leader and mentor, and we know UCCS will feel this loss for a long time. Congratulations on your big move, Jacqui, we are all so proud of you!
To: Jeff Foster, Crayton Daniel, Jacob Guilez & Jina Fagerburg
From: Gabby Hensley
It has been so much fun to work with you on photographing the different events around campus this month! I'm so excited about the amount, variety and quality of the photos that were taken. You guys are AMAZING!
To: Jenifer Furda
From: Joanna Bean
A big thanks to Jen Furda for collaborating with the UCCS Alumni Relations and Annual Giving office to create great volunteer opportunities for alumni and friends. For the city's 150th birthday celebration parade on July 31, we were able to have a group of alums walk with the UCCS bus (float) and hand out UCCS goodies. It was a wonderful opportunity for UCCS alumni.
To: Jennifer Biga
From: Anon.
Jennifer has worked extremely hard with the start of the semester to make sure things run smoothly and student employees are hired in a timely fashion. This is one of our offices busiest times and she has put in a ton of work and dedication to make sure things get done.
To: Jeremy Tole
From: Robin Margolin
Jeremy normally works as the manager in the campus' gastropub Clyde's in the UC. Jeremy has stepped in to work as a residential chef in the Roaring Fork. The hours have been long, the work has been hard. Jeremy shows dedication to our students by ensuring they get great quality and variety of food at Roaring Fork. No doubt he will be ready to return to Clyde's as soon as it is ready to open!
To: Jonathon Graves
From: Robin Margolin
Jonathon traditionally works in the UC as the campus retail manager. Due to staffing shortages, Jonathon has taken over as a residential dining manager while preparing to get staffed up to open our retail operations. He always exhibits a calm demeanor, no matter what chaos ensues. His ability to be flexible and cool under pressure is greatly appreciated!
To: Kayla Gronseth Boyer
From: Stephanie Adams
I dont know if I have every given Kayla a Kudos, but she deserves MANY! She helped me launch my E-comm newsletter in 2020. She works with me monthly to make that send a success. She is responsive to my Cvent questions and always has good ideas and workarounds for things when I am having E-comm/Cvent challenges. When I Teams chat her mid-day, she gives me realistic expectations of when she can assist me. She takes pride in her work on the E-comm team and does a great job. Thank you for all your support Kayla and the work you do behind the screen to make UCCS Downtown look GREAT!
To: Kimberly Reeves
From: Jen Furda
Kimberly was INVALUABLE during the Cities 150th Celebration and tree challenge. UCCS planted 150 trees and Kimberly helped get the volunteers, organize the day and pick up the trees. She was GREAT!
To: Kristina Coggins
From: Anon.
Huge kudos to Kristina Coggins for organizing the Playfair Parade, and for all of the UCCS faculty and staff who showed up to cheer on our first-year students!
To: Lindsey Duthrie
From: Morgan Shahan
I am new to UCCS and to the Colorado Springs area, and Lindsey has helped me feel at home here. She's always available to answer my many questions about academic advising, life in the Springs, and the various tech tools we use in Advising. Lindsey also goes the extra mile to check in with me on a regular basis to make sure that I am settling in to my role as an advisor and the rhythm of campus life. She drove me around town when my car broke down, and brought me a cake pop after a tough day at work. Each day at work, Lindsey treats everyone with the same kindness, consideration, and thoughtfulness.

In addition, Lindsey has worked hard both as an Academic Advisor and outside of UCCS as a holistic mindset coach to support those around her, whether they are students, friends, or coworkers. Her knowledge of wellness practices and her commitment to the wellbeing of others is inspiring to see. Lindsey is an incredible advisor and a stellar colleague.
To: Liz Bunkers
From: Tiyana Hardney Vela
Liz has done an incredible job spearheading the alumni and friends volunteer efforts. She communicates the value of volunteering and ensures folks have the resources needed to have successful volunteer interactions. I enjoy the Advancement team updates she provides regarding volunteer opportunities. Thank you for all of your wonderful work Liz!
To: Liz Quintana
From: Anabell Sintas
I have a million things that I can say about how fantastic Liz is! Liz is caring, helpful, courteous, and always delivers packages little and super large and never complains. Liz takes the time to say hello to every person that she encounters on her way to making her deliveries. Liz is such and asset to the university because she ensures that parcels are in tip top shape and she ensures that anything that can be recycled is disposed. If you no longer have a use for it, she will find it a new home. Liz is just an amazing person and I truly enjoy her smiles and the kindness that she brings to the office.
To: Lynnette Galletta
From: Cody Ensanian
The commitment, flexibility, and communication from Lynnette has been integral to the success of the new UC Career Center construction project. This has been a complex project with a lot of moving pieces and Lynnette has done an amazing job managing things. She's made things easier for everyone involved. Thank you Lynnette!
To: Marcus Graves
From: Anon.
Marcus started with Campus Recreation in July and has jumped right in and helped our department out in many ways. He has greatly assisted us in getting our Aquatics Center ready for reopening from the pump room to interviewing for student lifeguards. Marcus dove right in with his position and often been the first to volunteer to help in his first two months here. His enthusiasm is very much appreciated and our department is lucky to have him!
To: Meghan Stidd
From: Stephanie Adams
Meghan is everywhere in the business community. She works tirelessly for her college, her students and her team. Whatever comes her way, she handles with grace and calm pragmatism. Even clients have commented on her calming, can-do attitude. She is a joy to work with and UCCS is so lucky to have her. Thanks for all you do Meghan. The GPS Downtown tour was a heavy lift in August. The community work you do and the work you do for Executive Education clients is amazing. Keep up the stellar work.
To: Missy Sernatinger
From: Stephanie Hanenberg
Missy went above and beyond to support the Wellness Center staff with housing move-in and testing. Her dedication to making it as smooth of a process as possible is beyond appreciated!
To: Nicole Tugg
From: Stephanie Adams
Nicole has been planning the Civic Series for Alumni with UCCS Downtown this summer. We're great partners and I appreciate her so much. We've had 2 events in the series so far and both were productive and impactful. Planning programming in the time of COVID-19 is not for the faint of heart. Nicole is responsive to event partners, keeps attendees safe and informed and most importantly welcomes diverse voices to the table. Keep up the great work Nicole and I'm excited to see where this series goes this fall and into 2022.
To: Polly Knutson
From: Robin Margolin
Polly stepped up to cover the duties of managing the Catering Department without hesitation. She sets the example for students and other staff members by projecting a positive attitude and willingness to face the unknown. There are not enough thank yous in this world to express the appreciation she deserves. Polly is a team player and does whatever it takes (WIT) to get the job done.
To: Rashell McCann
From: Anon.
They have taken on student success challenges with the CCAP grant awarded in the College of Business. This includes academic program support, financial aid administration and the admission process.
To: Ray Fisco, Laura Emmot, Sarah Harring & Lisa Potoka
From: Amanda Allee
For your great #SmartMoveUCCS presentation. And extra special thanks to Ray for all his work on the development and logistics.
To: Sarah Long
From: Stephanie Adams
I've gotten to work with Sarah more in 2020/2021 with Staff Association. She is a kind and empowering voice for staff. I also recently signed on to teach a GPS class this fall. Throughout the planning and prep for the semester and Gateway Days, Sarah has been wonderful. She is prompt in answering questions and providing examples. She is supportive of new ideas and crazy last minute clarifications. Thanks for all your support and encouragement Sarah. The GPS team did a great job getting many back in the classroom for Fall 2021. Keep up the great work, I know there are so many moving parts and demands. Campus is proud of you all!
To: Shelly Raney
From: Robynne
I wanted to give a shout out to my awesome co-worker! She is always professional and wonderful to work with! She rocks every day and did an awesome job with the Fall payroll and everything she does!
To: Shelly Raney
From: Sarah Long
Shelly has been absolutely amazing in the process of helping me maneuver faculty contracts. Whenever I have a question she is on it and provides not only a detailed step by step process on how to do it correctly but does so in a way that makes me feel empowered and knowledgeable. She is kind and is always willing to help out. I know HR is overworked and understaffed, but I think Shelly does an AMAZING job and I am so grateful to have her as part of the UCCS team. Thank you, Shelly.
To: Stacey Grose
From: Sharon Stevens
Thank you, Stacey, for all your hard work, creativity, and dedication to the Faculty Resource Center's programs and events — and so much more. I am so lucky to have such an amazing colleague to work with as we conquer event planning during these times! Thank you, Stacey, for all that you do.
To: Stephanie Adams
From: Joanna Bean
Stephanie Adams is such a strong supporter of UCCS alumni relations work (and an alumna herself), and a great collaborator. She and Nicole Tugg created our newest engagement opportunity for alumni, with a civic dialogue series, featuring deans and faculty and hosted at UCCS Downtown and virtually. We kicked this off in July, and it continues through the fall. Thanks Stephanie!
To: Stephanie Adams
From: Ellen Burkart
We hosted our staff retreat at UCCS Downtown and Stephanie was amazing to work with. She greeted us when we arrived. Help us to get connected to the A/V system, gave us a little tour, and was so kind to make sure we had everything that we needed for our retreat. Stephanie treated my whole team as if we were all VIPs! Thank you for everything you did to make us feel welcomed and comfortable.
To: TJ Peck
From: Marcus Graves
Tj has done an amazing job assisting new staff coming on board within the Campus Recreation Department. This includes going above and beyond with training his new supervisor (me). All while doing it during the busiest time of the year for him, he was still able to successfully plan Rec Fest, GPS Days, and enter in all the fall semester room reservations for the campus recreation department.
To: TJ Peck
From: Anon.
TJ has been taking on additional responsibilities around Campus Rec for many month and has been helping us tremendously as we transition several new staff members in. The student staff really rely on TJ for information and guidance. He has been very active in helping our basic operations, our programs, and activities be so successful as we've started this chaotic fall 2021 semester. He is a great team member and his hard work and great attitude is appreciated!
To: Tom Dewar
From: Anon.
Tom deserves kudos for many things he contributes to on campus, but this one is for his amazing work in support of UCCS, cyber and engineering capital initiatives. Woohoo!
Want to celebrate your colleagues? Submit kudos anytime through the Staff Association website. Communique publishes Clyde's Kudos on the first business day of each month.