O'Neil's transformational gift to enable extraordinary opportunities for students and community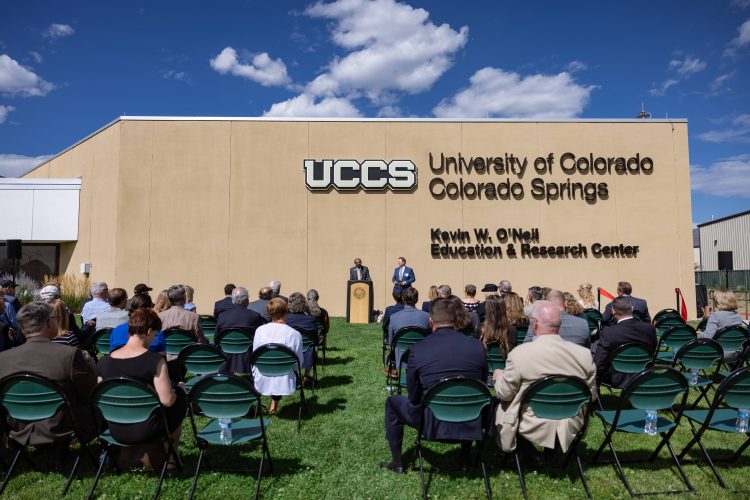 The University of Colorado Colorado Springs today unveiled the Kevin W. O'Neil Cybersecurity Education and Research Center, made possible by the landmark $3 million gift of alumnus, philanthropist, entrepreneur and Colorado Springs native Kevin O'Neil.
O'Neil's gift cements UCCS' status as a top cybersecurity education leader in the Pikes Peak Region and expands the university's reach into cybersecurity research while creating research and development opportunities across the aerospace and cyber ecosystems. The transformational gift builds the foundation for future expansion that will influence the workforce plus research and development in southern Colorado and also creates new partnership opportunities among military, industry and educational entities.
O'Neil was honored at an outdoor naming ceremony at the Cybersecurity Education and Research Center at 3650 North Nevada Avenue (just south of UCCS' main campus), where distinguished guests included University of Colorado President Todd Saliman and UCCS Chancellor Venkat Reddy.
"My time at UCCS played an important part in the business success I have experienced, so it's important to me to give back and support the next generation of entrepreneurs and innovators," said O'Neil, a 1989 graduate of UCCS' College of Business. "This gift will also cement the partnership between UCCS and the Catalyst Campus in support of the national security partners we both work with. UCCS has been integral to the growing national recognition of Colorado Springs as a cyber hub and I am pleased to be a part of their growth in cyber research and development."
UCCS cybersecurity programs have trained security professionals who work to ensure our nation's security. Expert faculty have obtained federal cybersecurity research grants and shared their research results, and developed techniques, systems and tools with the broader cybersecurity community. UCCS has also formed strategic cybersecurity partnerships across campus — with industry, government, military, academic institutions and the National Cybersecurity Center.
Cybersecurity education originated at UCCS in the College of Engineering and Applied Science with a goal of ensuring today's graduates will be equipped to tackle tomorrow's technical cybersecurity challenges and secure the nation against cyber threats. The College of Business is leading UCCS' efforts in the non-technical applications of cybersecurity education, along with all UCCS colleges that recognize the diversity of global cybersecurity implications and impacts. Cybersecurity opportunities at UCCS include programs for industry certificates, bachelor's, master's, and Ph.D. degrees.
"Since the beginning of his career, Kevin has paired a passion for science and technology with a commitment to positive change for our region," said UCCS Chancellor Venkat Reddy. "Kevin has always had a heart for UCCS and for Colorado Springs, and he is committed to seeing our region thrive. We are grateful that he is continuing this legacy with a transformational gift."
Determined to see the Pikes Peak region thrive, O'Neil says he is passionate about creating investments that will have a real-life, long-term impact on the region. In 2015, he launched the Catalyst Campus in downtown Colorado Springs. The Campus has created a space for small businesses, entrepreneurs and venture capitalists to intersect with the aerospace and defense industry. The Catalyst Campus has generated over 1,200 jobs and over $270 million dollars in local economic impact — not to mention innovation, workforce development and business growth. As the former chairman of Braxton Science and Technology Group, the company experienced 12 years of growth, seven successful acquisitions, grew to six hundred employees and experienced 25x revenue growth prior to its sale in 2020 for $300 million.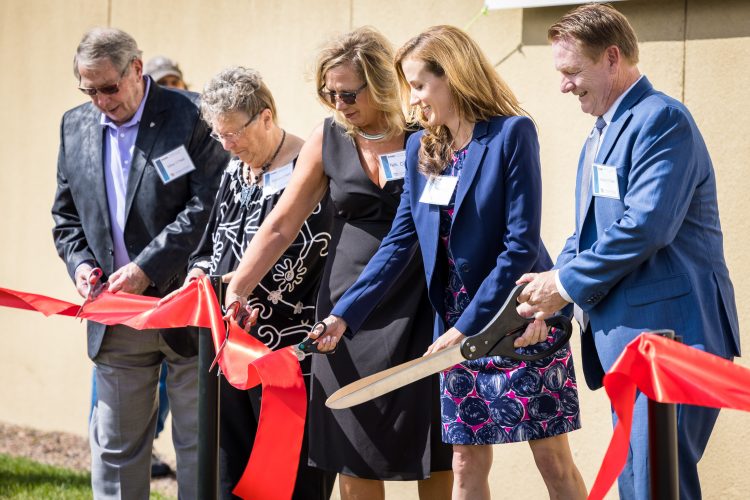 About the University of Colorado Colorado Springs
The University of Colorado Colorado Springs (UCCS) offers 55 bachelor's, 24 master's and eight doctoral degree programs and enrolls about 12,000 students annually. Located in the heart of Colorado Springs, UCCS has a strong student focus and access mission, with a goal of transforming lives for the better. Learn more about UCCS at uccs.edu.
About Cybersecurity at UCCS
UCCS is a recognized cybersecurity education leader in the region, awarding hundreds of degrees each year in cybersecurity fields at bachelor's, master's and doctoral levels. UCCS cybersecurity programs train security professionals who work to ensure the nation's security, support faculty research and strategic cybersecurity partnerships with industry, government, military and academic institutions, including the U.S. Space Force and the National Cybersecurity Center.  Due to generous Colorado state funding of cybersecurity education, UCCS students are eligible for significant financial aid towards security degree scholarships. Learn more about Cybersecurity Programs at UCCS.