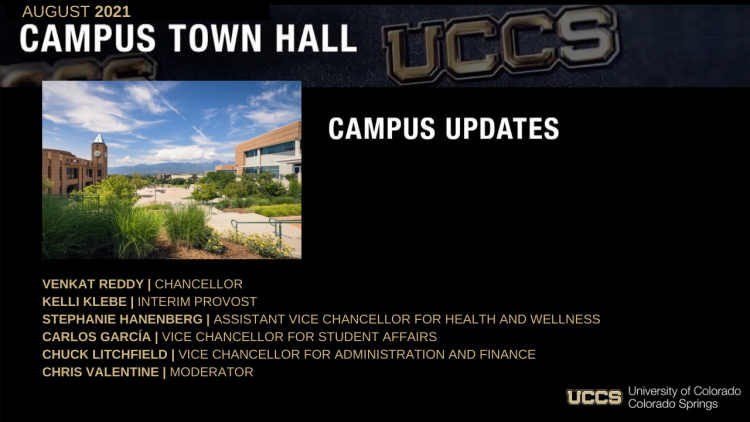 In the opening virtual Town Hall of the fall 2021 semester, Chancellor Venkat Reddy and a panel of campus leaders presented updates on UCCS' vaccine attestation process, plans for the fall semester and more.
Chancellor Reddy opened the Town Hall with key takeaways, including updates on the university population's strong vaccination rate, an enrollment and budget update and a welcome to new campus leadership.
Kelli Klebe, Interim Provost, and Stephanie Hanenberg, Assistant Vice Chancellor for Health and Wellness, also presented updates on academic affairs and COVID-19 precautions for the fall semester. The Town Hall then opened for a Q&A with campus experts.
Take a look at the key takeaways below.
Vaccine attestation process
UCCS' vaccine attestation is showing strong vaccination rates among students, faculty and staff. Of the 82 percent of faculty and staff who have responded to the attestation thus far, 92 percent are fully immunized. Learn more >>
The student vaccine attestation shows that 75 percent of student respondents are fully immunized, with an additional five percent planning to complete their immunization by the end of the month. This is significant news for campus, as an 80 percent vaccination rate will help UCCS to achieve herd immunity. Learn more >>
County data backs up the self-reported student attestation results, showing that more than 77 percent of UCCS' in-state student population will have received the vaccine by the end of August. A similar trend is anticipated for out-of-state students. Learn more >>
Students, faculty and staff are no longer required to complete a daily health check when spending time on campus, but visitors are required to do so. They should not visit campus if they are experiencing symptoms. Learn more >>
Delta variant precautions
Because of reported breakthrough Delta variant infections among fully vaccinated individuals, the Centers for Disease Control and Protection have recommended that both unvaccinated and vaccinated individuals wear masks when they are indoors. This led UCCS to reinstate its face covering executive directive on Aug. 9. Learn more >>
Face coverings are required for all individuals spending time in campus buildings. Some flexibility is allowable in classroom environments when appropriate distancing is maintained. Learn more >>
UCCS is prepared with accommodations for hearing-impaired instructors and will provide clear face coverings to facilitate lip reading. Any faculty or staff member in need of COVID-related accommodations should work with the Department of Human Resources, and students should contact the Office of Disability Services. Learn more >>
A number of COVID-19 precautions will remain in place around campus, including Plexiglass barriers, campus signage and more. Learn more >>
The majority of UCCS buildings comply with maximum MERV filtration standards. Plans are in place to activate additional indoor air filtration for the fall semester. Learn more >>
The Wellness Center will continue to provide contact tracing for any cases related to campus and on-campus housing. Learn more >>
Unvaccinated students living in on-campus housing will undergo routine testing for COVID-19, provided for free through the Wellness Center. Any student who experiences COVID-19 symptoms may schedule a test through the Wellness Center. Learn more >>
Unvaccinated students will be required to quarantine for 10 days after exposure to COVID-19. Vaccinated individuals who are exposed should receive a COVID-19 test three to five days after exposure and wear a mask when in public until they receive a negative test. Any student who contracts COVID-19 must isolate for 10 days. Learn more >>
UCCS community members still waiting to receive a vaccine are urged to contact their physician's office or the Wellness Center to schedule their vaccination. Learn more >>
Fall semester considerations
Faculty are strongly encouraged to keep the course modalities they selected for the fall semester. Faculty with outstanding cases may work with the chair of their department or the dean of their college. Learn more >>
Faculty are encouraged to create a seating chart for in-person classes, or be able to submit attendance records, in the case that the Wellness Center conducts contact tracing for the class. Learn more >>
Official language will be made available to faculty members wishing to include the face covering executive directive in their syllabi. Learn more >>
Strong vaccination rates and low infection incidence both on campus and in El Paso County are the main criteria required to lift the campus-wide face covering executive directive. Learn more >>
Finances
Emergency scholarship funds are always available to students who receive financial aid through their UCCS portals. In addition to these funds, students may apply for COVID-19-related emergency relief in mid-September. Learn more >>
While UCCS' incoming first-year class is showing strong enrollment, enrollment is down for other cohorts. UCCS has budgeted for a 2.8 percent enrollment drop. Learn more >>
Leadership updates
The search committees for UCCS' new Provost and Vice Chancellor for Diversity, Equity and Inclusion aim to bring finalist candidates to campus in November and October, respectively.
Mandy Hull has joined UCCS as the university's Managing Legal Counsel. Laura Emmot has been named Director of Institutional Equity and Title IX Coordinator.
Shared governance at UCCS has welcomed new leaders: David Moon, Faculty Assembly President; Sarah Long, Staff Association President; and Emily Gregory, president of the Student Government Association.
At the CU System level, Todd Saliman is serving in the role of Interim President of the University of Colorado system. The national search for the next president will proceed once the Board of Regents have finalized the search process this fall.
"This month, I am celebrating 30 years at UCCS," Chancellor Reddy remarked at the close of the Town Hall. "It has been the journey of a lifetime to stand before you today and serve as your Chancellor. It is truly a privilege to serve such an outstanding group of faculty, staff and students."
"Over the past three decades, I have seen us achieve what we set our minds to because we are all in this work together. I want to thank you for your hard work and dedication to the mission of the university. I call on you to stand united. Together, we will make it through one of the most extraordinary events of our lifetimes."
Members of the UCCS community may submit additional questions and fill out a survey response to the event.