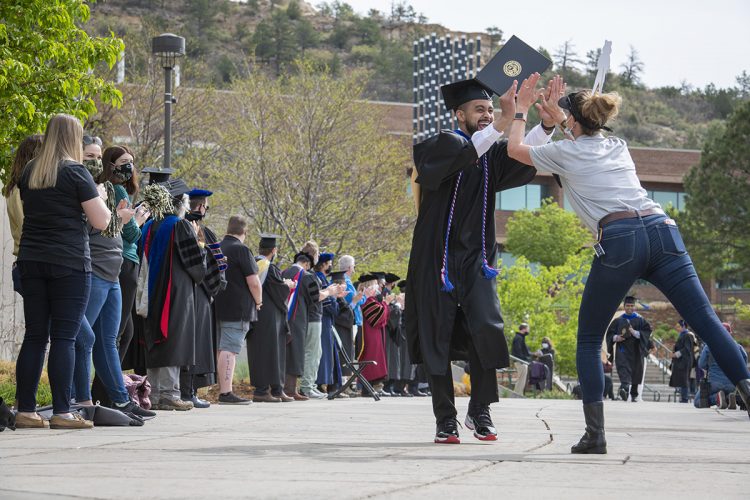 Faculty and staff cheered, students walked and photographers snapped thousands of pictures at the 2021 Picture on the Plaza celebration, and now those photos are all available to participants in the event.
After hundreds of students participated, photographers both from UCCS and GradImages edited and compiled photos into galleries for participants to peruse. Please find the individual galleries and instructions on how to interact with them below. Read on for reactions from graduates to the spring ceremonies.
---
Professional (Paid) Photos by GradImages: These images were taken as graduates walked down the pedestrian spine, with the final paid opportunity in front of the mountain lion statue.

ACCESS: Photo proofs have been sent to graduates. If you need to contact GradImages for further access, please contact them at (800) 261-2576, online at www.gradimages.com, or email

[email protected]

.
UCCS (Free) Headshot: This photo opportunity took place after graduates departed the mountain lion and features each graduate in front of the UCCS clocktower.

ACCESS: The portrait photos we are making available are high-resolution images, and we grant personal usage rights to the person pictured. To search the portrait photo gallery, you can scroll through images, or filter by college: http://photography.uccs.edu/spring2021portraits/
UCCS (Free) Event Photos: Graduates may find themselves featured in our general event photos, and UCCS will make those photos available for their use. These photos were taken by a team of UCCS photographers across the entire event.
---
Students react to Picture on the Plaza, commencement, their time at UCCS and more
The spring 2021 graduating class was historic, not just for its size, but also due to the circumstances the graduates endured.
More than 1,600 graduates, the largest spring graduating class in UCCS history, earned their degrees, and did so while persevering through the COVID-19 pandemic.
To celebrate their accomplishments, UCCS conducted both a virtual commencement ceremony, but also the first-ever Picture on the Plaza event.
Read on for quotes from our graduates and proud UCCS alums.
I appreciate all of the help from the faculty and staff at UCCS. You have made this experience memorable.

UCCS spring graduate
I'm the first person on either side of my family to attend and graduate college!

UCCS spring graduate
My time at UCCS was short-lived but has truly been a wonderful experience. I am grateful for everyone I met along the way and am looking forward to the future and utilizing what UCCS has prepared me for.

UCCS spring graduate
I love UCCS! I can't wait to apply for grad school.

UCCS spring graduate
Thank you for all the great moments, UCCS. A special thanks to everyone from the Wellness Center. They were always there for me every time I needed them.

UCCS spring graduate
Thank you for all the great moments, UCCS. A special thanks to everyone from the Wellness Center. They were always there for me every time I needed them.

UCCS spring graduate
UCCS has been incredible and I feel blessed to have been part of the Mountain Lion family.

UCCS spring graduate
I am a first generation student. First to graduate high school, undergraduate, and the first one in my family to have a graduate level degree.

UCCS spring graduate
As a first-generation college student, I am proud to become a UCCS graduate!

UCCS spring graduate
Thank you for the concern and effort toward making this special through these stressful times. #UCCSProud

UCCS spring graduate
I had some of the greatest math professors I could have asked for. UCCS was a great school to further my education and I thank everyone involved.

UCCS spring graduate
As an international student, I really appreciate your help. I hope that many international students can enter UCCS and graduate from now on.

UCCS spring graduate
Even though the pandemic has caused quite a bit of stress for my last year attending UCCS, I thank you all for trying to make the best of the situation by doing small things to show your appreciation for us, as students and as people who share in mutual suffering during this time.

UCCS spring graduate
Thank you for allowing me to get my BA through such a versatile and efficient program that set me up for success in my career field!

UCCS spring graduate
I am very grateful for all of the support UCCS has provided me throughout my journey here at UCCS!

UCCS spring graduate
Thank you UCCS for an amazing college experience. I look forward being a part of the UCCS Alumni and paying it forward.

UCCS spring graduate
Thank you UCCS for an amazing college experience. I look forward to being a part of the UCCS Alumni and paying it forward.

UCCS spring graduate
Thanks for a great time! Excited to be done but will miss UCCS! Thanks for doing this.

UCCS spring graduate
First-generation student and my experience at CU Denver and UCCS has been a blessing. Thank you for all the staff and professors for this blessing.

UCCS spring graduate
UCCS has been the most incredible experience of my life, and I'm very fortunate to have gone here and met the people that I have, who have become my best friends.

UCCS spring graduate
After finishing my undergrad here in '06 and being out of school for so long it was scary to come back for grad school, but there isn't another place in the world that I would've wanted to do it. Go Mountain Lions!!

UCCS spring graduate
After finishing my undergrad here in '06 and being out of school for so long it was scary to come back for grad school, but there isn't another place in the world that I would've wanted to do it. Go Mountain Lions!!

UCCS spring graduate
My time in this school, and specifically the School of Public Affairs has been amazing and a great time in my life while also greatly increasing my knowledge in my degree field. The teachers are amazing and it is with their help that the pandemic and everything going on in the world did not delay my graduation. I am so excited to become an alum and start the next chapter of my life after graduation.

UCCS spring graduate
I am so thankful I got to go to UCCS and got to have my college experience here! Thanks for all the fun!

UCCS spring graduate
I had an excellent experience with UCCS, even through a pandemic! Shoutout to the VAPA staff and faculty, they made this time in my life rich and full of life and taught me more about art than ever before.

UCCS spring graduate
I'm just thankful to have completed something I've so desperately wanted to achieve. Education and philosophy are my passion, and I've taken a solid first step in the direction of showing that care and dedication to those around me.

UCCS spring graduate
I will be a proud UCCS Teach graduate! I have been a non-traditional student and a first generation college student and now I am getting to work in the field I'm passionate about.

UCCS spring graduate
I did the whole MBA program online and it was a great experience!

UCCS spring graduate
I did the whole MBA program online and it was a great experience!

UCCS spring graduate
It has been amazing to be a student at UCCS. I am very grateful for all the experience and knowledge I have gained during my time at this institution. I am a proud Mountain Lion!

UCCS spring graduate
It has been amazing to be a student at UCCS. I am very grateful for all the experience and knowledge I have gained during my time at this institution. I am a proud Mountain Lion!

UCCS spring graduate
I have had an amazing graduate experience at UCCS; the faculty and course offerings are outstanding.

UCCS spring graduate
I have had an amazing graduate experience at UCCS; the faculty and course offerings are outstanding.

UCCS spring graduate
I am also the first in my family to not only graduate high school but obtain my college degree and I'm really grateful for UCCS because this has been such a great college experience!

UCCS spring graduate
Thank you to every member of the faculty in all departments for helping us achieve a dream that so many fail to ever see realized. Especially in the chaos that has been this last year, just thank you. From the bottom of my heart.

UCCS spring graduate