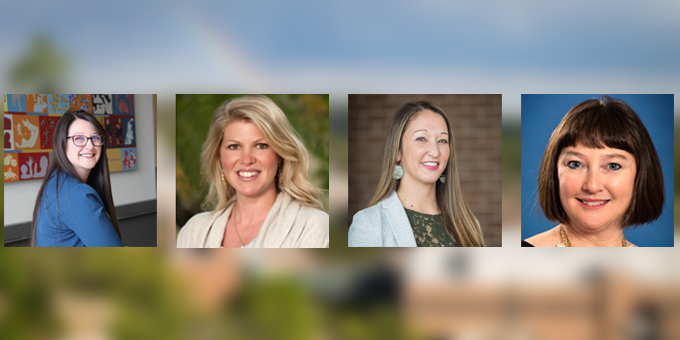 A team of four College of Education researchers, including Dean Valerie Martin Conley, one faculty member and two students, shed new light on the experiences of Latinx science, technology, engineering and mathematics (STEM) postdoctoral scholars in a piece of research published in the Journal of Hispanic Higher Education.
The team, consisting of Martin Conley, Sylvia Mendez, chair of the Department of Leadership, Research and Foundations, Kathryn Starkey, Ph.D. candidate, and Sarah Cooksey, Principal and Special Education Director Licensure candidate, explained their findings, saying Latinx STEM postdoctoral scholars must take ownership over their STEM identities and career paths to overcome challenges.
"Despite the strong STEM foundation of the Latinx postdoctoral scholars, they experienced environmental setbacks…that caused them to question their ability to be successful in a STEM career," said Mendez. "Toxic work environments led by unsupportive and abusive supervisors were cited as the most difficult contextual aspects of their postdoctoral appointments."
The research project, sponsored by the National Science Foundation Alliances for Graduate Education and the Professoriate, found STEM postdoctoral students find success by fostering a mentoring atmosphere for others, as well as seeking and creating safe and supportive spaces in their broader disciplinary communities.
Mendez said the team found inspiration in a shared desire to broaden participation in STEM, citing the statistic that fewer than five percent of postdoctoral scholars identify as Latinx. The problem, Mendez said, is future faculty frequently come from this career group, meaning underrepresentation has lasting impacts.
"This study offered fresh insights for interested stakeholders in a position to improve STEM contexts for Latinx postdoctoral scholars and others, which could pay dividends for those invested in broadening the STEM workforce within and outside academia," Mendez said.
Out of the research, the team recommends college and university leaders create and promote postdoctoral offices and associations on their campuses to ensure all postdoctoral scholars receive institutional support. They also recommended supervisor training to reinforce inclusive work environments to allow for successful mentoring of postdoctoral students.
To read more about this research, tap here.
---
The College of Education offers undergraduate and advanced degrees, initial and advanced licenses and additional endorsements across three departments: Teaching and Learning, Counseling and Human Services and Leadership, Research, and Foundations. Learn more about the College of Education.