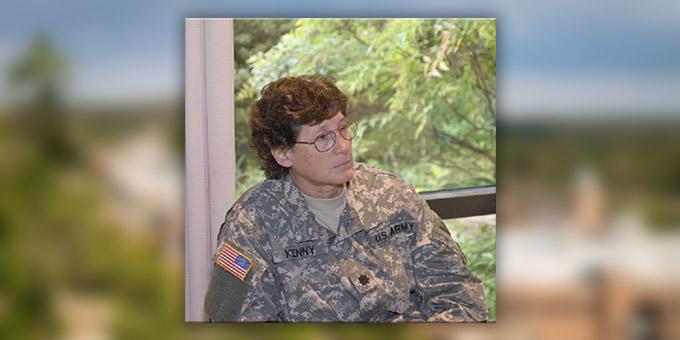 Deb Kenny, Ph.D., was awarded the University of Colorado Colorado Springs (UCCS) Helen and Arthur E. Johnson Beth-El College of Nursing and Health Sciences College (Johnson Beth-El) Outstanding Research Award for her scholarly career, a majority of which is focused on active military and veteran populations.
Kenny, an Army Nurse Corp veteran and Johnson Beth-El faculty member with the nursing department, researches and develops studies to better understand ethical and training issues nurses experience during their military careers. During Kenny's 24-year military career, she and her research colleagues were the first team, in history, to capture active stories and accounts from nurses serving during an active war.
"We interviewed 324 nurses who were either deployed in a war zone or were providing care to injured service members," said Kenny. "The project was the first-of-its-kind and we captured an outstanding amount of data and there's still more to be mined and studied from the recordings."
In her time with the Army, Kenny was appointed as Director of the TriService Nursing Research Program. After being told the $6M/year program could not be moved from an earmark into a fully-funded program within the Department of Defense, Kenny advocated for and achieved permanent funding for the research program so that nurses could continue their important studies and work with the active-duty military population.
"The impossible became possible," said Kenny.
She continues to advocate, as a civilian lobbyist, for the program to continue to receive funding amidst military budget cuts.
UCCS recruited Kenny for the Johnson Beth-El Associate Dean of Research position, and she was awarded the inaugural Carole Schoffstall Endowed Professorship. Kenny held the position until 2016.
However, Kenny is not done with her nursing research and work by any means.
Currently, Kenny is seeking funding for a study combining her two passions – veterans and horses. She also is continuing her research on homelessness and female veterans, clinical knowledge development and caregivers. She helped to collect data for the Service Women's Action Network for their military sexual trauma database. Kenny also acts as a consultant for scientists working on various military studies. On top of all of that work, Kenny is currently earning a Master's degree from Loyola University Chicago in Bioethics and Health Policy.