THEATREWORKS will present the holiday classic "It's a Wonderful Life: A Live Radio Play" Dec. 5-22 at the Dusty Loo Bon Vivant Theater in University Hall.
Show times are 7:30 p.m. Wednesdays and Saturdays with a 2 p.m. matinee on Dec. 14 and 21. Sunday matinees are at 4 p.m. Tickets are $35 for reserved seats, $15 for children less than 16. Children less than 5 years of age are not admitted. Reservations are advised.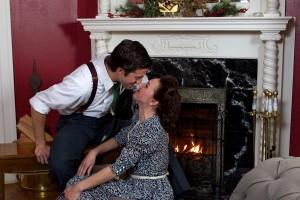 Special events include a "talk back" scheduled for Dec. 6. Following the performance, the director and actors will return to talk about the production and answer questions. On Dec. 7, there will be a gala with free drinks and snacks. At 2:30 p.m. Dec. 8, Scott Simon, anchor of NPR's "Weekend Edition Saturday," will share storytelling secrets.
For more information, visit http://www.theatreworkscs.org or call 255-3232.
"It's a Wonderful Life" is a charming and memorable story that warms the heart. But while many have seen the film few have heard or seen the radio show.
Joe Landry's play is based on a 1940's Hollywood tradition. After a film was made, the cast members were often brought to a sound studio to read the script in front of a live audience. The results were broadcast on the Lux Radio Hour. THEATREWORKS will take the audience to a 1946 radio studio where a cast of five actors, many playing multiple roles, has convened with a producer and a sound effects man to create the radio version of this inspirational classic.
The audience finds itself in Bedford Falls where George Bailey grows up, marries, falls on hard times, and is so troubled he is now considering suicide. Thank heaven 292 year old angel Clarence Odbody has been dispatched to save the day and get his wings at last. In the radio version, audiences will find something endearingly familiar and yet entirely fresh—the show breathes new life into "It's A Wonderful Life."
THEATREWORKS assembled a talented cast and crew in its radio studio. Geoffrey Kent returns to direct, and Jo Winiarski is taking a break from the Jimmy Fallon show to design the set. The lights are by Vance McKenzie and the costumes are designed by Roselaine Fox.
John DiAntonio plays George Bailey. Becca Vourvoulas is his girlfriend and then wife Mary. Kate Gleason will spread herself out into the town bad girl, two mothers and one daughter. Logan Ernstthal rapidly changes gears from the smooth producer to the greedy tycoon, Mr. Potter. Sammie Joe Kinnett is the bumbling angel Clarence. Several other vivid characters come and go. Will Burns, the studio's sound designer, and Mark Arnest, the composer and sound effects wizard, will bring Bedford Falls into being. For ninety minutes in a small room a whole town will come to life.
And then it may snow.
— Caitlin Green, THEATREWORKS