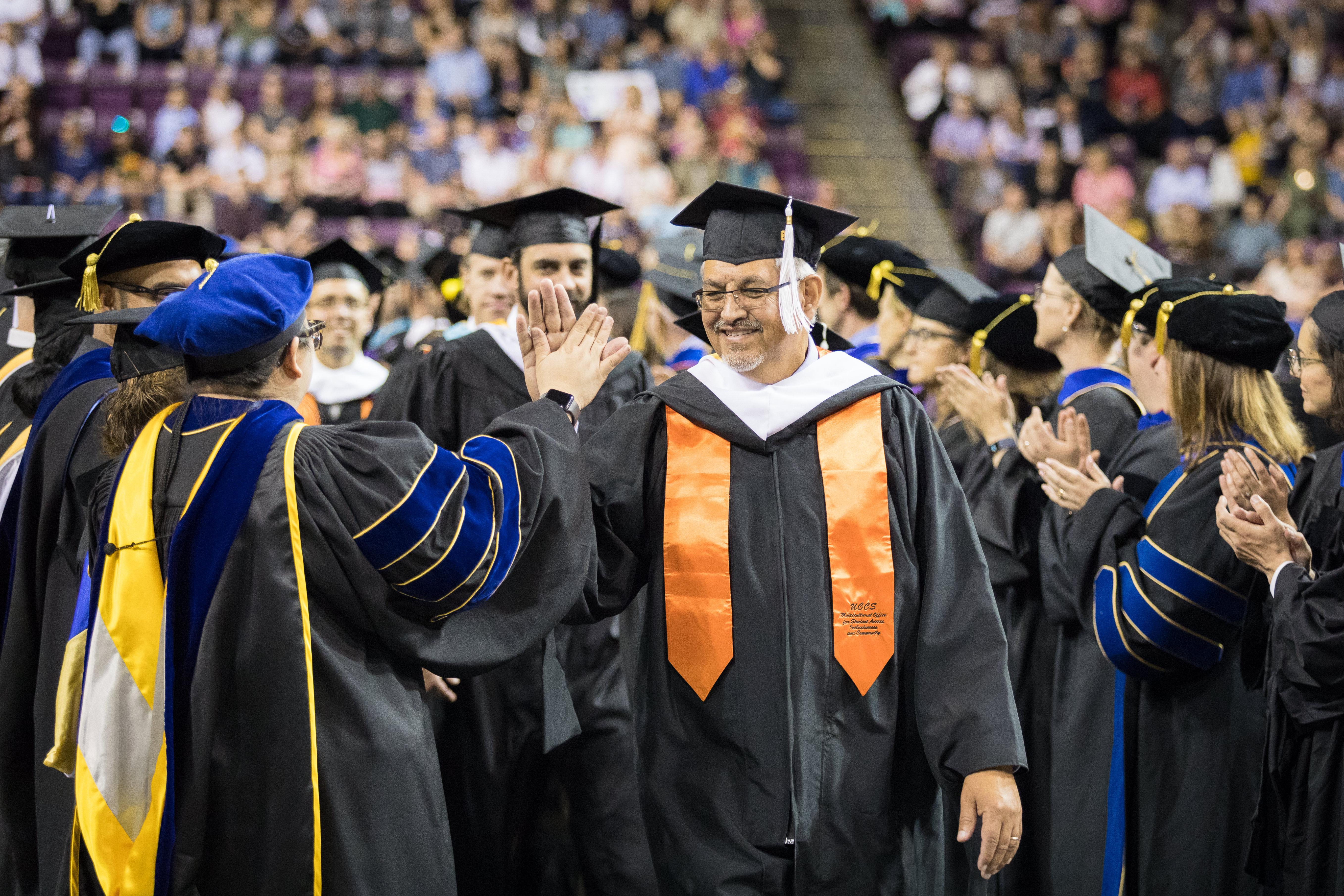 UCCS has never just been a place to work for Anthony Cordova '97, M.A. '99, the director of the Multicultural Office for Student Access, Inclusiveness and Community (MOSAIC) and the MOSAIC Gateway Program.
For Cordova, UCCS is the place where, as a 40-year-old first-year student, he could become the first in his family to earn a college degree. UCCS is where Cordova learned he was great at working with people. It's where three of his four children have earned their own college degrees, four of his nine grandchildren attended the Family Development Center, and his son-in-law also works. It's where he met his wife of 19 years, Andrea Cordova, chief of staff for Chancellor Venkat Reddy. And it's even where the two tied the knot.
"This has been my community, my home," Cordova said. "For Andrea and me, this became our family."
Now, after more than 26 years working and learning at UCCS, Cordova will retire in June.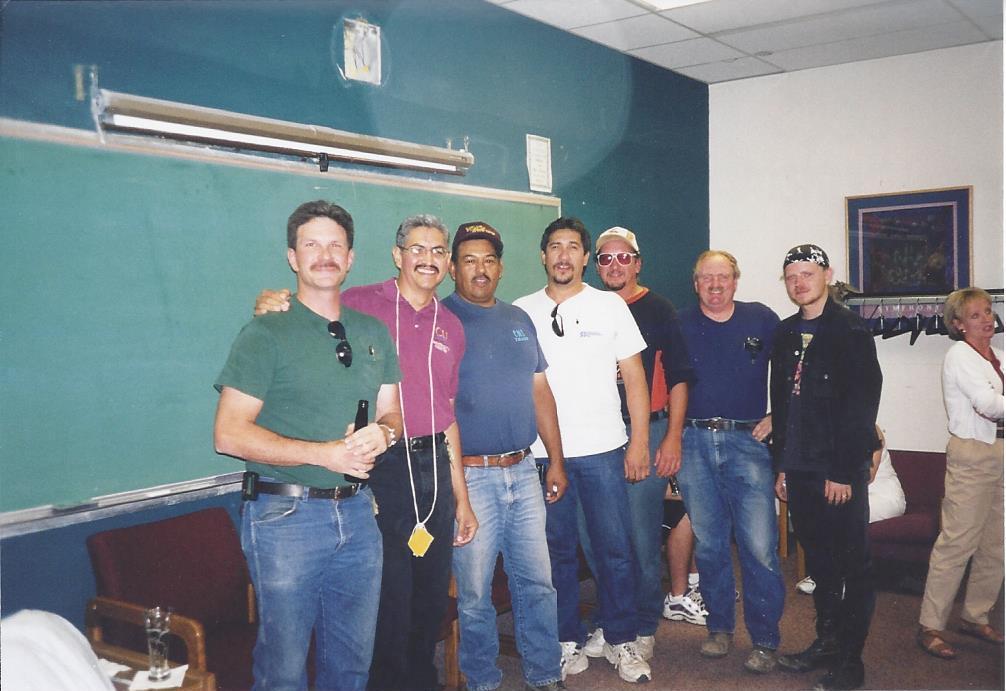 Cordova is a Colorado native who grew up in Avondale, east of Pueblo. A fiercely independent teenager, Cordova graduated from Pueblo County High School and – following an apprenticeship during which he worked on the Pueblo Dam – he became a heavy equipment operator for a rock quarry in Colorado Springs. Cordova spent 21 years there, eventually becoming a supervisor, before back injuries caused him to retire.
When Cordova applied for an early retirement disability pension through the quarry union, the orthopedic surgeon required to certify his disability wouldn't sign off on the pension until Cordova agreed to make his next step a college degree.
"I stopped in at UCCS in July 1994," Cordova recalled, "and by August I started at UCCS as a 40-year-old, first-generation freshman."
Cordova pursued a double major in psychology and communication, then earned a master's degree in counseling. Along the way, he worked as a maintenance worker for the University Center as a student employee, often making repairs between classes, on top of being an peer academic advisor, working with the UCCS Pre-Collegiate Program, leading freshman seminar mentors and teaching his own classes once he was enrolled in graduate school.
But of all his accomplishments, Cordova is most proud that he met his wife, Andrea, while they served on Student Government Association together from 1996 to 1997. The two were married at the Housing Village Lodge in 2001: "the cheapest way we could do it," Cordova recalled, "since Andrea and I were both poor students." The campus didn't have the professional events team it does now, but friends from across campus helped to support their special day – including the UCCS' dining services team, who cooked green chile for the reception.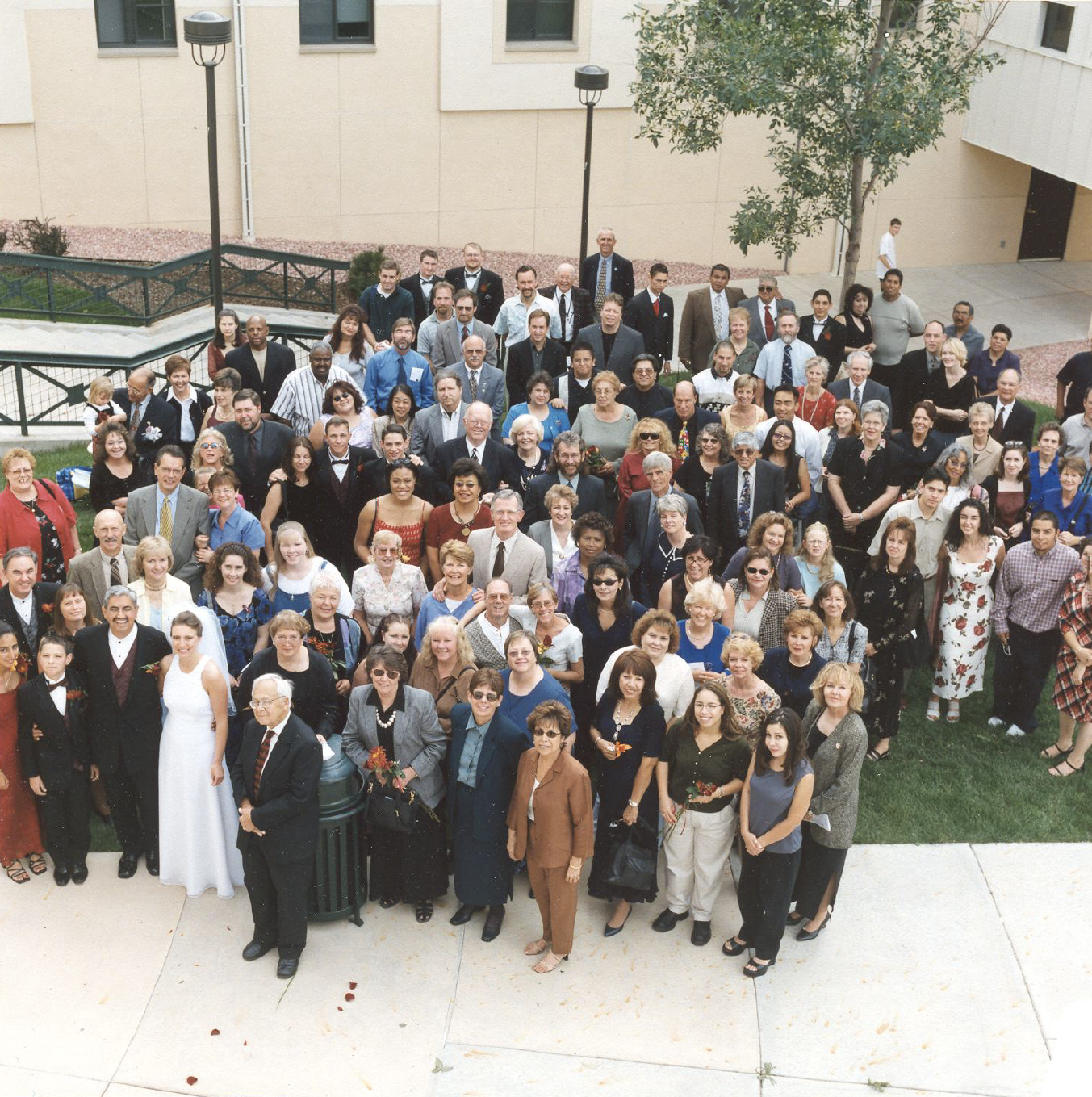 After graduating and becoming employed full-time at UCCS, Cordova not only designed the original MOSAIC space, but helped to paint it and install support beams. Now, MOSAIC represents a place where first-generation, marginalized and underrepresented students can simply "be." Cordova will get to witness the expansion and renovation that will double its capacity and support UCCS' growing student body, which will be complete in March 2021.
In recognition of his own conditional admission to UCCS, Cordova also helped create the MOSAIC Gateway Program to support students who face academic and social challenges but show strong potential to succeed in college. As he told audience members as he helped to present UCCS' 2009 Diversity Strategic Plan, "Nothing makes as much impact on a student as someone saying 'I've been where you're at.'"
Now, MOSAIC and the Gateway Program support first-generation, LGBTQIA+ students, ethnic minority and international students, undocumented and DREAMer students and more. In honor of his efforts, Cordova has been awarded the 2004 University of Colorado Staff Council Service Excellence Award, the 2011 Freedom Fund Education Award from the NAACP and the 2012 President's Diversity Award.
Through all of his years at UCCS, Cordova has simply tried to help students shine despite the challenges they might face.
"I like to garden, and when you garden, you only have a certain part to play," Cordova said. "You try to make sure whatever you're growing has your best support, and then you let nature take care of the rest."
"I've always looked forward to helping students at UCCS for that reason. If you nurture them just right, and have opportunities to work with them and help them grow, they sure can bear some great fruit."
---
Cordova will retire from UCCS on June 30, 2021. But he doesn't plan to be a stranger. He'll continue teaching his first-year GPS class – keeping a two-decade tradition strong, even as a retiree.
Cordova would be remiss if he did not mention the innumerable mentors and friends he has had at UCCS. Two stand out at the beginning of his academic and professional career. First: Connie Staley, professor of communication, who was his Freshman Seminar instructor during his first semester as an undergraduate. The other was Jan Tharp, director of student enrichment, to whom he reported early in his staff career.
Stay tuned for details on a farewell celebration, and explore photos of Cordova's many years at UCCS below.