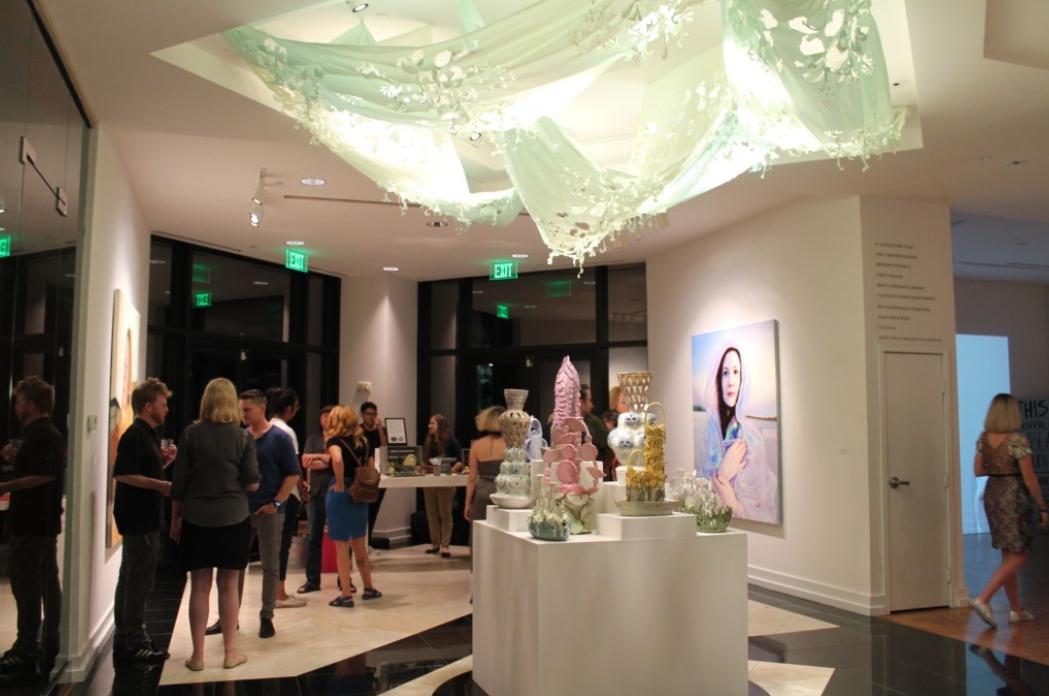 The Galleries of Contemporary Art are celebrating a few milestones. GOCA has reached 40 years of artful experiences with students and the Colorado Springs community since first opening in 1980. GOCA's vision to provide access to national and regional contemporary art, is activated through engagement, events and conversations sparked by art.
GOCA Downtown opened in 2010, adding a satellite gallery location in the heart of downtown for UCCS and the community thanks to the generosity of Nor'wood Development Group who donate the lease of the space. It quickly became known as a premiere destination for arts lovers every First Friday, as well as the home to signature programs like Brilliant, Chit Chat mash-up talks and collaborations with arts organizations across the Pikes Peak region. GOCA Downtown is a nexus for experiences that bring people together and challenge visitors to dig deep and take a chance on often experimental, always high-level art.
Since its founding GOCA has been recognized by the community, university and greater Pikes Peak region audiences as a vital cultural and educational asset. In this past decade, GOCA Downtown tracked nearly 150,000 visitors to its spaces and programs and featured over 50 art exhibits.
The GOCA Learning Lab provides a space and environment where students, academic museum studies and gallery practice interns, visual art, art history, music and theater faculty and artists alike experiment and practice contemporary art. In its first year, the Learning Lab participated in a lively swap meet, several multimedia performances, professional and student exhibitions, artist workshops and talks, and more.
Katherine Guiness, Ph.D., assistant professor director of art history at UCCS, and a founding faculty-director for the learning laboratory, says "As a student I was often told that art history and studio art shouldn't interact directly. It is so important for all visual and performing art students to have the opportunity to work alongside and learn from artists who are installing exhibitions and talking about their work in a very immediate way, in the space of the GOCA Lab. The lab has enabled me to bring together art history and visual art in a productive and exciting way. We have had art history majors drilling walls and learning about lighting techniques, sharing their capstone theses with the resident artists, each learning from the other in ways that I had only dreamed of as a student myself. Getting to see this enacted is truly one of the highlights of my career."
This fall marked the one-year anniversary of the Learning Lab, the 10-year anniversary of GOCA Downtown and the four decades of outstanding contemporary artists and sculptural works made possible through the Galleries of Contemporary Art program.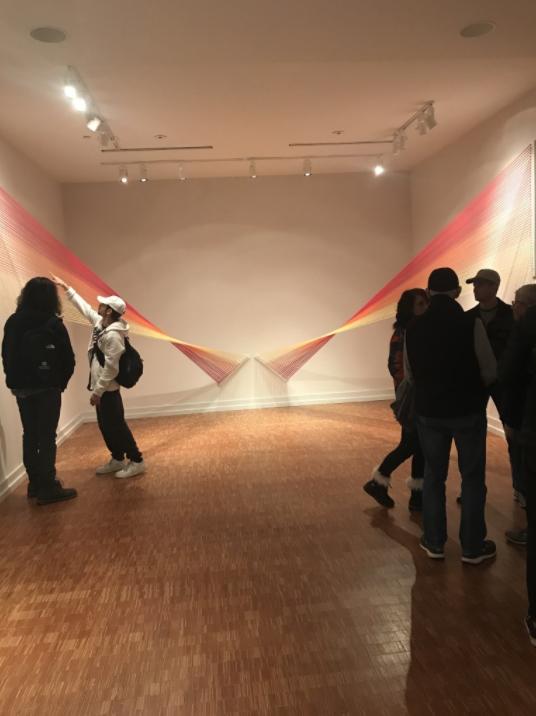 Daisy McGowan has served as the artistic director and chief curator for the past 10 years, and is grateful to spearhead the Galleries of Contemporary Art. In her role, she has independently and collaboratively curated and produced more than 90 exhibitions for GOCA.
"As a creative director, I get to dream up our exhibitions and programs and to work with artists, UCCS students and faculty and staff, guest curators, as well as passionate fundraisers and supporters who believe in our mission," McGowan said. "We all work together to realize projects that build connections in our community, help us better understand ourselves and our world, and enrich our lives with creative energy. We truly couldn't do any of this without our hard-working exhibitions and events manager, Stephanie Von Fange, as well as our dedicated student employees and interns."
The Galleries of Contemporary Art just closed the "Seat of Learning" exhibition, adapting quickly with the unique challenges of COVID-19 to visits by reservation and virtual artist conversations artists in the online studio visit series as well as the Visiting Artists & Critics Series, a program that has run consecutively for eight seasons in collaboration with UCCS Visual and Performing Arts Department.
The downtown gallery recently closed due to COVID-19 restrictions but it's exhibit is still available virtually it features "Sacrum" by Danielle Rae Miller, a result of the Female Emerging Art Residency Series, or F.E.A.R.S., open to the public through Dec. 4. Additionally, the Galleries of Contemporary Art have their sculptures accessible year-round as a part of their Art With Out Limits program. In October, GOCA produced a major new outdoor artwork "The Windmill Project" by nationally renowned artist Patrick Marold on the UCCS landscape just northeast of the Ent Center for the Arts. This recent installation with student volunteers further amplifies the mission of GOCA by providing UCCS students valuable access and learning with professional artists.
While the Galleries of Contemporary Art wishes it could celebrate these milestones with the arts community in person, they have elected for a safer socially distant option by sharing videos and exhibit archives. As GOCA must independently raise 100% of program costs, the generous support of the community makes possible free gallery admission at both sites, as well as free online programs accessible to all. Learn more about Galleries of Contemporary Art current and upcoming programs at GOCAdigital.org. Consider supporting GOCA and its upcoming exhibits, art and sculptures with a financial gift, today at giving.cu.edu/fund/gallery-contemporary-art-1420-fund.