Four funds on campus, benefiting the work to combat challenges that UCCS students face, will be the target of the 2020 Giving Tuesday campaign Dec. 1.
While donors can make gifts to any of the nearly 200 funds designed to benefit UCCS students, the four designated funds this year were chosen to address the challenges of 2020:
"We know many of our students face overwhelming odds in pursuit of their education, which are compounded when they are faced with food insecurity, financial instability or limited options for help and support," said Lisa Bartholme, assistant director of Alumni Relations and the Annual Fund. "This year's featured funds were picked because of the ability to impact immediate needs for students in those areas."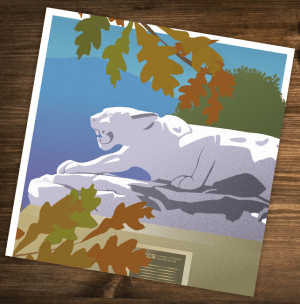 The AFCEA Rocky Mountain Chapter has pledged $40,000 in scholarship support if 250 donors give during the 2020 Giving Tuesday Campaign. Donors can also collect the second in a series of limited edition coasters with a $60 one-time gift or $5 monthly recurring gift, this year featuring the statue in El Pomar Plaza.
Since 2015, Giving Tuesday has brought in more than $461,000 for student scholarships and programs at UCCS from faculty, staff, students, alumni, parents and friends.
Designated as a global day to give back after the shopping holidays of Black Friday, Small Business Saturday and Cyber Monday, Giving Tuesday encourages gifts of any size to organizations that make an impact in communities.