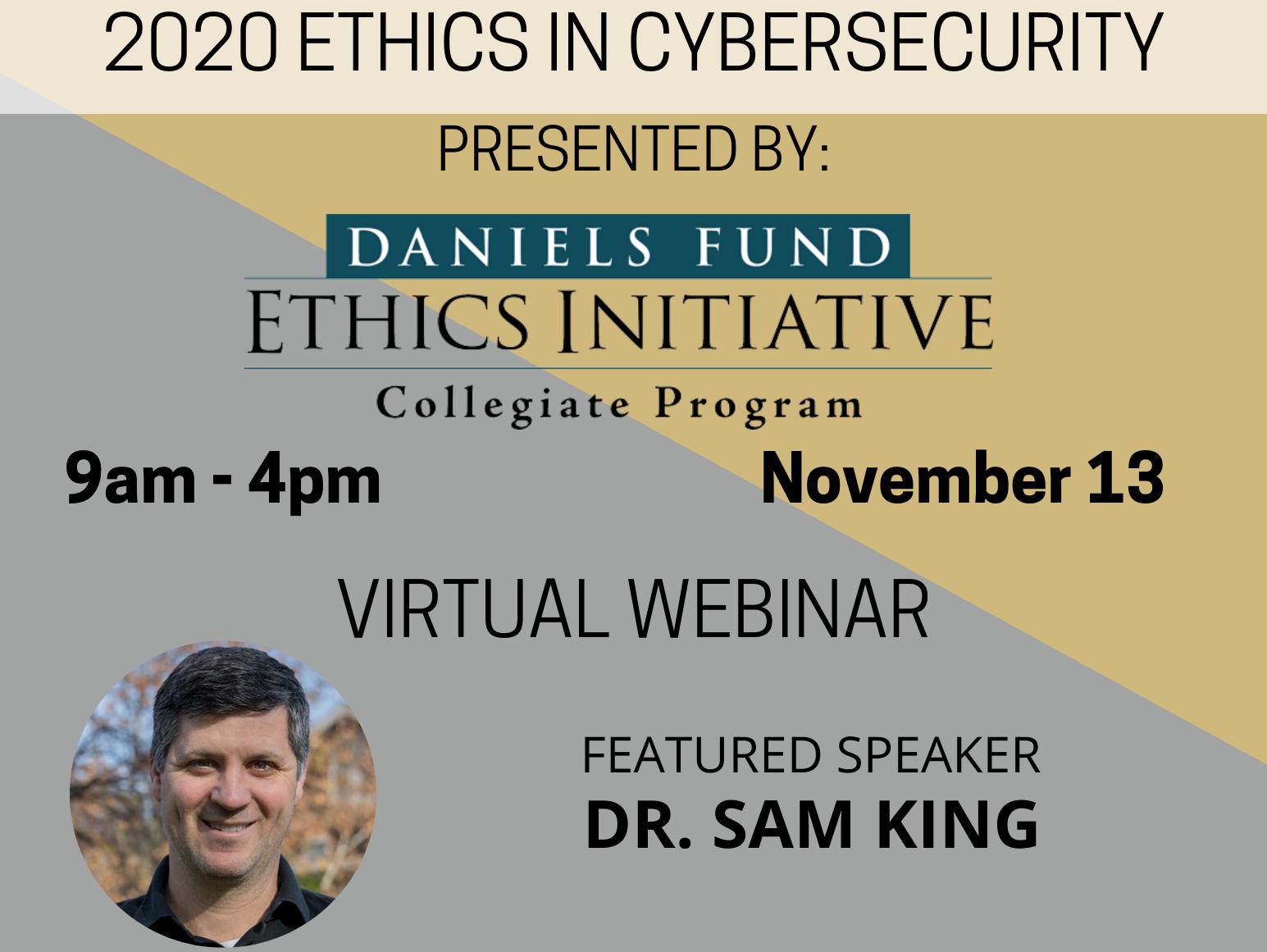 Have you become more aware of how cybersecurity impacts your daily lives? Has COVID-19 and remote working got you wondering about some of the ethical issues that touch the technology we use every day?
The free 2020 Ethics in Cybersecurity virtual event will bring together high school and college students, faculty, staff, industry and government participants to discuss and experience ethics, and all of its principles, in relation to the ever-evolving field of cybersecurity and technology. Ethics is an important aspect of cybersecurity as the technology that students learn can be used for productive "good" efforts or destructive "bad" efforts and being able to make good ethical choices is essential in this environment whether they are an engineer or an arts major. The morning speaker sessions prepare the participants for the afternoon case study discussions on real world ethical dilemmas that involve cybersecurity aspects in our daily lives. This event is not just for individuals in technology fields, it applies to everyone.
The keynote speaker, Sam King, an associate professor at UC Davis, will be presenting on Doing good by fighting fraud: Ethical anti-fraud systems for mobile payments. The ethics of anti-fraud systems are subtle and different — it's about more than just machine learning and algorithmic bias. In this talk, he'll outline the ethical dilemmas faced by people building anti-fraud technology and show some of the common pitfalls that companies encounter as they fight fraud. King will also discuss why the common remediations to combat algorithmic bias don't work in this context. The views come from real-world deployment of anti-fraud technology, where systems have already processed more than 50 million real credit cards from real people running in hundreds of real apps. The early deployments encountered missteps, but King and his research team learned from the mistakes and innovated to strive to provide equal access for all.
Other keynote speakers are:
Integrity – Rick Tillery, chief information office and president of cyber at Spartan Corporation
Accountability – Andrea Limbago, vice president of research and analysis at Interos, Inc.
Transparency – Aleta Jeffress, vice president of consulting services at CGI
Fairness – Cynthia Wright, principal for cybersecurity strategy and policy at MITRE
Respect – Elizabeth Wharton, chief of staff at SCYTHE
Viability – Rick Forno, owner of Infowarrior and senior lecturer of computer science at the University of Maryland-Baltimore County
Rule of Law – Hilary Wells, partner and chair of the data protection and cybersecurity team; and John Gray, of counsel, at Lewis Roca Rotherberger and Christie