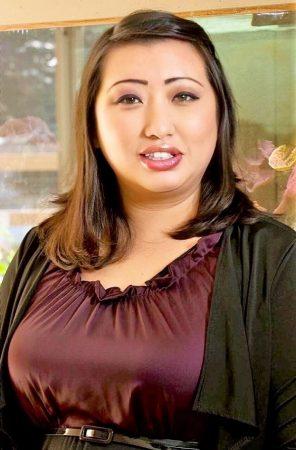 Sandy Ho, instructor and former director of the UCCS Excel Languages Center, has been named assistant dean and director of student affairs for the College of Education. Ho assumed the role Aug. 1.
Ho will focus on operations for the College of Education, including overseeing academic specialists for the college's three departments and the student resource office.
A large part of her role this semester will also involve helping students to adapt to the changing circumstances presented by the COVID-19 pandemic.
"Even before the pandemic, my priority was always the health and safety of our students," Ho said. "Students can't learn unless they feel safe: not just physically safe, but affirmed and supported. Even in the midst of a pandemic, we're trying to still allow our students to have experiences that are meaningful for their learning and development, including internships and placements."
Ho also plans to prioritize efforts on retention, recruitment and strong connections with students.
"How the college connects with students will be a big piece of my work. I'm all about the user experience," Ho said. "When a student contacts the College of Education, were their needs addressed? Did they get the support they needed? I'm really about those moments of truth."
Prior to her positions at UCCS, Ho held administrative, teaching and student affairs roles at Pikes Peak Community College and Colorado State University-Pueblo.
She is a three-time graduate of UCCS, having earned a bachelor's in communication in 2009, a Master's in Leadership with an emphasis in Student Affairs in Higher Education in 2010 and a Ph.D. in Educational Leadership, Research and Policy in 2016. She draws upon her own experiences as a student in the College of Education to help students chart their own paths to successful futures.
"As a student, I felt very seen and supported by the College of Education – and very much protected," Ho said. "I was born and raised in Korea. My first language was Korean. My professors and mentors made sure that I didn't make mistakes that I couldn't have known about as a first-generation student."
"Now, I'm able to tell my students that I used to go to the Excel Centers to ask for help from a tutor, even while I was earning my master's and Ph.D," Ho said. "It doesn't matter how many degrees you have. Smart students use their resources. Smart students ask questions."
An advisor to the Women's Student Association and mentor for the Asian Pacific Islander Student Union, Ho is also a Gateway Program Seminar instructor and serves on committees across the university. She keeps a strong social media presence on Twitter and LinkedIn, where she posts opportunities for students and boosts the visibility of events and scholarships – and she supports diversity and inclusion efforts across campus and in Colorado Springs.
As she described her involvement in campus efforts to advance diversity and inclusion, representation and student support, Ho said, "It's not that I have nothing to do. But I want to make sure that our students are feeling accepted, affirmed and cared about. I want them to know I will advocate for them."
"That's my job," she said. "I tell students, 'Ask me questions. Let me support you.' I want each of our students to have a moment where they realize, 'This school cares about me, and I am valued here.'"