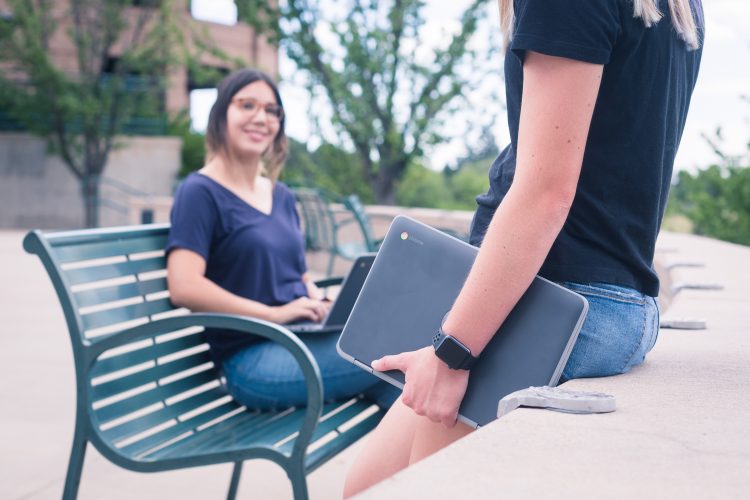 The Office of Information Technology Help Desk is back to on-campus business, with some modifications.
The Help Desk, located on the first floor of the El Pomar Center, is serving on-campus customers by appointment only Monday through Friday, from 8 a.m. to 6 p.m.
Those seeking in-person computer troubleshooting and assistance should first schedule an appointment via phone or the Help Desk live chat. Customers may also use two self-service kiosks installed outside of the Help Desk window, which will allow them to get information or schedule appointments.
Next, customers should complete UCCS' daily health assessment online prior to their scheduled appointment. If they have not completed the assessment at the time of their appointment, their technician will instruct them to do so before the appointment can commence.
The Help Desk windows will be closed when not in use for scheduled appointments. Walk-up customers will not be served, and all customers and Help Desk employees must wear a face covering for the duration of the appointment. As an additional health and safety protocol, technicians will wear gloves when handling customer equipment. Equipment that is not immediately needed will be placed in a 10-day quarantine.
Customers can continue to check out equipment using OIT's contactless locker system. To check out or return equipment, use OIT's Self-Service Portal. Select either Device Checkout or Return Request under Personal Computing and follow the instructions listed. Technicians will coordinate contactless pickups and returns through these lockers.
Technical assistance from OIT is always available after hours, weekends, and during school closures through the Help Desk live chat, by calling 719-255-3536 or by using the Help Desk Knowledge Base. ​