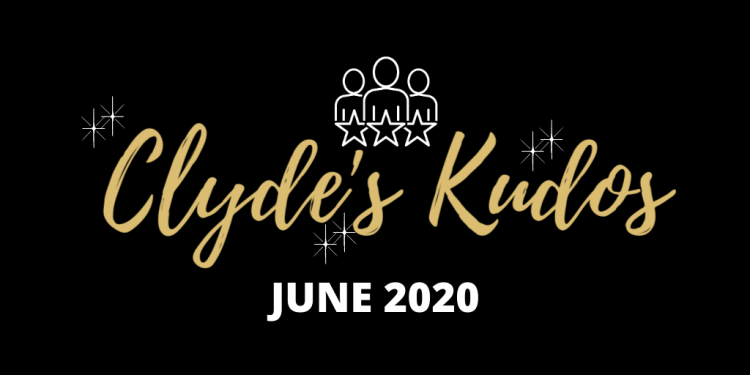 Summer is a time to celebrate – whether it's longer days, a looser schedule or the tremendous accomplishments of our colleagues.
Clyde's Kudos are celebrated each month on Communique. Nominations are also recognized through a variety of forums including the Staff Association website, the Staff Association newsletter, event shout-outs, handwritten cards and other methods of distribution.
Clyde's Kudos: June 2020
Featured this month:
Teams:
Financial Aid, Student Employment and Scholarships | UCCS Health Circle Primary Care Clinic | Katie Parker, Greg Krems, Greg Williams, Mark Hilberg, Koroush Iranpanah, Ben Woodroof and Shad Harder | UCCS Faculty | Academic Advising | Student Affairs Finance Team | Office of the Dean of Students
Individuals:
Jon Bogh | Stephani Hosain | Dan Lemack | Monica Sedillo | Molly Larson | Nick Lockwood and Hailey Santonastaso | Katherine Placzek | Kimberly Reeves | Elizabeth Wyatt | Stephen Cucchiara | Ralph Giese | Jamie Duvall | Jevita Rogers | Season Doebler | Gwen Gennarro & Patricia Rea | Ida Dilwood | Joanna Bean | Bethany Wagar | Anna Squires | Kayla Gronseth-Boyer | Mark Belcher
Teams
To: Financial Aid, Student Employment and Scholarships
From: Jevita Rogers
HUGE kudos to the entire office staff for maintaining high customer service standards during the move to remote work and continuing to be so dedicated to doing whatever it takes to assist students!
To: UCCS Health Circle Primary Care Clinic
From: Anon.
For their tireless work and dedication to their patients and students. The Primary Care Clinic has been an asset to the University and the community. Keep up the good work and thanks for all that you do.
To: Katie Parker, Greg Krems, Greg Williams, Mark Hilberg, Koroush Iranpanah, Ben Woodroof, Shad Harder
From: Katherine Placzek
Last Clyde's Kudos I was graciously recognized as providing support on the Chromebook project for our incoming students beginning this school year. I was truly humbled – but the full story was not fleshed out.

Katie Parker is our project manager on this initiative. She has worked tirelessly on this and is very passionate about its success. Both Gregs (as we all in OIT call them) have been the high level strategic forces behind this project. Mark Hilberg has been the "sleeper" of the crew, and has broken out with a wealth of knowledge and oversight in the program. Koroush Iranpanah, Ben Woodroof and Shad Harder will all be our technical experts going forward – and deserve praise for stepping up to the plate. There are a myriad of other people inside and outside of OIT that have been on countless of meetings also. Thank you for everyone's hard and continuous work!
To: UCCS Faculty
From: Anon.
Staff, administration and faculty from all parts of the UCCS community have been working hard to positively influence enrollment. With appreciation to all, I do want to call out the faculty, who should be recognized for their flexibility and willingness to dive into the enrollment waters to even greater depths than ever. It has always been the case, not just at UCCS, but anywhere, that university enrollment is a campus-wide effort. Never has that been more necessary than now, and never have I witnessed the level of cooperation and willingness to positively add to our mission of changing lives through enrollment than now. Thank you, UCCS Faculty!
To: Academic Advising
From: Megan Bell
Thank you to the entire advising team for stepping up to get our entire student body registered for Summer and Fall. I know the switch to virtual orientation and serving students has increased your workload. Please know that I appreciate all of the extra that you have done the last few months to serve our students. You are an amazing team and a critical part of getting our students to graduation.
To: Student Affairs Finance Team
From: Megan Bell
I would like to recognize the Student Affairs Finance Team: Charlie Kuehler, Mathew Roesemann, Melissa Prinkey, Nancy Deater, and Sabrina Wienholtz. In the past month, they have lost their director and another staff member. They have had to pick up additional work and responsibilities for which they have had little to no training, which particularly challenging given that it is fiscal year end. I truly appreciate their willingness to help me figure things out, and having stepped up for the good of the entire division. Their dedication is commendable and I am grateful for everything they have done to help with so far.
To: Office of the Dean of Students
From: Alex Baker
Like many people, quarantine and COVID-19 initially didn't treat me well. When you work with a team that you genuinely look forward to being around every day, it can be a tough pill to swallow when suddenly that isn't an option anymore. Throughout the summer I shared very openly with my team my challenges and struggles, and without fail they were always there to support me, offer encouragement, make me laugh, and sometimes just listen. I'm sure a lot of people can say the same, but I truly believe I work with some of the hardest workers, kindest humans, and best team on campus. I'm so fortunate to work alongside such wonderful people, and I hope that they remember how much they mean to me and to UCCS.

Ray, even when the going gets tough, you continue to have the best attitude. Your work ethic speaks for itself. Lisa, having you on our team makes such a difference. You always know how to make us laugh, and that is especially appreciated during such trying times. Sarah, I am constantly impressed by the quality of work you produce. It is incredible how thorough your work always is. Steve, there's no other way to say it: We'd be lost without you. I can't believe how lucky I am to have a great boss like you.
Individuals
To: Jon Bogh
From: Brad Bayer
Jon Bogh serves as the SGA advisor and is to be commended for the extra care and attention he provides to the SGA representatives throughout their leadership journey. He's knowledgeable, creative, caring, and approachable. The SGA recently completed one of its most productive years legislatively. Thanks, Jon, for effectively guiding the SGA with the right balance of challenge and support!
To: Stephani Hosain
From: George E. Reed
Stephani Hosain has worked tirelessly and diligently over the last 60 days in support of School of Public Affairs recruitment efforts. She has fought bad internet connections and telework challenges to maintain an exceptionally high level of service on behalf of the school and campus.
To: Dan Lemack
From: Anon.
Dan worked tirelessly to make sure the Business Information Systems 2020 Virtual Conference for the College of Business went perfectly. He recorded and distributed all pre-conference workshops and then hosted 3 half-day live conference activities for attendees from around the world. The presenters and participants were raving about the quality of the conference, despite it being virtual. That was because of Dan's hard work and dedication to this project.
To: Monica Sedillo
From: Beth Graham
Monica has genuinely reached out to me during the course of working from home. She is always warm and welcoming and makes me feel that my new coworkers care about me already! Now that I've been working from home almost as long as working on campus, her connection makes me feel a part of the team and a part of UCCS.
To: Molly Larson
From: Beth Graham
Molly is always there to answer all my questions and I can always count on her for a good conversation on travel or music. She offered to meet-up virtually when my husband had plans to travel (postponed) out of town and she know I'd be lonely. She is a huge asset to the college and has made my first few months of working at UCCS absolutely amazing! Thanks for all you do, Molly!
To: Nick Lockwood and Hailey Santonastaso
From: Missy Sernatinger
We recently brought on board a collaborative communication platform for several departments. Nick was ascribed as the lead admin, and despite it being his busiest time of year, he has helped make the transition so smooth. Hailey has also been phenomenal at learning and using the software in order to find fixes or user concerns before most other staff will need to use it so that we can get clarity and support before the full semester begins. Collaborative efforts can be hard to navigate with various schedules, but Nick has done this so well. I'm always grateful to work with Orientation in any capacity because of their staff – this is just one highlight of many reasons.
To: Katherine Placzek
From: Zoe Hyatt
Katherine has been extremely helpful and welcoming to me as I transitioned into my new position here at UCCS. Because of the pandemic, I started the job remotely, and Katherine ensured that was a smooth process for me. She made sure to reach out in both a professional and personal manner to make sure I had everything I needed to be successful. Not only that, she is super kind and plays a big part in cultivating a community in our department, especially during these challenging times. Katherine deserves all the kudos! :)
To: Katherine Placzek
From: Leyna Bencomo
She always has a warm smile for everyone. She makes sure that people feel recognized and appreciated within our department. She remembers everyone's birthday. She is a great resource.
To: Kimberly Reeves
From: Anon.
Kimberly is the definition of generous. She gives her time and support freely to her students and colleagues, and she is constantly looking for ways to encourage excitement around sustainability on campus. She has gracefully moved into an interim director role through the chaos of this pandemic while maintaining a positive and hopeful attitude, and she has made such a profound impact on this campus. We are lucky to have her!
To: Elizabeth Wyatt
From: Anna Squires
Elizabeth started her new job in the Chancellor's Office on the very first day of remote working – so talk about crazy timing! Nonetheless, she has demonstrated phenomenal work ethic and follow-through. I have never seen her drop the ball on an upcoming event or assignment, and she is as cool as a cucumber under pressure. It's a true pleasure to collaborate with her. I can't wait to see the tremendous contributions she'll no doubt (continue to) make to our campus.
To: Stephen Cucchiara
From: Amanda Allee
Stephen has been a huge help to OIE over the last year. He has supported investigations when OIE staff was conflicted out. He brings new and fresh perspectives to the work; his assistance is invaluable. This is in addition to his regular job, which he is wonderful at, and his role on Staff Association. Stephen's commitment to his UCCS colleagues is phenomenal.
To: Ralph Giese
From: Amanda Allee
Ralph has always been a strong OIE partner, and recently his support has been invaluable. Ralph assisted with an incredibly complex case, providing valuable campus insights and expertise. He continues to make time to stay up-to-date on changes in OIE processes, despite the impact COVID 19 has had on his workload. Thank you Ralph for your continued support and partnership with the OIE office!
To: Jamie Duvall
From: Amanda Allee
Even though he is technically as system employee, Jamie is UCCS at heart! Jamie continues to lend his time and expertise to OIE, and we continue to benefit from his experience and knowledge. Jamie, thank you for all the work you have done on cases in the past, and thank you for your continued professional support.
To: Jevita Rogers
From: Amanda Allee
Any one that knows Jevita, knows she is the queen of random acts of kindness. Thank you for all the little ways you recognize both those in and out of your department, and keep our morale up with your thoughtful gestures.
To: Season Doebler
From: Jenn Wells
Our boss, Season, organized weekly hikes for furloughed staff.
To: Gwen Gennarro & Patricia Rea
From: Gretchen Bliss and Dr. Gurivender Tejay
As a new employee starting in a remote environment, Patricia and Gwen were instrumental in my ability to work and support Dr. Tejay and I in grant applications to the tune of 7 grants in 1 month for potentially over $7M for UCCS cybersecurity efforts. Their patience with my lack of knowledge of the UCCS system and willingness to go above and beyond to make tight timelines and detailed additional paperwork on these grants complete was laudable! They are a great team and truly a gem for UCCS and their kindness and understanding were greatly appreciated. UCCS got notified last week we received the first of these grants so far from the National Security Agency and it was ALL because of their flexibility to work outside set hours and to flex with deadlines to develop the best UCCS grant proposals possible. Thank you Patricia and Gwen!
To: Ida Dilwood
From: Brad Bayer
Ida is to be commended for adding her lens of expertise to the support and success of students with disabilities throughout the remote learning period and beyond.
To: Joanna Bean
From: Jen Furda
Joanna has done yeoman's work with UCCS Alumni. She has taken a sleepy division and turned it into a powerhouse. More alumni than ever are involved with UCCS through giving, volunteering and just knowing about what is happening at UCCS…all thanks to Joanna and her team!
To: Bethany Wagar
From: Rachel Heckler
You are awesome for going above and beyond for our students all the time!
To: Anna Squires
From: Crayton Daniel
Anna is a great teammate and friend. She is always willing to help, share feedback, and offer words of encouragement. Anna also gives the best compliments. The kind that makes your day, week, and month. I'm grateful to be working with her!
To: Kayla Gronseth-Boyer
From: Crayton Daniel
Kayla is never one to stray from a challenge. In fact, she takes it head-on and comes out on top every time. Her hard work and dedication to UCCS and reaching her goals continue to inspire me! I also appreciate that she periodically checks in to see how everything is going during this remote working period. It's been very helpful to talk things through with her. Thanks, Kayla! 
To: Mark Belcher
From: Crayton Daniel
I think Mark holds the record for the quickest turnaround time on just about everything. Any time I ask for his support, he delivers. No hesitation, he just gets stuff done. Thank you, Mark, for all your help!
Want to celebrate your colleagues? Submit kudos anytime through the Staff Association website. Communique publishes Clyde's Kudos on the first business day of each month.