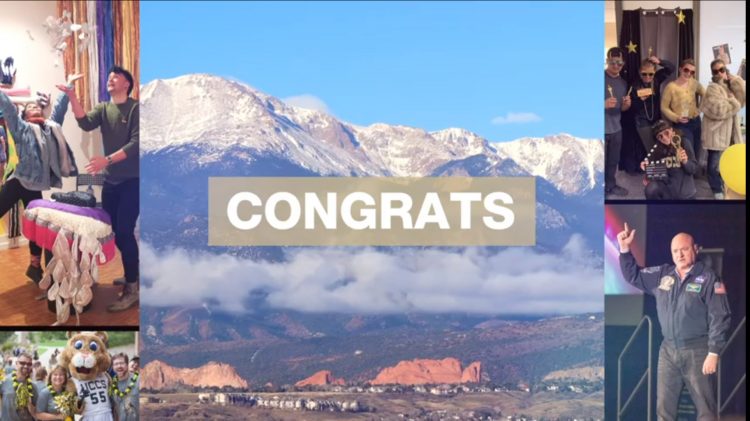 UCCS conferred a record 1,584 degrees to students during the university's first virtual commencement ceremony for the Class of 2020. The videos for the main portion of the ceremony, as well as for each of the six colleges, is available at YouTube.com/UCCSedu.
UCCS awarded 25 doctoral degrees, 307 master's degrees and 1,252 bachelor's degrees, a new record for the spring commencement ceremony.
Chancellor Venkat Reddy, CU President Mark Kennedy and Student Government Association President JayJay Porcadilla addressed the graduates.
Chancellor Reddy acknowledged the determination that it took for the Class of 2020 to reach graduation day.
"Challenges are ever-present – especially as we experienced this spring, as the coronavirus impacted our nation, state, city and campus," Reddy remarked. "In response, we must commit to be outstanding citizens who stand up for what is right and good. We must commit to compassion, patience, and respect. We must be willing to serve – to give our time and talent to the communities in which we live."
He continued, "Our graduates represent states from across our great nation and countries from around the globe. As you graduate today, you will go back out into the world, using the work of your hands and your hearts to make it a better place. I know you are up to the challenge set before you. You will achieve it, just as you have achieved so much already."
President Mark Kennedy told graduates, "To paraphrase a line in a classic movie, I offer you graduates just one word of advice: Adapt. Adapting will be essential to your success."
"Your diplomas will list a degree, one that denotes achievement of a certain level of mastery in a field of study," he continued. "Yet the most important skill we hope we have advanced during your time at CU is your ability to adapt. In this sense, the past couple of months may be the period in which you learn most intensely what you most need to know: how to innovate, think critically, solve problems, work with others – in short, how to adapt."
"May the light of CU shine in you and from you, but not for you alone," Kennedy concluded. "May your light illuminate the path to success for others. CU Class of 2020, shine on."
JayJay Porcadilla, the 2019-20 Student Government Association president and one of two recipients of the Student Achievement Award, delivered the commencement address.
"We are a great class because we are part of history," he said. "Persevering and completing a degree in the face of a pandemic? We didn't sit around and wait. We took action. We made scholarships. We made opportunities. We rose above all else."
"This is what it means to be a Mountain Lion," he remarked. "We rise to the occasion. We let nothing stop us. We are great – we are the Class of 2020."
Finally, retiring Regents Linda Shoemaker, Sue Sharkey and John Carson shared duties in reciting the Norlin Charge to the graduates, a CU tradition dating back to 1935.
"Commencement does not mean, as many wrongly think, the breaking of ties and the beginning of life apart," reads the charge. "Rather, it marks your initiation in the fullest sense into the fellowship of the university, as bearers of her torch, as centers of her influence, as promoters of her spirit."
"The university consists of all who come into and go forth from her halls, who are touched by her influence and who carry on her spirit. Wherever you go, the university goes with you. Wherever you are at work, there is the university at work."
UCCS conferred degrees on more than 1,500 students during the May 15 virtual ceremony. The ceremony featured messages from notable alumni, elected officials and the conferral of doctorate, master's and bachelor's degrees. It welcomed the graduates into the alumni association and featured JayJay Porcadilla, the 2019-20 Student Government Association president and one of two recipients of the Student Achievement Award, as the keynote speaker. Each of UCCS' six colleges also offered a personalized ceremony celebrating individual degree recipients.