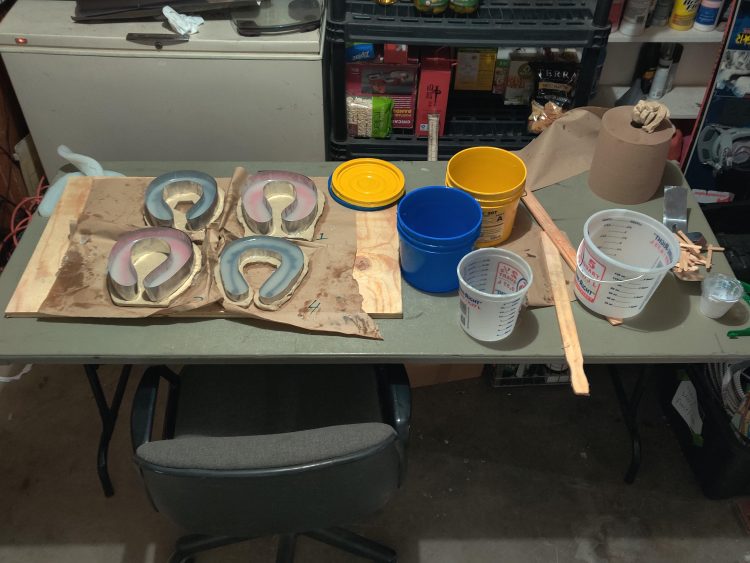 It takes a village to create positive impact on a community. Fortunately for Tucker Walsh – machine and prototype shop manager for the Department of Mechanical and Aerospace Engineering (MAE), who has been working to create face shields for those in need – he's had all the help he needs.
Through a partnership with Colorado College faculty, staff and students, Walsh has coordinated efforts to use MAE's machine shop to fabricate face shields for healthcare providers and others in need. Using a combination of the machine shop's 3D printers, Colorado College's laser cutters and molds that Walsh created himself, the partnership has produced hundreds of watertight face shields. They have plans to produce tens of thousands more.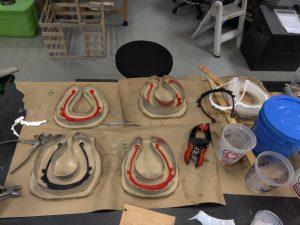 The face shields have three main components: a flexible frame that wraps around the user's forehead, a clear plastic sheet that snaps into place over the user's face, and comfortable material to cinch the shield around the user's head. The reusable shield protects the user's eyes, nose and mouth from droplets that could carry infection.
"It all started when a senior in the MAE program, Scott Jensen, emailed me asking if printing masks and other protective gear would be something we could do using the machine shop," Walsh said.
"As I started 3D printing parts, I realized it would be faster to make them using rubber molds," Walsh continued. "Just two days later, a group of volunteers from Colorado College reached out to see if we had the capacity to fabricate protective equipment. Once we had approval to use departmental resources for the project and had access to the funds from the maker group's crowdfunding campaign, I got to work pouring molds for the visor frames."
The fabrication process involves multiple steps across both the UCCS and CC campus.
First, the team 3D printed a prototype of the frame that goes around users' foreheads.
"3D printing is great for prototyping or proof of concept," Walsh noted, "but it's slow. If you can use that process to create a master mold, you can cut down on a lot of time."
Next, using the 3D printed master mold, Walsh began to create fast, replicable molds. To do so, Walsh presses the plastic frame into molding clay, then wraps the form with light sheet metal to create a negative. After pouring fast-setting silicone rubber into the negative, he produces a mold, which he passes to the CC campus. Volunteers there pour a polyurethane mixture into the molds. Once hardened, the result is a durable, flexible frame to which a clear visor can be snapped into place.
A 3D printed version of the frame takes nearly 3 hours to fabricate – but Walsh's frames take just 20 minutes to create, and have the added benefit of being reusable, washable and durable enough to sanitize. Walsh continues to provide molds to volunteers, who, by pouring batches of four or more frames at a time, can produce the frames exponentially faster than 3D printed versions.
Using more than 40 of Walsh's molds, combined with clear sheets printed in two to six minutes using CC's laser printers, the group has been able to deliver hundreds of completed face shields to the Navajo Nation and local hospitals' healthcare providers.
"It's been a big push from so many people," Walsh said. "Dean Rabern from the College of Engineering sent the volunteer group our way and was excited for us to help. Peter Gorder, the chair of the MAE department, gave his blessing for us to use departmental resources for the molding process. My student workers took over responsibilities for the shop, especially since we've been busy moving lab classes online and finishing up the senior design projects. All of their help freed up time to focus on this great cause."
The College of Engineering and Applied Science enrolls more than 1,600 students and offers 12 bachelor's degrees, two types of master's degrees with nine options, four doctoral degrees, one undergraduate and seven graduate certificates. The college is a Department of Homeland Security / National Security Agency Center of Academic Excellence in Cyber Defense and works closely with the National Cybersecurity Center and with more than 250 aerospace and defense, information technology and cybersecurity, and engineering organizations in the Pikes Peak region.
Those interested in getting involved with efforts to provide personal protective gear to essential employees and others in need can learn more at the Colorado Mask Project.