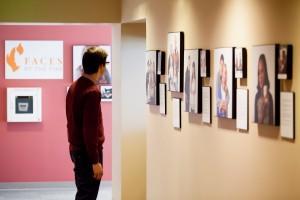 "Faces of the Fire," a collection of photographs of individuals and families affected by the 2012 Waldo Canyon fire is now located on the second floor of Dwire Hall.
Photographer Wendy Pearce Nelson and writer Liz Cobb compiled the images and descriptions of families whose homes were destroyed in the 2012 fire that consumed about 350 homes in the Mountain Shadows neighborhood west of campus. From March 1 to Sept. 18, the images were on display at Gold Hill Mesa.
The invitation to display the exhibit at UCCS was extended to the artists by Martin Wood, vice chancellor, University Advancement. Wood lost his home in the Waldo Canyon fire as did four other faculty or staff members. An image of Wood appears in the exhibit.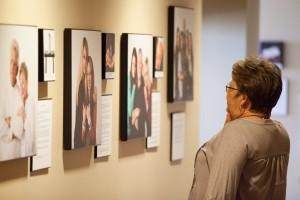 "UCCS played a significant role in the Waldo Canyon fire," Wood said, referencing the role that the campus played in hosting evacuees and first responders during the fire. "Additionally, it's my hope that this exhibit will bring visitors to campus and demonstrate our strong community relationships."
The exhibit will be in place on the second floor of Dwire Hall near the Haehn Community Room indefinitely.
Related stories