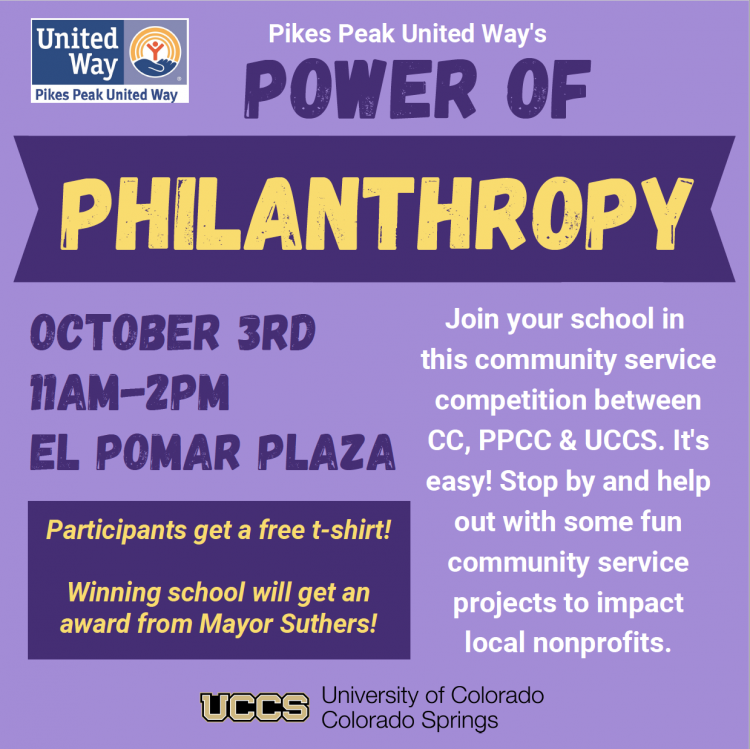 On Thursday, October 3, UCCS students are invited to participate in a community service competition between Colorado College, Pikes Peak Community College and UCCS.
Hosted by Pikes Peak United Way, the Power of Philanthropy event will take place on the UCCS campus from 12:30-2pm at the El Pomar Plaza.
Students can engage in a number of community service opportunities at the event: write mentor letters supporting and encouraging local high school students, tie double-layered fleece blankets for the Springs Rescue Mission and decorate weekly meal delivery bags for Project Angel Heart. 
They can give as much or as little time as they can, and can pick up a free t-shirt and snacks at the event. Students that participate in all three service projects will be able to earn 500 PIPs.
The school with the highest percentage of student participation will receive an award and special recognition from Mayor John Suthers.