Kee Warner was not thinking about his health when senior instructor K.C. Craig's email to the faculty list appeared on his computer screen late on a December Friday afternoon.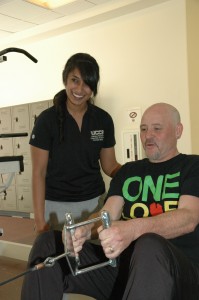 But Craig's offer of a free personal trainer as part of her spring semester course, Exercise Testing and Prescription HSCI 4950, made Warner pause.
"K.C.'s email reminded me of a conversation with my sister who had been working with a trainer and how much better she said she felt by 'tuning in,'" Warner, associate vice chancellor for diversity and inclusiveness, Academic Affairs, said. "I thought that it would be a good thing for me to do, particularly being an insulin diabetic and at my age."
As one of 200 UCCS faculty or staff members who responded to Craig's offer within 15 minutes –and one of 25 selected to work with one-on-one with a student — Warner soon found himself in the Campus Recreation Center doing something he'd done sporadically during the last few years, exercising.
With the help of Annoushka Ranaraja, a Beth-El College of Nursing and Health Sciences senior, Warner is now doing pull-ups, push-ups, sit-ups, and spending time at the weight bench three or four times a week.
"She designed a program for me and my needs," Warner said of Ranaraja. "We meet weekly, which provides discipline. It's been a humbling experience. It's been a while since I've done pull-ups or push-ups. It was a lot easier when I was 20."
Warner heaped praise on Ranaraja for her work and for Craig for changing her course design to include faculty and staff members as research subjects. Craig was equally positive about the faculty and staff who agreed to work with her students with the shared goal of providing a realistic health professional experience. Many of the students hope to work as personal trainers or as trainers for elite athletes.
Since 2005, Craig has taught health science courses focused on exercise and preparing students for certification as professional trainers. Previously, students used family members or friends to practice classroom lessons and to prepare for certification and careers. The idea behind having students work with strangers – faculty and staff members chosen at random – was to create a more realistic experience.
"I wanted something that was real, live, and down and dirty reality," Craig said.
She got it.
Students faced fears of being intimidated by clients and developed solutions for problems that ranged from conflicting schedules to injuries. The students discussed solutions in the classroom but without sharing names. Client files are locked in Craig's University Hall office to ensure confidentiality.
"I only heard a few complaints," Craig said. "Most had to do with difficulty scheduling the required weekly client meetings. My response was to tell the students 'welcome to reality.'"
Reality is what Ranaraja says she liked about the course, something she says will help her achieve her goal of earning a master's degree and, eventually, owning a sports nutrition-related business.
"This was a great part of the course," Ranaraja said of her work with Warner. "I get to apply things. I'm such a hands-on learner that it helps me more than coursework would."