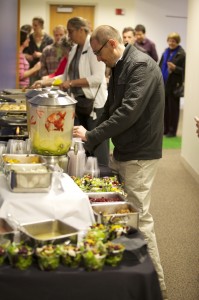 Faculty, staff and students were treated to dinner and a movie at the green carpet premier of the documentary "Fooducation: A Revolution of Food & Eating at UCCS" during the March 20 Chancellor's Campus Forum in the University Center Theater.
Tamara Moore, executive director, Auxiliary Retail Services, introduced the film that highlights the recent changes to the UCCS food supply, including how it is procured, served and managed on campus.
According to Moore, the documentary sought to answer the question "what does food mean to you." In it, faculty, staff and students are asked to identify types of vegetables and asked about their eating habits.
The documentary was produced by Moore and Kelsey Hunt, associate director, Media Services and can be viewed below.
Fooducation: A Revolution of Food & Eating at UCCS
Linda Kogan, director, Office of Sustainability, closed the forum by giving an update on the university's sustainability efforts.
Some  recent projects include new LED street lights in parking lots and the purchase of wind energy to offset the carbon footprint of Columbine Hall, the Kraemer Family Library and Summit Village Student Housing.
Before concluding, Kogan asked attendees to participate in some of the Office of Sustainability's current projects including composting paper towels in the University Center bathrooms and helping clean the Templeton Gap Floodway as part of the UCCS "Adopt-A-Waterway" project, or ordering 100 percent recycled paper for your office printers.
-Photo by Philip Denman