Chuck Murphy, founder of Murphy Constructors, will receive the 2013 UCCS College of Business Lifetime Entrepreneurship Award at an April 19 campus luncheon.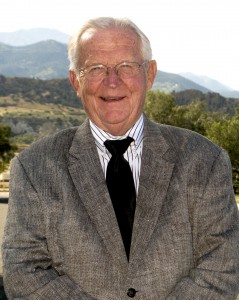 Murphy will be recognized for his local entrepreneurial success and for his outstanding community volunteer contributions.
Murphy founded Murphy Constructors in 1960, originally Murphy & Company, which has renovated and restored several historic building including The Pioneer's Museum, Phantom Canyon's Cheyenne Building, The Cliff House, and the Manitou Springs Spa Building. In addition to preserving local landmarks, Murphy Constructor's long list of projects spanning more than 50 years has had a positive economic impact on both local employment and development.
Murphy purchased and operated several other businesses over the years including The Garden of the Gods Campground, Gray Line Tours of Colorado Springs, and Brookside Assisted Living.
"Chuck Murphy is a modern day pioneer with his vision to improve and build our city. His community efforts as a volunteer, arts advocate, and civic voice are inspiring," Venkat Reddy, dean of the College of Business said. "Chuck's success is one which I hope our current students emulate."
Past recipients are Gary Loo, Bruce Shepard, Joe Woodford, and Cari Shaffer, all of Colorado Springs.
The award luncheon is a fundraising event to support College of Business scholarships and efforts to strengthen alumni, student, college, and community connections. The luncheon begins at 11:30 a.m. April 19 in the Gallogly Events Center on the UCCS campus. Dean's Circle sponsors of the award luncheon are ANB Bank, Penrose-St. Francis Health Services, Nunn Construction, Inc., Freedom Financial Services, Kirkpatrick Bank, Luisa Graff Jewelers, Gray Line Tours of Colorado Springs, and the UCCS College of Business. Businesses wishing to sponsor a table or individuals wishing to purchase tickets at $150 each may do so through the event website, www.uccs.edu/LEA. Alumni of the UCCS College of Business receive a discounted ticket price of $95 per person.
In addition to his business pursuits, Murphy is also a fervent supporter of the arts and the non-profit community and has served on numerous boards including Pikes Peak Hospice, Pikes Peak Mental Health, Silver Key Senior Services, ComCor, The Colorado Springs Pioneers Museum, The Fine Arts Center, Discover Goodwill, The Downtown Business Improvement District, The Julie Penrose Center, Pikes Peak Highway Advisory Board, The Downtown Partnership, The Colorado Springs Planning Department, and The Historic Preservation Alliance..
The luncheon keynote speaker is Vance Brown, founder and CEO, Cherwell Software. Brown founded and led several businesses and organizations including The Classical Academy, Band of Brothers Ministry, and GoldMine Software, which was once ranked one of the nation's top 100 software companies.
— Samantha Bruner