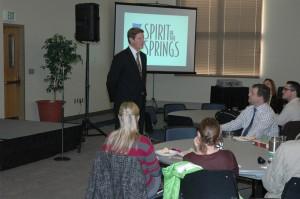 Colorado Springs Mayor Steve Bach does not want UCCS graduates to leave Colorado Springs to find good jobs.
The first-term mayor and member of the UCCS Class of 1968, reminisced about his student days, his trial-by-fire entry into politics and his desire to make Colorado Springs a place where young people want to be during a Tuesday morning discussion with UCCS student leaders. The planned topic was Bach's "Spirit of the Springs" initiative, a campaign designed to celebrate Colorado Springs successes and build community unity. But the mayor veered from his script to give student leaders insight into his experiences and the challenges facing Colorado Springs.
"In 1968 after graduation, I left Colorado Springs," Bach said. "It was the hardest day of my life. I know what it's like to leave. I don't want you to have to do that."
After graduating from UCCS with a degree in business, Bach took a job in Cincinnati, returning to Colorado Springs several years later for a position with Current, Inc., and eventually launching a successful commercial real estate career. But despite those previous successes, he said his entry into politics is a new experience.
"I'm getting a fair amount of OJT – on the job training," Bach said of his first few months as mayor and a first-time politician. "I'm learning to be more diplomatic and patient."
True to his conservative election platform, Bach stressed the need for government to re-invent itself, to be business-friendly and customer focused. He suggested dramatic reforms in such areas as public transit, the governance of city-owned Colorado Springs Utilities, and advocated strategic planning for government agencies rather than year-to-year budgets. He said he also supported plans to lease city-owned Memorial Hospital to the University of Colorado Hospital.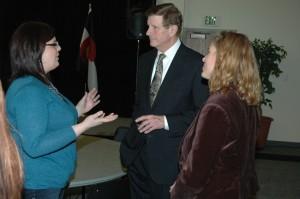 "Hope is not a strategy," Bach said before sharing ideas for government agencies to work with each other, and with private industry, to make Colorado Springs better.
"I've got CEOs of fifteen companies that have said they would help the city," Bach said. "It's not enough but it's a start."
In a less partisan moment, Bach drew parallels between himself and Chicago Mayor Rahm Emanuel, a close ally to President Barack Obama, saying they were both "progressives on a Tea Party budget."
Bach encouraged the UCCS student leadership to become involved and said improving career opportunities in Colorado Springs was a high priority. He talked about wanting to reach the city's fifth graders to talk about the benefits of careers in the public service and the importance of municipal government.
"We know that today, people ages 25 to 44 are declining in our city," Bach said. "Right now, that age group is 25 percent of the population. It should be 31 percent or more. You are the future. We have to be ready to have you replace me and people like me."
Getting involved is as simple as contacting a city council member and sharing ideas, Bach said. He gently chided the students for not knowing their council member's name or having contacted them, reminding the students that the city's special interest groups are frequently in contact with council members.
"Let them know what you think," Bach encouraged while directing a city staff member to hand out lists of telephone numbers and email addresses for council members.