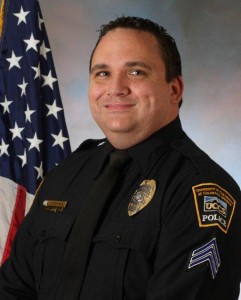 A current UCCS police officer will direct campus risk management efforts effective Dec. 1.
James Duvall, a UCCS police officer since 2004, was selected for the position charged with reducing and mitigating potential loss to the university. Previously, Duvall worked as a police officer in Cripple Creek, and Grand Junction.
He holds an associate's degree in visual communication and completed the Pikes Peak Community College Law Enforcement Academy.
Duvall replaces Frank Hammitt who for the past 19 years has served the UCCS campus, including as the campus risk manager. Hammitt will work as a risk analyst on special projects and assignments within the University Risk Management Systems Administration Office in Denver beginning Jan. 1.
The changes were announced by Terry Lee, assistant vice president, University Risk Management.