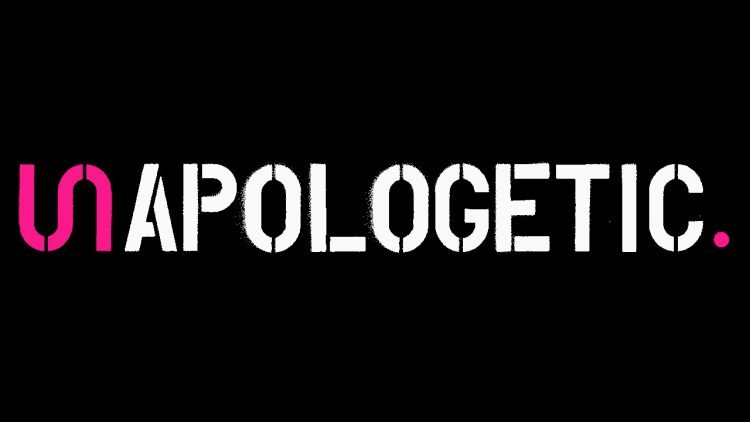 "Unapologetic." is the 13th annual exhibition of the senior visual and performance art majors at the Galleries of Contemporary Art—and the second time that it will be held at GOCA Downtown. Work from 12 seniors will be on display April 19-May 18.
"Unapologetic." speaks to the requirement for artists to be driven and bold in their creative practice. The exhibited artists express a variety of experiences, beliefs, perspectives, and worldviews. The thread tying them together is their desire to share their messages in an unashamed, unapologetic manner. The majority of the work in this show—from curation and installation to administration—was completed by the artists.
The exhibit will hold its opening reception from 5-9 p.m. April 19 at GOCA Downtown, 121 S. Tejon St., and will be open during downtown's First Friday event from 5-8 p.m. May 3.
GOCA is a regional hub of contemporary art, culture and conversation. By featuring world-class artists, hosting artist and expert talks, and offering meaningful events, GOCA engages UCCS students, faculty, staff and Pikes Peak region community members in contemporary culture and life.
---
Love Aritus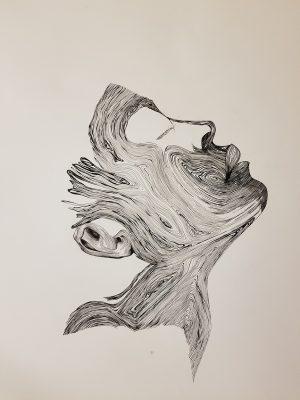 Illustrating the intersection of human emotion and intimate moments, my process involves transforming found imagery into line drawings that intertwine and push across the page. Full of mark marking, these drawings are grounded in capturing the intimate moments in our lives.
These human connections are significant because they allow us to reflect on the different relationships we have and the ways they shape our identity. Relationships imitate the ways we see ourselves and is a major contributor to our sense of personal meaning in life.
Love-Angelly Aritus was born in 1998. Her work deals with intersection of human connection and intimate moments.
---
Nicole Brewer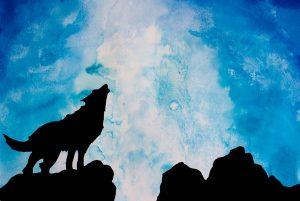 Stillness abounds in these celestial landscapes. Taking a breath from the everyday dissonance, I escape into the limitless freedom of the wilderness. The tranquility of nocturnal solitude combines with these strong animals in their natural habitats. Take a step into the fantasy of a magical forest and be liberated by the feeling of belonging. This enchanting escape is healing to the soul in both the process of creation, and the silent serenity that flows out of these captivating pieces.
Nicole Brewer was born in 1997 in Levittown, Pennsylvania. She grew up involved in music and arts and was always learning new instruments and experimenting with new artistic mediums. In 2017 she moved to Colorado Springs and transferred to UCCS. Brewer has already been included in various exhibitions including Young Hot Shots at The Modbo, Colorado Springs, Colorado, and the Penn State Abington art show of 2016 and 2017.
---
Joshua Hardin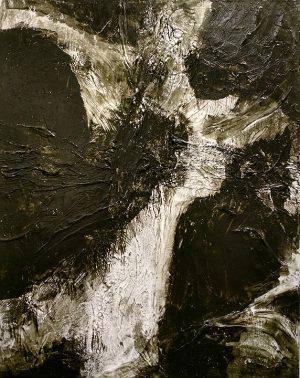 By evoking different emotions, one can gain insight from one's own experience. In a world of pain and suffering, my art captures a glimpse of the trauma. I use texture, color and abstract forms to embrace the emotion I want. The process with my materials lend to a special mark with paint. This process has forced me to manipulate materials from their original or expected use. I have, with much joy, painted large scale to emphasizes its meaning.
Joshua Hardin was born in 1974 during the end of the Vietnam War. His mother was Mexican-American and father Caucasian-American. Raised in Northern California in a predominantly Mexican culture. Joshua was a Youth Correctional Officer in California and Colorado for sixteen years while serving in the Navy Reserves for eight years. The experience in youth prison and two deployments to the Middle East gives Joshua inspiration to explore trauma in his early work. Currently his artwork illuminates psychological and spiritual meaning.
---
March Gotthoffer-Ducharme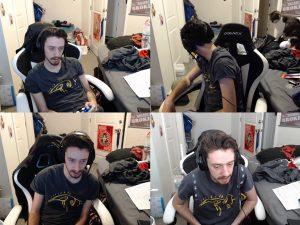 I spent 24 hours straight playing a game called Hollow Knight. The repetition and overwhelming duration of this piece represents that this is something I do all the time. There are moments of agony and elation, sometimes overlapping one another, though the pain is more common. I am confined in a tight, yet cozy, domestic space. The door is open behind me, but I never leave the room. I am clearly isolated, but I am also not alone. I am talking to the people who are watching me play the game, however many miles away they may be, just text on my screen. The layered voices and noises often create feelings of anxiety and intrigue, but there are also moments of serenity and relief. This is the prison I chose for myself.
March grew up on a ranch, doodling in his mother's glass studio miles away from the nearest town. He's a Libra with his rising sign and moon both in Cancer. His father lived many states away, and the distance and tension between his parents slowly boiled to a painful divorce. Having grown up so physically far away from all of his closest friends, March learned to connect to other digitally, online, from afar.
---
Brittany McNeil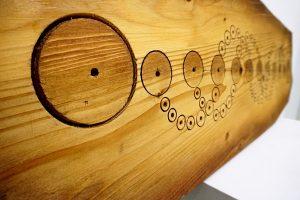 My work is as an ode to the female condition as I experience it. When patrons view or experience my work, I hope that it energizes their spirit. Every piece is a prayer that has come into material fruition but you will not find religion here. Living art is sometimes worry and good spirit molded with good intentions and poured with empathy. This body of work is a reflection on girlhood, laughing at programmed ideologies of what it is to be lucidly aware of when you have not reached the peak. I bring to the discussion optics of the female body, the human condition and also spirituality. When it comes to enrichment of female bonds, it is my belief that we do motherhood and we create sisterhood but, it is "daughterhood" that will be the next reach for womankind. Daughterhood is essentially 'nurturing the mother' and I believe this one concept can heal our world.
Brittany was born in Fort Ord, California to Leslie and Doyle "Billy" McNeil. She grew up in the golden age of Saturday morning cartoons and knowing the world around you was going outside and seeing it for yourself. She is one of five children: Samantha, Delia, Deurian, Brim who is the youngest. Brittany graduated from Seaside High School. In 2009, she earned an Associates of Art degree from Colorado Technical University for visual communications. She gives credit to her eldest sister, Samantha for being her primary influence for expression and cultivating creativity. Brittany holds close the memories of growing up on the Fort Ord Army Base before its closure in 1993, the farm lands of the Central Valley and the way the air smells like the Pacific early in the morning. As far as the future, Brittany is living in the present; Fear stops creativity from germinating into a living breathing art piece.
---
Mia Mras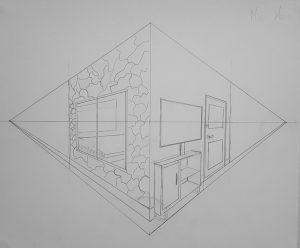 The feeling of being weak and uncomfortable; a victim to being bullied and insulted for the gender you are. Someone out there has been through the same thing and many others don't feel comfortable in their own skin. Be it body dysphoria or some other reason. I wanted to create something where those hidden wars could be seen without you having to fear being found out. This work is a canvas to show your weakness, pain, identity, and judgement without needing to fear the repercussions. It is almost like a way to escape those thoughts and help you identify what really has gotten under your skin. I hope that it can help those who see it understand that they are not alone, that feeling ashamed of your own body's natural and healthy to be spoken about. I want this work to help those being bullied make a call, those who were disfigured find love, transgenders find themselves, and allow these deep wounds to finally heal.
Mia Mras was born into a military family in Amsterdam, Netherlands but raised in Geilenkirchen, Germany for a few years. This experience helped shape her ideas for art as she began to draw not too long after moving to Atlanta. This is where she started to draw at the young age of 6 years old and which her work was based around identity as well as fantasy. Sixteen years later her work is still around this idea with her most recent piece tackling the idea of depression and body dysphoria. Her inspiration for this type of art would have to be how many young women and men are uncomfortable with how they look because of social media. But also the large movement of the LGBTQ+ community in the recent years. The one who inspired her the most would be her brother who is still uncomfortable in his body, but taking the steps to love himself more and finally be comfortable in his own skin. Mia's brother is an incredible person and inspiration and she wants him to be happy. Because of this Mia is determined to make an internal battle that many people will not notice and turn it into an external representation of it for people to see.
---
Chavez Padilla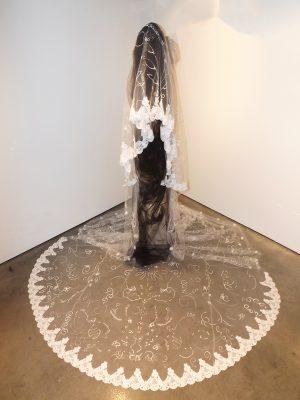 My artwork is a conversation on femininity. The identification in everyday contemporary life, phases and forms it takes, and the shape of its manifestation from past to present. Exploring the feminine through its tropes of elegance, beauty, fragility, and ephemerality. These constraints provoke dialog and my works questions those stereotypes. By addressing the ideals and psyche of our society we can have a better understanding of the feminine. How it affects us as individuals, and as women. Floating veils are the ghosts of the feminine, the mold and facade that is adhered to in contemporary society. The feminine ideal is characterized by the triad Virgin, Novia, and Muerte. How it has manifested physically in these works displays a shedding of skin, for close examination and assessment. The fabric takes on the shape and characteristics of a body, but its translucent appearance elevates the figure into the metaphysical ideal. The brocades and patterns within the figures provide the cultural contexts of each figure, without providing a distinct correlation to gender. The creation of idols in three stages constitute a stigmatized theology. I have chosen to revise this theology, contrary our contemporary understanding.
A textile and fiber artist, Chavez works with delicate materials such as lace, thread and glass beads, creating imposing and ephemeral sculptures. Chavez began working with fabric in her childhood, and opted to participate in a summer course for pattern making at fifteen. Chavez's work often addresses aesthetic feminism, traditional female craft making, and the power of ceremonial dress in contemporary society.
---
Grace L Rouse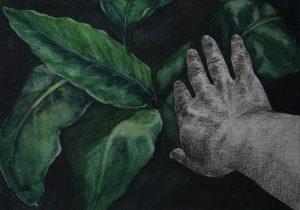 My work couples the struggles of modern day life with our deep detachment from the natural world. Our relationship to Earth is fragmented, and our heart aches for her. As a child, I explored the woods and beach behind my home daily, embracing the divine connection to the universe, my humanity, and to the spirituality that was found there – in communion with the plants and animals. Now, I crave the stillness of nature and the night sky, to silence the overwhelming quality of life. Through my art, I aim to convey a celebration of all things in the universe, contrasted with the challenges of current existence, femininity, motherhood, and mental wellness.
Grace L Rouse was born and raised in a small town in Michigan, along the shores of Lake Huron. Rouse studied Fine Art at Spring Arbor University in Spring Arbor, Michigan for three years, before moving to Colorado to finish her Bachelor of Arts. She has exhibited in group exhibitions at Ganton Art Gallery, Spring Arbor, Michigan; The Modbo; SPQR; and GOCA Downtown in Colorado Springs, Colorado. Her art discusses the fragmented relationship between the natural world and modern day life.
---
Deborah Schoen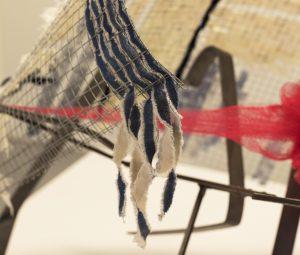 When I was young, my mother taught summer Home Economics classes. As the trend of "home" training phased out with the rise of feminism, those early experiences introduced me to the push and pull of "women's work." Although times are different, the "double day" phenomenon continues to challenge my thoughts on domesticity, the working woman, and the fantasy of the American dream. It is through my investigation of three generational and matrilineal dialogues that I explore traditional notions of femininity, the transformative qualities of female personas, and the value of one's time. My work explores the fluidity of found-materials, the deconstruction of the old, recontextualization of the new, and allows me to use "domestic art" to measure the boundaries that continue to challenge the modern-day woman.
Deborah Schoen is a daughter, mother, spouse and artist who lives in Colorado Springs. Born and raised in southern California, she grew up in a busy, eccentric home, which felt familiar after she married into the military. Since then, she has moved nearly twenty times and has lived all over the country and overseas. Deborah arrived at UCCS as a transfer student with a primary focus in photography. Her work uses found materials that explore the boundaries and fantasies of the domestic sphere. Schoen's work has been involved in both solo and group exhibitions, including the Heller Center for the Arts & Humanities, Ent Center for the Arts, Cottonwood Center for the Arts, The Modbo, SPQR and Kreuser Gallery. Her awards include the Linda Holmgren Jensen Endowed Scholarship for the Arts, an internship with the Chrysler Museum of Art in Norfolk, Virginia, the University Village Center Public Sculpture scholarship and the UCCS LAS Faculty & Student Creative Works grant. Schoen's work has been published in the Chrysler Museum of Art Magazine, Southside Daily and Virginia Pilot newspapers in Virginia, in the UCCS literary & arts publication Riverrun, and the online publication Design Within Reach.
---
Amanda Symonette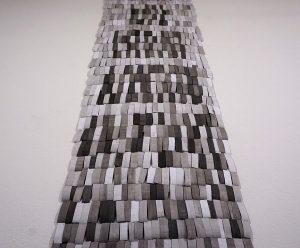 Behind order, I discover repeatedly that there can only exist chaos. I make work that demands perfection, and in every piece that I produce, I only find variations of chaos. I don't believe this in fear or defeat. I find beauty in the fall from perfection, in the realization than I can't reach it. They are not flaws- they only remain as the ghosts of chaos. I work with paper because its transformation is beautiful, softening and folding, a once- clean surface faceted with creases and words. An altered order. It fascinates me, for reasons that I don't yet understand. It is soft, malleable, deconstructed, compliant. It is our primary receptacle for language. I use language and its constructions- to the untrained or uninterested ear, language is noise, another layer of chaos. Words are the veneer of control that I have over that noise. And I use repetition because it has no definite stop. It could continue into infinity. It could never end; its only limits are effort and time. Existence is not comforting, but neither is it daunting. It simply is. I live on a planet that exists in a universe so utterly expansive that it may as well be infinite. And in that infinity, there is chaos. I can categorize and discover and create every moment, and it will not dent the disorder of existence. My art matters for myself and the people it reaches- it might not matter to the rest of infinity; but, it doesn't need to.
Amanda Symonette is an artist currently living and working in Colorado. She currently works at a public art studio/workshop, where she teaches workshops and assists in taking care of preparing materials and building wooden frames and boxes. Much of her work deals with her fascination with language and how it affects and directs human experiences; Symonette's primary medium is paper, and much of her work is sculpture. She draws influence from the Japanese tradition of origami, but also is intensely interested in bookmaking and the ways that language can function in these mediums. Often working with repetitive themes, she makes multiples that coalesce into a single piece, in the pursuit of perfection through repetition.
---
Clark Valentine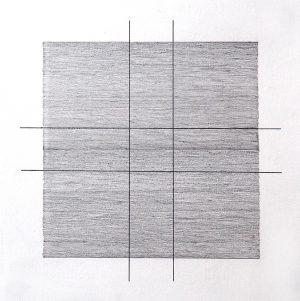 Throughout my life, I have been greatly influenced by religion. Growing up in Protestant Christianity and still practicing it today, I have been inspired to seek a relationship with the divine. I have also studied Eastern Philosophy, Yogic Traditions, and Buddhism and have found a deep interest with the concept of ritual in religious practice. While my faith does not have rituals in the same way that many other religions do, I have found a beauty in seeking moments of connection with the divine through ritualistic practices. In my spiritual life, I seek the experience of ritual while maintaining intimacy with the divine. Subsequently, this body of work has not only been inspired by these practices, but has become a spiritual practice itself. The materiality of drawing excites me. I am interested in the extreme vibrational contrast that can come from a processes that is so simple and immediate. My work is driven by the processive element of its creation. Each line functions as a prayer or mantra as it is drawn. The collection of these countless elements creates a whole that is greater than the sum of its parts.
Clark Valentine was born and raised in Colorado Springs. His artwork discusses the complexities of his religion and spiritual practice, specifically dealing with ritual and devotion, His work has most recently been shown in his first solo exhibition at Heller Center for the Arts and Humanities in a show titled Lessons of Silence.
---
Heather Windom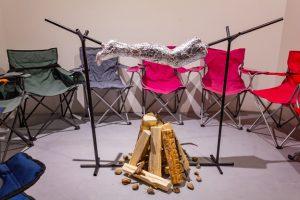 I create art focused on the fragile juxtaposition of inter-spirituality between humans and what it means and looks like to belong in the world around us. Using a variety of materials ranging from sculpture to digital and new media, I attempt to make apparent our uncomfortable situation in the present universe. I feel negatively about the way the environment and all of its subsections have been handled, including food and agriculture practices, natural disasters, and human outdoor recreation and leisure. It is an idea that never leaves my head, and needs to be more widely discussed.
Heather Windom is an artist born and raised in 1997 in Colorado Springs. From a young age, Heather has always held interests in art, music, and science, but it wasn't until college that she started to expand her art practice. Growing up on Colorado's Front Range, Heather cherishes her plethora of outdoor memories and current experiences camping, fishing, cycling and overall enjoyment and connection with nature and the world around her. These experiences influence her work while they function as both an inspiration and an escape. Heather experiments between lots of materials and concepts, but some of her common means to make are sculpture, photography, and new media, and common concepts involve the environment, identity, and science.