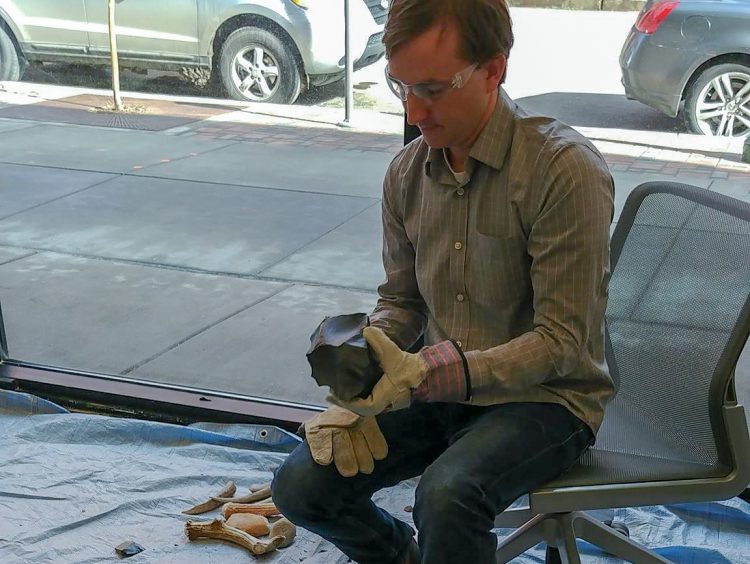 With options to participate in ongoing research projects, see an archaeologist shape stone tools, and explore where UCCS researchers and students have traveled around the world, faculty and students hosted the first Anthropology Day Feb. 21 at UCCS Downtown.
"This is a great opportunity for anthropology faculty and students to share our work with the community, to interact with prospective students interested in anthropology, and to introduce people to the kinds of questions we can investigate through the many branches of anthropology," said Kimbra Smith, associate professor and chair of the Department of Anthropology.
The event was sponsored by the Department of Anthropology, the UCCS Anthropology Club and the American Anthropological Association. An open house in the early afternoon allowed visitors to look through samples in a microscope, interact with touchscreen maps, learn about plaster casts of primate skulls from the Biological Anthropology Lab and explore departmental research initiatives. A mixer for students from UCCS, Pikes Peak Community College and local high school students ended the day, with presentations of the programs offered at UCCS.
"UCCS Downtown has provided a great venue for us to showcase our work to a different audience, and we are excited about the opportunities it gives us to engage with the community and the urban environment," Smith said. "We're looking forward to continuing our community outreach events downtown, including First Tuesday interactive discussions of locally and globally relevant topics, summer afternoon opportunities to interact with student archaeologists conducting lab work with artifacts from local research sites, and future coursework and community-based activities."