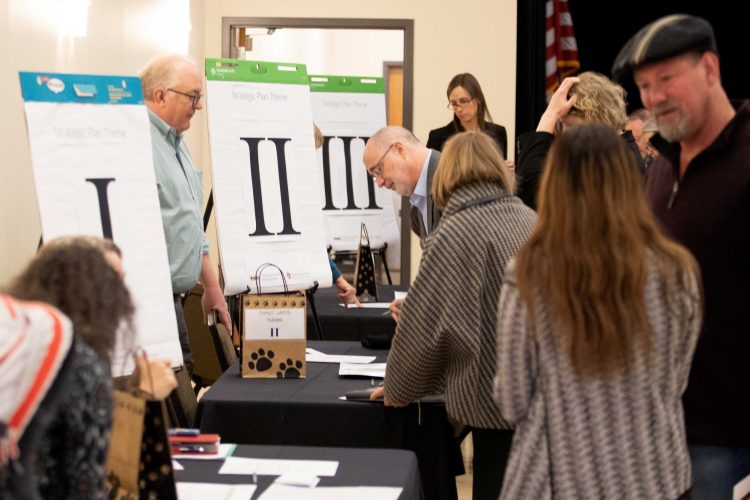 More than 250 faculty, staff and students provided feedback and volunteered to work on one of the seven themes during three town hall sessions March 11 for the 2030 Strategic Plan.
"The strategy is developing out of the many voices we heard, and it is centered around you," said Chancellor Venkat Reddy. "Through that lens, we can focus on your journeys, offer you strength, and support your success. Because your success is our success."
Work on the 2020-30 plan started in July 2018 with the selection of JERA Partnerships to assist in the process. In the fall, JERA conducted sessions with faculty, staff, students, directors, deans, cabinet and Regents, and started to develop the initial strategic themes. A follow-up survey in February collected feedback on the themes, and they were modified for the March 11 Town Hall sessions.
The themes will inform goal-setting in the new plan, and later the objectives and key deliverables that faculty, staff and administrators can use to inform their decisions.
The seven strategic themes that were developed were:
Expand scholarly achievements by investing in exceptional and diverse faculty needed to conduct and support research and creative works.
Enhance strategic enrollment and retention efforts to drive long-term stability and sustainability.
Foster a community of engagement and inclusive belonging that creates life-changing educational experiences in teaching, learning and co-curricular activities.
Invest deliberately and sustainably in our people, processes, buildings and technology to align with our strategic growth plans.
Strengthen and expand revenue sources to ensure future growth and improve student affordability and access.
Support competitive programs and initiatives, both existing and new, that show the university's unique value and identity in the higher-education landscape.
Pursue mutually-beneficial community outreach and partnerships that align with our mission to create opportunities for faculty, staff and students and to enhance the community we serve.
With the themes in place, participants worked at each of their tables to answer the questions of what UCCS will look like in 2030 and what would success look like if each of the strategic themes were accomplished. Each participant also had the opportunity to provide notes on the themes and volunteer to work on the goals and deliverables. For campus community members who missed the town halls but want to still volunteer for a team, use the online sign-up form.
Cross-functional teams will work on goals, objectives and key deliverables related to each of the themes starting next month. This fall, work will transition to finalizing the strategic plan by December 2019. The plan will then be submitted to the CU Board of Regents for approval and implementation in 2020.
Strategic planning documents, updates and other materials are available at uccs.edu/strategicplan.