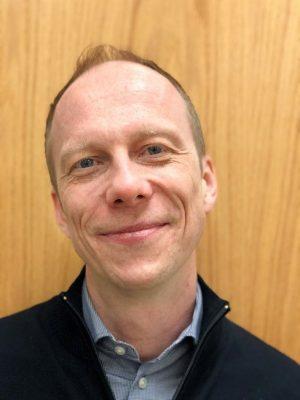 Guy Hagen is a senior research associate with BioFrontiers at UCCS and joined the faculty in 2015. He focuses on developing new methods in optical microscopy, and on applying these methods to biomedical research problems in areas such as allergies, diabetes and cancer.
Hagen is particularly interested in developing super-resolution microscopy. This is a family of techniques which can surpass the normal limit of resolution in optical microscopes. His most recent work includes two published journal articles: "Imaging tissues and cells beyond the diffraction limit with structured illumination microscopy and Bayesian image reconstruction," and "Quantitative super-resolution single molecule microscopy dataset of YFP-tagged growth factor receptors."
Hagen received his bachelor's degree in biochemistry from Colorado College, and his Ph.D. in analytical chemistry from Colorado State University in 2005. Currently, he is the principal investigator of a National Science Foundation Major Research Instrumentation grant, and of a National Institutes of Health research grant "Imaging live cells with super- resolution microscopy."
Editor's Note: This is part of a regular series of faculty members coordinated by the UCCS Office of Research. Questions, suggestions, or comments about Faculty at Work? Would you like to nominate someone to be featured? Email [email protected].