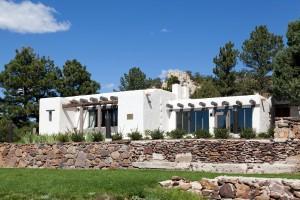 The Heller Center for Humanities and Arts is reaping the benefits of solar power by participating in the City of Colorado Springs' first community solar garden.
The Heller Center, on the northern edge of campus near Pulpit Rock, is the first solar garden power recipient with 100 percent of its expected electricity use being offset by the leasing of 20 photovoltaic panels in a garden created and maintained by SunShare, a local company dealing in clean, renewable energy.
"We became very interested in becoming a participant with several other entities in Colorado Springs, such as Colorado College and District 11," Brian Burnett, vice chancellor, Administration and Finance, said. "I think we certainly are in tune with the students' wishes to bring more green power and more green energy to the campus."
The upfront cost to UCCS, including a $400-per-panel rebate from Colorado Springs Utilities, was $11,000. Colorado Springs Utilities will credit the Heller Center's utility bill with 9 cents per kilowatt-hour produced, which is greater than the current cost of 7.5 cents per kilowatt-hour. Over the course of 20 years, as coal prices are expected to increase, the solar garden should save significant money for UCCS in addition to providing more renewable energy for the region.
"I think it's immediately going to help us with our utility bills, which made it a much easier decision to move forward," Burnett explained. "But it's also about being responsive and wanting to be a leader in El Paso County and southern Colorado, along with some other big users of energy ‒ particularly when this is an educational institution.
"This is part of helping students understand how we can still get our power, but maybe look at different ways of producing that power that are sustainable and reliable."
The 20 panels leased for the Heller Center have a capacity of 4.6 kilowatts in direct current and are expected to generate 126,190 kilowatt-hours over their 20-year lifetime. This is expected to save up to 40,279 pounds of CO2 per year for 20 years, equivalent to removing 71.6 passenger vehicles from the road for one year.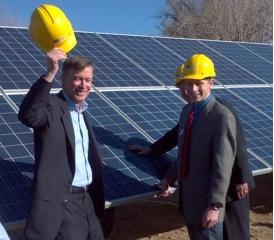 Donated to UCCS in 1997, the 36-acre Larry and Dorothy Heller property came with stipulations that the open space surrounding the structures be preserved and the property used for activities in the fields of humanities and fine arts. Since the renovated property's reopening in 2010, the Heller Center served as venue for a number of art and history courses, staff and faculty retreats, concerts, receptions and dinners as well as shows by local artists. The center utilizes efficient, renewable modern power while maintaining the charm and ambiance of buildings designed and constructed 60-70 years ago.
"The Hellers were very close to nature and they really appreciated their ranch, and I think they would have liked it," Burnett said. "We needed to find a set of buildings or an area of campus that would fit what our part of SunShare would mean. We just thought it was natural and appropriate.
"We're looking at other potential ways to add solar power to the campus, but this is our fourth piece of solar when you consider the three applications we already have on our roofs," he continued. "It's not on site, but it's certainly using solar power to help power the campus."
Matt Sidor, UCCS senior majoring in geography and environmental studies and student employee for the Office of Sustainability submitted the original report about SunShare and the community garden to Communiqué. He described the garden and participation process.
"Local individuals, businesses and other organizations who receive electricity from Colorado Springs Utilities can purchase a 20-year lease on each solar panel for a one-time payment of $550, with a minimum 2-panel lease," he said. "The electricity generated from those panels is continually measured by Colorado Springs Utilities and comes back on the owner's utility bills as a credit. The net effect is that local energy customers can reap the same environmental benefits of installing a rooftop solar panel system without all of the hassles and costs associated with it. By purchasing, installing and maintaining these solar panels in bulk at a central location, SunShare is able to pass the savings onto its customers who otherwise wouldn't be able to afford the upfront costs of a traditional rooftop system."
Sidor said SunShare was founded last August by Colorado College alumnus David Amster-Olszewski.
"In November, the company broke ground at its first solar garden at Venetucci Farm, a farm in southwestern Colorado Springs started by the Venetucci family in 1936 and gifted to the Pikes Peak Community Foundation in 2006. Well known locally for its fruitful pumpkin harvests every fall, it will also now be recognized for its generation of clean renewable energy."