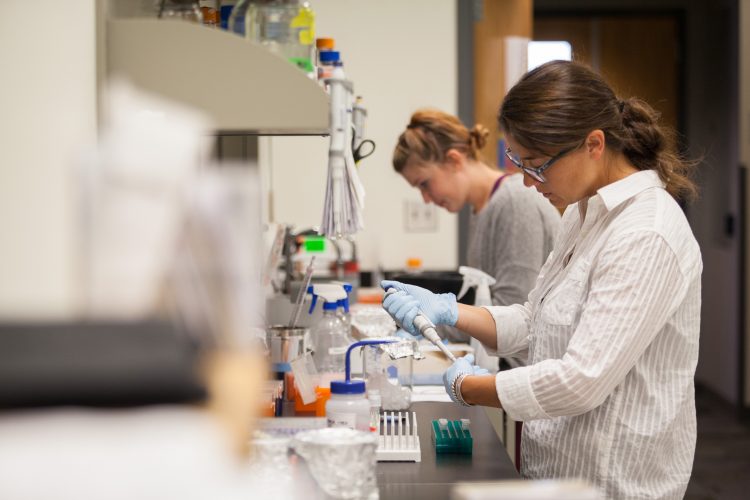 An expanding doctoral program and increases in research activity led to a promotion for UCCS in the new Carnegie Classification of Institutions of Higher Education. UCCS is now among doctoral universities with high research activity, commonly referred to as "R2" by Carnegie.
"Our faculty and students have earned this new designation for their development of research-focused degree programs and work that advances our understanding of the world," said Provost Tom Christensen. "We are excited for what this means for the future with the development of new programs and the new opportunities for research."
In the latest update to the national Carnegie Classification release since 2015, the organization recognized 259 "research one" and "research two" universities who graduated at least 20 doctoral students in each year with at least $5 million in research activity. The research activity index was used to determine the cutoff between R1 institutions with "very high research activity" and R2 schools with "high research activity."
UCCS has met the minimum in research funding for the last 15 years, but growth in doctoral programs with a research focus led to the new classification. In the last five years, an average of 22.6 students earned Ph.D. degrees, compared to an average of 9.6 students in the previous five years.
"The growth and development of our doctoral programs have long been goals for UCCS, and we're seeing the results of those efforts with our new classification," said Kelli Klebe, dean of the graduate school. "I commend faculty for engaging graduate students in meaningful research activities which are crucial for classification as a research institution."
The new classification makes UCCS one of six R1 and R2 institutions in the state of Colorado, along with Colorado School of Mines (R2), University of Denver (R2), CU Boulder (R1), CU Denver and Anschutz Medical Campus (R1), and Colorado State University – Fort Collins (R1). UCCS is the only research-level institution in southern Colorado in the Carnegie Classification.
"This is a prestigious recognition for UCCS. We expect this new classification to help us attract even more top-notch faculty to our campus and to make our faculty more competitive for research funding in the coming years," said Jessi L. Smith, associate vice chancellor for research. "Our faculty are engaged in discovering and creating new knowledge that directly benefits our community and society at large. Our students are learning from and working with the best experts in their field. This teacher-scholar synergy is the hallmark of UCCS and I'm looking forward to seeing the new opportunities that will develop as our research mission continues to take hold."
The Carnegie Classification has been the leading framework for recognizing and describing institutional diversity in U.S. higher education since 1970. Derived from empirical data on colleges and universities, the Carnegie Classification was originally published in 1973, and subsequently updated in 1976, 1987, 1994, 2000, 2005, 2010, 2015 and 2018 to reflect changes among colleges and universities. This framework has been widely used in the study of higher education, both as a way to represent and control for institutional differences, and also in the design of research studies to ensure adequate representation of sampled institutions, students, or faculty.