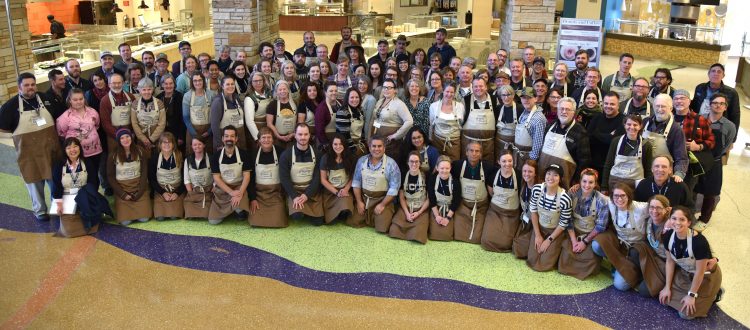 Grain School, a unique event that brings together scientists, farmers, bakers, millers, maltsters, brewers, chefs and consumers for teaching and learning, returns to UCCS for the fourth consecutive year in 2019. The three-day event runs Jan. 18-20 across campus.
"We've expanded our curriculum and hands-on workshops and will explore heritage grains in diverse production systems and creative on-farm vertical integration," said Nanna Meyer, associate professor of health sciences. Representatives from the Land Institute, the Bread Lab, the USDA National Resource Conservation Service and Oregon State University will put grains in the context of time and at the confluence of water, soil and plants and address how these grains promote health and create community. Students and community members will choose from a range of hands-on experiences along the grain chain, including farming, sourdough baking, cooking, pasta and tortilla making, along with plant selection and breeding, milling and home-scale growing.
"We also focus in on indigenous grains, grain literacy in schools, economics and infrastructure needs, and the roles of women and beginning farmers in grain production," Meyer said. The 2019 UCCS Grain School will also mark the launch of a regional grain chain membership organization with the Rocky Mountain Farmers Union. The launch is part of the initial charge for Grain School in 2016 that helped align heritage grain producers in the Rocky Mountain region.
On Saturday, Jan. 19, a free public forum that pairs learning with tasting will take place from 5:30-10 p.m. in Berger Hall. Bakers and students will showcase their loaves during Happy Hour before the keynote by Smitha Haneef, assistant vice president of University Services at Princeton University, who will address the role of institutions in feeding the next generations of students. Andrea Herrera, associate vice chancellor for equity, diversity and inclusion, will moderate a panel with women in the grain movement. Finally, Fred Iutzi, president of The Land Institute, will conclude the forum with the institute's research in perennial grains and their diverse applications in farming with focus on climate change challenges.
Registration is $500 for the non-credit option, which includes meals, a Grain School apron and all sessions. Students can earn three credits in Health Sciences 4890 or 6170 through registration in their student portal. For additional information on Grain School, including complete program and course syllabus information, visit the Grain School website or listen to the podcast from Studio 809.