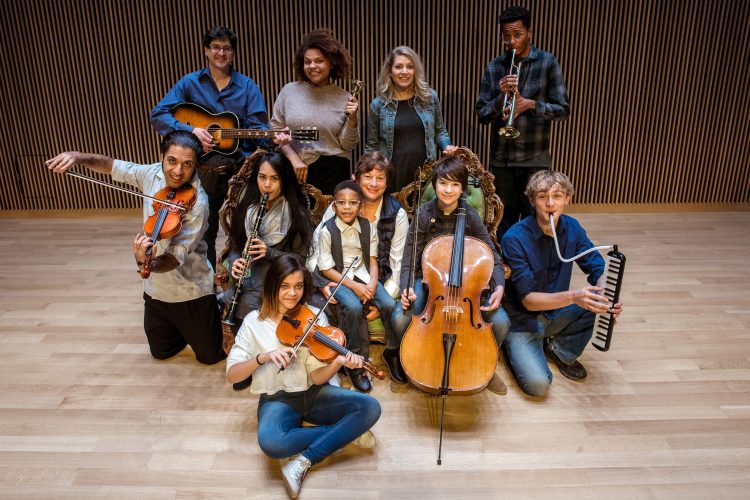 New artistic director Caitlin Lowans makes her Theatreworks directing debut with founder Murray Ross' 2016 adaptation of "A Christmas Carol." The play runs through Christmas Eve at the Dusty Loo Bon Vivant Theater, located in the Ent Center for the Arts.
"I'm growing to know our local community, and am excited to deepen that relationship by creating art together," Lowans said.
Lowans has added music to the play, working with local composer Curtis Schweitzer to incorporate traditional English carols. Schweitzer has created arrangements to be sung and played by the cast, with instruments ranging from melodica to cello.
"Caitlin and I have discussed creating a musical 'thread' of carols that ties our story together," Schweitzer said. "We have very deliberately picked specific carol music to compliment the story and beautiful text of the play. Music gives us a chance to highlight the story of a man moving from isolation into the fullness of community in a unique way—especially since our wonderful performers will be creating most of the music you'll hear."
Lisa Wolpe, a director, teacher, playwright, writer, producer and Shakespearean actor known for playing traditionally male roles, makes her Theatreworks debut as Scrooge. Wolpe founded the Los Angeles Women's Shakespeare Company, known for its all-female, multi-cultural aesthetic, and served as its producing artistic director from 1993-2017. Wolpe's acting credits include Utah Shakespeare Festival, Orlando Shakespeare Festival, Berkeley Repertory Theatre and more.
"Scrooge offers such a lovely arc—from a tight-fisted, stubborn, cold-hearted old curmudgeon, to a wonderfully open, generous, loving person, ready to enjoy all that life has to offer," Wolpe said. "I am blessed to have been given this fabulous opportunity to play such a rich and complex character for Caitlin Lowans' first production for Theaterworks—and the bonus, of course is working with this truly magical, delightful cast."
Numerous local actors round out the cast, including Rebecca Myers (Mrs. Cratchit), Hossein Forouzandeh (Bob Cratchit), Kim Almacen (Christmas Past) and Damon Guerrasio (Fred). Myers recently appeared in Theatreworks' "Oklahoma!" during the 2017-18 season and has performed in numerous Colorado Springs Fine Arts Center and Thin Air Theatre Company productions. Forouzandeh, who graduated from UCCS with a degree in visual and performing arts, has performed in numerous Theatreworks productions including "Oklahoma!," "Macbeth," "All's Well That Ends Well," "The Merchant of Venice" and others.
The ghosts of Christmas Past, Present and Future will be portrayed by life-size, actor-driven puppets, created by WYNOT Productions, a local, full-service puppetry studio led by actor, director and props master Cory Moosman.
Tickets are now on sale at theatreworksCS.org or through the box office at (719) 255-3232. "A Christmas Carol" runs Nov. 29–Dec. 24 at the Dusty Loo Bon Vivant Theater at UCCS.
Theatreworks is a professional, regional theater company dedicated to creating challenging and innovative productions of classic and contemporary theater for the enjoyment, education and stimulation of UCCS students, faculty, staff and Pikes Peak region community members. Theatreworks was founded in 1975 as an outreach program of UCCS.
ASSOCIATED EVENTS
On Dec. 2, before the Sunday matinee, Martha Graham Cracker/Dito van Reigersberg will feature in a discussion entitled "Cabaret and Holiday Performance" as part of the Prologue lecture series, co-presented by Theatreworks and the UCCS Theatre Company. A talented cabaret and drag star as well as an engaging and dynamic speaker, van Reigersberg will put this unique style of performance in perspective and relate it to a larger conversation about the styles of performance that we associate with the holidays.
Theatreworks will host post-show conversations after the Saturday and Sunday matinée performances. Saturday conversations will be led by members of the community and Sunday conversations will be led by members of the cast.
There will also be pre-show Coffee & Cocoa Chats with scholars in the lobby before Thursday performances.
–by Michelle Winchell, UCCS Presents