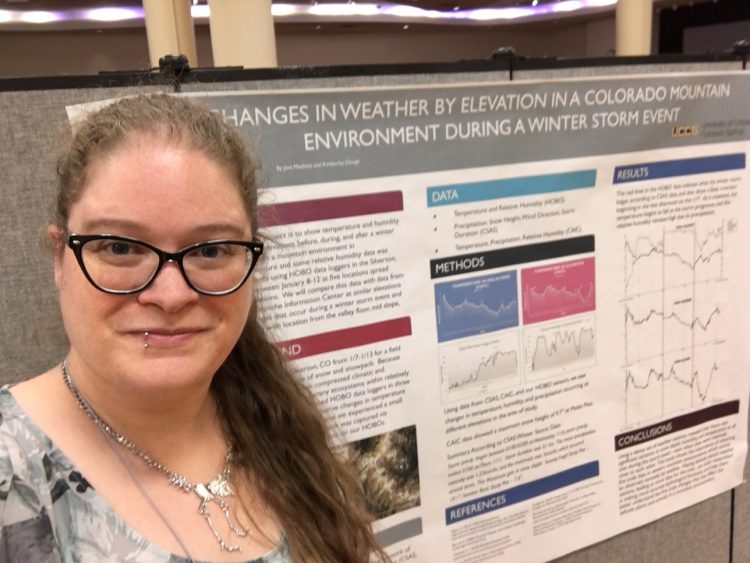 Jana MacInnis, a senior geography and environmental studies student, earned second place in the undergraduate poster competition at the American Association of Geographers' Great Plains/Rocky Mountain Regional Division Fall Meeting Oct. 6 at Kansas State University.
MacInnis presented "Changes in weather by elevation in a Colorado mountain environment during a winter storm event" from the annual department field studies course each winter in Silverton, Colorado, coordinated by Brandon Vogt, associate professor. She collected snow depth, temperature and humidity changes at different elevations before, during and after a winter storm on Jan. 11, 2018.
"I had so much fun, the Silverton class was a great way to learn about field techniques and how to use the data we collected," MacInnis said. "Dr. Vogt's enthusiasm for geography is infectious, his encouragement and assistance was instrumental in this project."
MacInnis concluded that even with a dense set of weather stations, there were significant variations in snow depth, humidity and temperature that could not be collected by satellite. The additional data points create more accurate water budget and mountain-scale weather forecasting in alpine environments.
"Jana is one of the best, most proactive and most curious students I've instructed," Vogt said. "Jana goes beyond what is required to get an A, and this has and will continue to pay off big time. There is no doubt that Jana will one day earn her Ph.D. and will specialize in cryosphere research."
Emily Skop, professor and chair of the Geography and Environmental Studies Department, said "Vogt and Skop have co-published on the Silverton Field Experience, and find that place-based, experiential learning makes geography come to life, situating everything into a context that helps students grasp how geography shapes the world around us,."