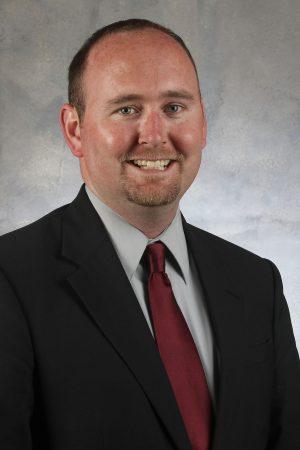 Jared Verner will lead the efforts to share the success of the faculty, staff and students at UCCS as the new director of communications. Martin Wood, senior vice chancellor of University Advancement, made the announcement, which took effect Nov. 1.
"Jared has quickly proven his value to university and done a terrific job since joining the advancement team a year ago," Wood said. "I am pleased that he accepted this role as we continue to move UCCS forward in our communications and media relations efforts."
Verner will oversee the communications and media relations efforts to promote and enhance the reputation of UCCS at the local, regional and national level. He will coordinate internal communication efforts, ensure consistency between internal and external messaging, serve as spokesperson and coordinate crisis communication. He joined the office staff in November 2017 and took on expanded responsibilities in February 2018.
"We have a lot to celebrate at UCCS, and I'm excited to continue sharing the good news with our local community and to new audiences outside southern Colorado," Verner said. "I'm thankful to Martin Wood and Chancellor Venkat Reddy for their support as we build our staff and move the university forward."
Verner is a member of the Pikes Peak Chapter of the Public Relations Society of America and the organization's Crisis Communicators Network. He was previously associate and assistant director of athletics at UCCS from 2012 to 2017, where he oversaw the communications efforts for the 16 NCAA Division II teams. He received the Rocky Mountain Athletic Conference J.W. Campbell / Con Marshall Sports Information Director of the Year Award in 2016.
Verner earned his associate's degree in science and mathematics, and bachelor's degree in journalism, from Northwest Missouri State University in Maryville, Missouri.