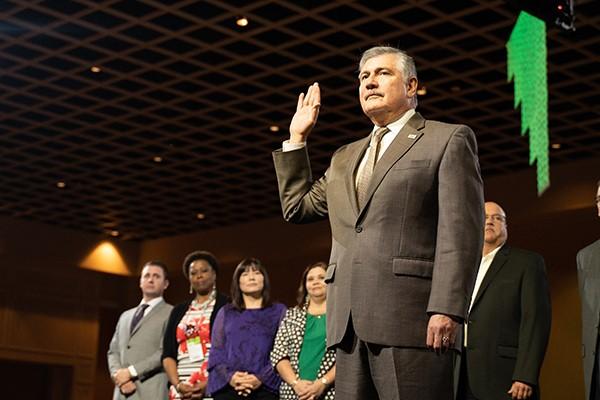 Carlos García, associate vice chancellor, Student Success and Auxiliaries Services, will serve as president of the board of directors for the National Association of College Auxiliary Services for the next year. He was sworn in during the annual business meeting Oct. 16 in Orlando, Florida. García will be only the second Hispanic to have served as president of NACAS in its 50 year history.
"You can always learn from (NACAS) as well as give something back," García said in his address to the members. "You should always give back more than you receive. Thus, I am here to fill this leadership role for our association and could not be more grateful for this opportunity. I promise you I will do it to the best of my abilities."
García outlined his goals for NACAS in the next year, including membership stability, philanthropy among its members, connection between the regional and national levels, establishing a relationship with schools in Mexico and alignment of the organization's mission with the budget. He previously served as treasurer, vice president and president-elect for the NACAS board of directors and previously served on the NACAS Foundation board.
García is responsible for executive leadership for the auxiliary and student service operations, and financial oversight of intercollegiate athletics, at UCCS. He previously spent nearly 18 years as executive director of the University Memorial Center at CU Boulder. García also worked in multiple roles at the University of Texas at El Paso and at the University of North Texas.
NACAS, headquartered in Charlottesville, Virginia, is a nonprofit higher education association serving auxiliary services and student support services professionals at colleges and universities in the United States, Canada, the United Kingdom, Australia, Ireland and Asia. NACAS provides extensive opportunities for members to share ideas, develop business solutions, enhance programs and revenues, and develop meaningful professional relationships.