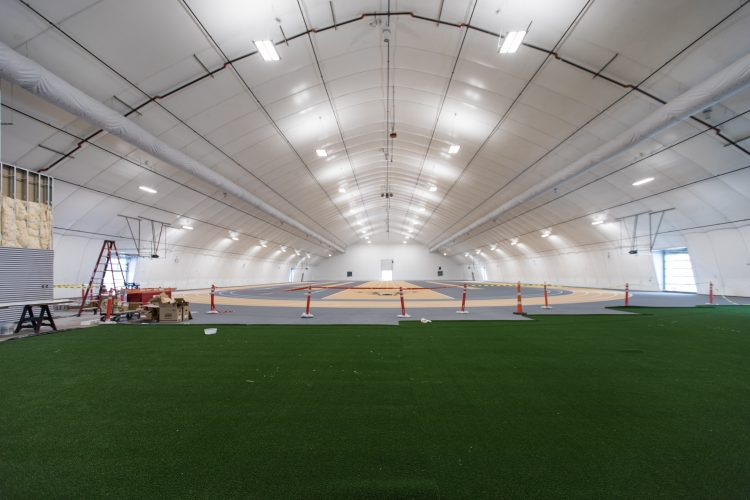 A Sept. 5 ribbon-cutting ceremony will celebrate the completion of the first on-campus practice and competition facility for the UCCS track and field program. The campus community is invited to join university leadership, coaches and student-athletes for festivities starting at 2:30 p.m., with the formal program at 3 p.m.
The fieldhouse will be the first dedicated facilities for the track and field teams since the programs were established in 1998. The CU Board of Regents approved the construction project in September 2016 while also committing to the expansion of the teams. Construction started in July 2017. The facility will be a six-lane, 200-meter flat oval with eight, 60-meter lanes for sprints.
The women's team won its first Rocky Mountain Athletic Conference indoor championship in February 2018 and Skylyn Webb won the national 800-meter outdoor championship in May 2018. The men's and women's teams have combined for 45 All-America honors at the national championships since 2000.
UCCS will host its first competition in the facility Dec. 8 in the UCCS Invitational. The Quad, a four-way team meet with Western State Colorado University, Adams State University and West Texas A&M University, will be held at the fieldhouse Jan. 19, 2019, and the Mountain Lion Invitational will take place Feb. 9.
The other UCCS athletic programs will use the fieldhouse for conditioning and workouts during poor weather conditions.
The facility, located at 760 North Campus Heights Drive, was constructed along with Mountain Lion Park. Both facilities were designed by DLR Group at a combined cost of $13.3 million. Bryan Construction served as the general contractor for the total project.