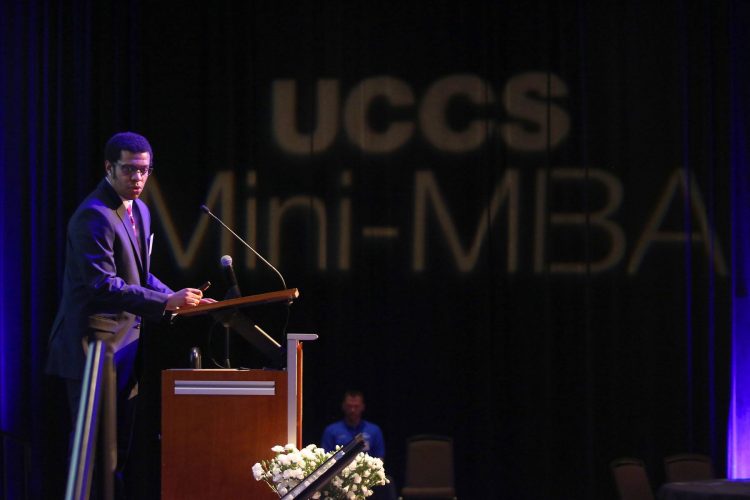 Busy professionals with a desire to further their business skills found success through the UCCS College of Business' Mini-MBA program.
After its inaugural 2017-18 year, the first UCCS Mini-MBA graduates collectively accomplished $2.9 million in achieved and projected impact within a year, more than doubling the requirements of the capstone project.
The UCCS Mini-MBA, a non-degree executive education program offered through the College of Business' Office of Professional and Executive Development, was created in response to the business community's demand for high-level business acumen programs. Students attended classes once a week for 13 weeks, and then had 75 days to complete the capstone project. Each participant was required to develop a project with a financial impact of at least $75,000 through new revenue streams, cost savings, or a mix of both.
"We are very proud of the UCCS Mini-MBA program achievements," said Shawna Lippert, director, OPED. "The real excitement for us is to witness both transformation in our participants and long-term, measurable impact in our community. These professionals learned big-picture business theory and then applied it in big ways. We are looking forward to the second cohort this fall."
The college is launching its second program cohort September 11, 2018. Classes will run from 5:30 p.m. to 8:30 p.m. every Tuesday for 13 weeks in Colorado Springs. All CU alumni, and those who have previously enrolled in OPED courses, are eligible for a discount. Additionally, all successful graduates of the UCCS Mini-MBA who choose to pursue a master's degree in business will not be required to take the Graduate Management Admission Test.
"The UCCS Mini-MBA program is the result of our strong collaboration with the Colorado Springs community and we look forward to developing new collaborations with business, industry, and government," said Stephen Ferris, dean, College of Business. "I wish the very best to our second class of students in this innovative program of professional education."
For more information, visit www.uccs.edu/business/OPED or call Lippert, (719) 255-5215.
The UCCS College of Business was established in 1965 and has more than 1,100 undergraduates and 350 MBA and online MBA students. The College of Business and Administration awards the bachelor of science in business and bachelor of innovation degrees. The Graduate School of Business Administration awards the master of business administration degree and the master of science in accounting. The Office of Professional & Executive Development is housed in the UCCS College of Business and offers executive education and professional development programs, facilitated by the College's business faculty. OPED offers customized corporate training for organizations and public programs for individuals. For more information, visit www.uccs.edu/business.
–by Sami Meyer, College of Business