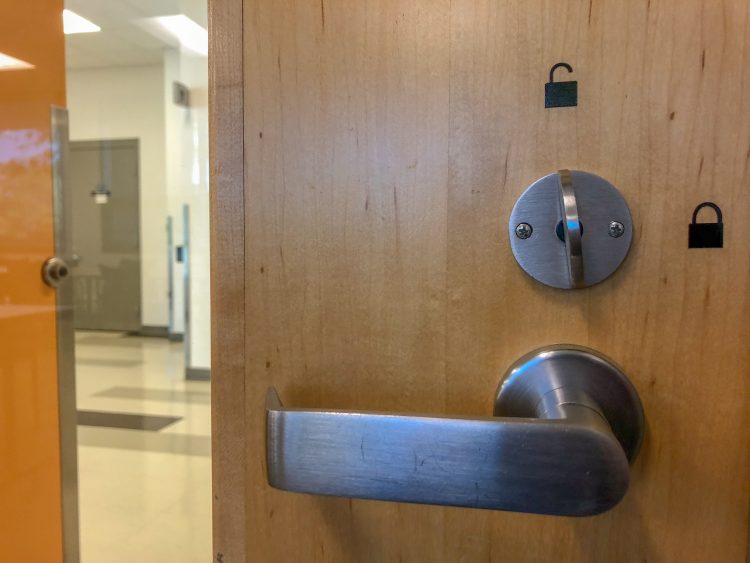 Media Coverage
Students and faculty will have an additional layer of protection this fall as a project to add or replace locks on all of the classroom doors nears completion.
Facilities Services and Public Safety started moving through each classroom building in December 2017 to replace door locks and address security vulnerabilities in an active shooter situation. The project has replaced the locks in five buildings with one building in progress and the materials for the final building in delivery. All work is scheduled to be complete by the start of fall classes August 20 and will cost approximately one-third less than the original budget of $65,000.
The new locks allow students, faculty, staff and guests to lock the door without a key and to lock down in a room based on what they experience or at the direction of law enforcement. The 2015 report from the Sandy Hook Advisory Commission concluded that "there has never been an event in which an active shooter breached a locked classroom door."
"Locks are not the ultimate solution to an active shooter, but it provides another line of defense for people to protect themselves," said Marc Pino, chief, UCCS Police. "For someone looking to cause as much harm as quickly as possible, the simple act of a locked door can act as a deterrence to enter the room and inflict harm."
The door locks are part of a larger effort for UCCS to address the threat of active shooters. UCCS Police are working with department chairs to schedule active shooter response trainings, and officers share safety information in new student and employee orientation sessions.  Officers participated in drills during spring break in University Hall and evaluated how they would respond with other buildings. Individuals, departments, classes and groups interested in learning more or to host a training can contact Chief Pino at ppino@uccs.edu.
The UCCS Police Department employs 17 sworn, state-certified and commissioned peace officers in addition to five campus service and housing security officers. Officers are also cross-commissioned with the Colorado Springs Police Department. The department enforces municipal and state laws on campus and in the surrounding neighbors through an intergovernmental agreement with the City of Colorado Springs.
UCCS Police encourages students, faculty, and staff to register and maintain contact information with UCCSAlerts for phone and email notifications. All uccs.edu email addresses are automatically registered, and additional email addresses and phone numbers for parents and spouses can be used for emergency notification. Individuals can also register for community alerts through the El Paso-Teller County 911 Authority. Social media will also be used on Twitter (@UCCS_Prepared, @UCCSPolice, @UCCS) and on Facebook (UCCS Emergency Management, UCCS Police, UCCS).