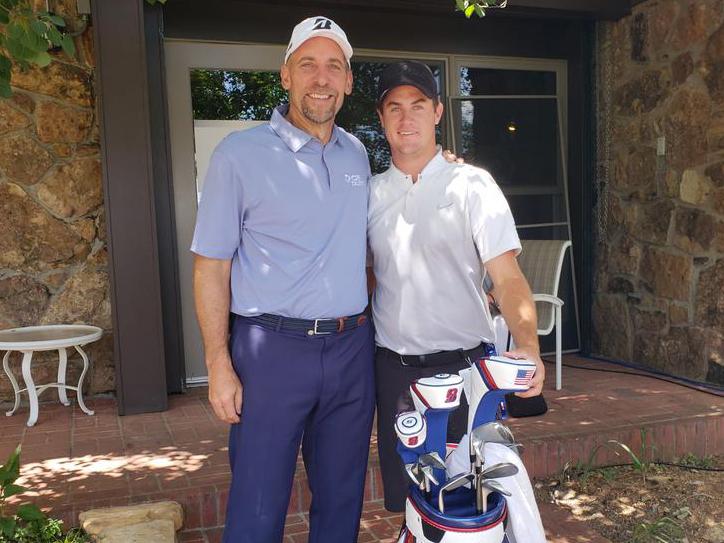 When Colorado Springs hosted 156 of the world's top seniors golfers and 134,000 fans June 28 through July 1, UCCS staff, students and alumni were among the hundreds of volunteers, interns, staff and caddies who helped stage one of the sport's largest annual events.
Four UCCS men's golf student-athletes spent their time on the course as caddies for the golfers. Tanner Comes of Spokane, Washington; Jack Duguid of Camberley, Surrey, England; Peter John of Kingston-on-Murray, South Australia, Australia; and Colin Prater of Colorado Springs, Colorado; each worked with golfers during their practice and competition rounds. Comes worked with a golfer who made the cut while Prater earned local media attention for being the caddie for Baseball Hall of Fame pitcher John Smoltz.
Three students in the UCCS PGA Golf Management program are working at The Broadmoor this summer and staffed the U.S. Senior Open for the resort. Dennis Scholl of Altendorf, Germany; Taylor Ruehl of Cullman, Alabama; and Bradi Ruehl of Cullman, Alabama; each assisted in the practice and merchandise areas. Forre Zook (Health Care Science '17), a former member of the UCCS women's golf team, also works in the Broadmoor's pro shop and worked with the fans during the tournament.
Sarah Meier, associate director, Athletics, assisted with the communications effort during the first and second rounds. When media requested golfers for comment or photos, she would shuttle the golfers back to the media center. She interacted with two of the top four finishers in Miguel Angel Jimenez and Jerry Kelly, and other notable golfers like Davis Love III, Fred Couples, Smoltz and Hale Irwin.
Three PGA Golf Management alumni were also involved in the Senior Open through connections with local organizations and businesses. Maggie Hartman (Business '17), director of golf and education, First Tee of Pikes Peak; Leighton Smith (Business '07), owner, Leighton Smith Golf; and Keith Stilwell (Business '10), general manager, Cheyenne Shadows Golf Course; were each involved in support roles during the tournament.
Charlie Botnick (Communication '18) worked with Fox Sports for the television broadcast. He worked inside the broadcast booth with talent, producers and crew during the five-hour broadcast on each round. He also assisted in setup and teardown of the production before and after the tournament. Riley Anthony of Roanoke, Texas, worked with Prom-Levy, the catering company for several of the U.S. Golf Association events throughout the country.
David Toms won the 39th U.S. Senior Open with a score of three-under par. The Senior Open will return to The Broadmoor in 2025 in the ninth U.S. Golf Association championship hosted by the resort since 1959.