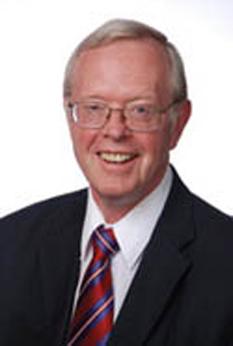 Memorial services for Mark McConkie, 69, professor emeritus in the School of Public Affairs, will be at 11 a.m., June 25, at The Church of Jesus Christ of Latter-day Saints, 150 Pine Ave. Colorado Springs, Colorado, 80906. He died June 20, 2018, after a brief illness.
McConkie published more than 100 scholarly publications and presentations in both nationally and internationally scholarly forums, and consulted for more than 40 Fortune 500 companies. He was a three-time recipient of the Leadership Award from the International Conference on Advances in Management, where he served on the board of directors for more than a decade. McConkie was the 2010 co-recipient of The Douglas McGregor Award for the best article in The Journal of Applied Behavioral Science.
McConkie retired from UCCS in 2016. The School of Public Affairs named its annual leadership conference in honor of him for mid-to-senior level managers at government and non-profit organizations to share best practices. He continued to conduct research in organizational behavior and develop, management development, ethics and leadership, management history and international management.
His family published the following obituary in The Gazette and The Desert News:
MARK LEWIS MCCONKIE
June 29, 1948 – June 20, 2018

Mark Lewis McConkie, son of Bruce R. and Amelia McConkie, passed away on June 20, 2018. He died with his wife (Mary Ann Taylor) and his nine children at his side.

Mark was born on June 29, 1948 in Salt Lake City. He knew that growing up in his parents' home–where love and the teachings of Christ were the motive force–was one of his greatest blessings. He stood on the shoulders of giants.

He graduated from West High before serving a mission for the Church of Jesus Christ of Latter-day Saints in Argentina. When he returned he attended Brigham Young University. There he earned the hand of Mary Ann Taylor and two degrees. He received his doctorate from the University of Georgia, and then spent the next 41 years teaching at the University of Colorado at Colorado Springs. In that capacity he produced over a hundred scholarly publications and presentations in both national and international scholarly forums.

His was an inquisitive and capable mind, and he loved filling it with poetry, music, history, and literature. The bulk of his attention went to the restored gospel of Jesus Christ, which he taught by precept and example. He authored four books, preached thousands of sermons, and ministered to any within the reach of his long arms.

His greatest work was his family; his greatest support his devoted wife. Together they are the parents of nine children: Mark (Charlotte), Taylor (Wendy), Matthew (Shelley), David (Ramona), Ann Marie Giles (Matthew), Rebecca Smylie (Levi), Sara Lohmeier (Matt), Michael (Lauren) and Daniel (Sarah). They are expecting their 45th and 46th grandchildren this summer.

He will be remembered for his certitude, his integrity, his quick wit and cheerful disposition. He knew how to be happy, and his legacy-encapsulated by a kiss on the forehead and the admonition to "carry on"-continues to inspire those who now stand on his noble shoulders.

Memorial services will be on Monday, June 25, at 11 a.m., at the Church of Jesus Christ of Latter-day Saints, 150 Pine Avenue, Colorado Springs. Visitations will be held on Sunday, June 24, from 7:00 to 9:00 p.m. and Monday June 25, from 9:30 to 10:30 a.m. at the same location. He will be interred in the Salt Lake Cemetery next to his family.