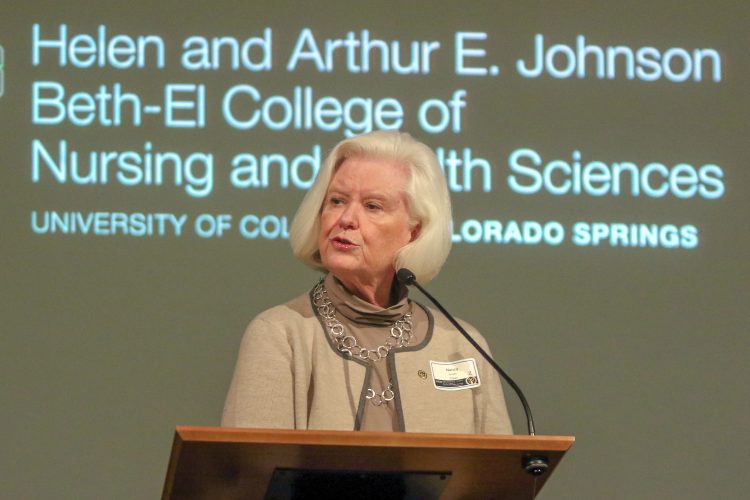 After nearly 50 years of practice, academia, and teaching nursing and other health care professionals, Nancy Smith, dean, Helen and Arthur E. Johnson Beth-El College of Nursing and Health Sciences, will retire June 30. She has been at UCCS for the last 11 years — 10 years as dean after one year as associate dean and professor.
Smith oversaw a 65 percent growth in undergraduate enrollment and 67 percent in graduate students during her 10 years as dean. Graduate nursing programs and online nursing programs also achieved national ranking by U.S. News & World Report during this period.
"I am honored and filled with gratitude that I have had this opportunity to serve," Smith said. "We have had significant growth in programs, faculty, and students over this period. The people here are truly what makes our college exceptional."
There have also been significant gifts and grants to the college. Highlights include an $8 million gift from the Helen K. and Arthur E. Johnson Foundation providing the honor of the college becoming the first academic college at UCCS to be named in recognition of a donor. Helen C. Clement provided a $3.4 million gift for student scholarships. A $2.2 million grant from the Colorado Health Foundation led to the Southern Colorado Rural Nursing Education and Practice Collaborative and partnerships with all community college nursing programs statewide. Nearly $700,000 in funding from the Colorado Springs Health Foundation and the Colorado Health Foundation developed and implemented the graduate Psychiatric/Mental Health Nurse Practitioner Program. Growth in the Schoffstall Endowment led to the first Schoffstall Chair and Associate Dean for Research appointments.
Grant and gift funding also supported construction of new educational facilities for the college. The $1.3 million Clinical Simulation Learning Center was funded by the Colorado Health Foundation. Cisco TelePresence, connecting the college with all of the community colleges for educational programs, was provided by the Caring for Colorado Foundation. Along with the campus, grants and gifts supported the construction of the Lane Center for Academic Health Sciences in 2014. There are five clinics in Lane: UCCS HealthCircle Primary Care Clinic, Center for Active Living, Peak Nutrition Clinic, Nurse Family Partnership and the City Employee Health Clinic. Each of these clinics provides an interprofessional clinical education experience for the college students as well as opportunities for practice improvement education, program evaluation and clinical research. The Primary Care Clinic was the first clinic in the state for advanced practices nurses to contract directly with major health insurers for provider status and reimbursement without physician supervision. The Nurse Family Partnership, a national program, was awarded as the first program in the country run by a college of nursing. The City Employee Health Clinic is operated as a contract with the City of Colorado Springs. Also built in Lane during this period is a teaching nutrition kitchen, providing education support to the undergraduate nutrition program and community outreach for programs such as the Ornish Program operated jointly with Centura Health Systems.
The college will see further expansion with the William J. Hybl Sports Medicine and Human Performance Center scheduled to open in spring 2020 in the Health and Wellness Village on North Nevada Ave. Other new health professions programs that will be housed in the Hybl Center are under development and include a doctor of physical therapy and a master's in coaching. The exercise science program opened in 2015 jointly operated with the College of Letters, Arts and Sciences.
Smith held previous academic and practice appointments at: California State University Long Beach, University of Colorado Health Sciences Center School of Nursing (now Anschutz Medical Campus) and University of Hawai'i at Manoa. There were also multiple faculty practice appointments as a nurse practitioner and a period as the executive officer for the Colorado Board of Nursing.
"Nancy has dedicated her life to teaching multiple generations of nurses and health care professionals, and UCCS students have benefited from her experience and leadership for the last decade," said Provost Tom Christensen. "We wish her the best of success as she begins the next chapter of her life."
A national search will take place for the next dean.