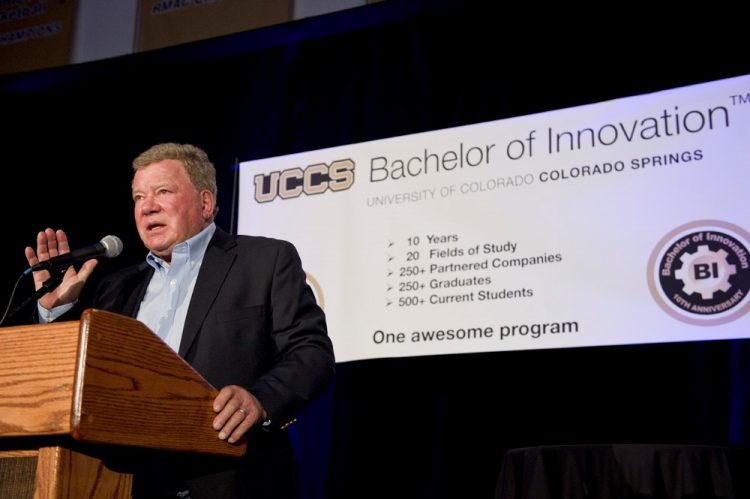 William Shatner, a science fiction icon from the original "Star Trek" series with more than 250 film and television appearances, encouraged students to take the lead and explore the future during the 10th Anniversary Celebration Gala for the UCCS Bachelor of Innovation program.
"The future of our planet looks dark with rising seas and an atmosphere that is heating up rapidly," Shatner said as he opened his keynote address titled "Hope and Innovation." "But if you students take your diplomas, scroll it up tight, look through it as if it's a telescope, and fixate on points of light, you might see something different. You might see hope. The promise of the future is enormous. The only problem is to get there as quickly as possible. And that's up to some of you holding your diploma to your eye."
Shatner spoke for 40 minutes to a crowd of 400 students, alumni, faculty, staff, sponsors and community members in the Gallogly Events Center April 19. Chancellor Venkat Reddy, who grew up watching the original Star Trek series, shared his memories as he introduced Shatner.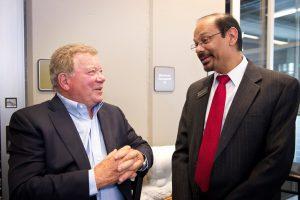 "It was about a courageous group of explorers on a ship named Enterprise. His crew were explorers and dreamers," Reddy said. "The BI program started as a dream for Dr. (Terry) Boult, and with the help of many faculty and staff, they worked hard to make the BI program so successful. They worked tirelessly to help our students create new ideas and empower them to be the innovators and entrepreneurs of tomorrow. There is no dream too large for our students in the Bachelor of Innovation program." Reddy was serving as the Dean of the college of business when the program was conceptualized.
Shatner spoke about how innovation will solve global energy needs, food shortages, transportation, manufacturing and population growth. He talked about the creation of his Ubuntu Discover Project to tap into the goodwill among social media users in contrast to much of the division that exists on the various platforms. Shatner closed his comments with a message to the BI students.
"There lies, just beyond our fingertips, the mystery of life. A universe of contemplation. We have no idea of anything, merely glimmers of possibility. It's up to you students to explore those worlds.  It's up to you to find some tantalizing curiosity. And follow it. Explore it. Enjoy it. It might take you to worlds you never dreamed of."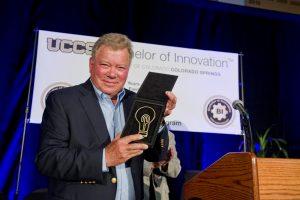 With the assistance of Hilary Billings, the master of the ceremonies for the event, Shatner presented Boult, El Pomar Endowed Chair of Innovation and Security, College of Engineering and Applied Science, and Nina Polok, executive director, Bachelor of Innovation, with gifts for their contributions to the program. Boult also presented Shatner with a token of appreciation, the first BI Bold Award, constructed by New York City artist Rodger Stevens. The sculpture resembled a light bulb, symbolizing the innovation of Thomas Edison and how it changed the world more than 100 years ago.
The Bachelor of Innovation program was launched in fall 2007 as a joint program between the College of Business and the College of Engineering and Applied Science. The program uses a unique cross-discipline team approach to transform ideas into impact. The BI today consists of 500 current students enrolled in 12 degree programs consisting of collaboration from the College of Business, College of Education, College of Engineering and Applied Science, and College of Letters, Arts and Sciences.