The Dean of Students Office has partnered with Mothers Against Drunk Driving in raising $5,000 to help victims of impaired driving in El Paso County as part of a #SmartMoveUCCS social media campaign.
For every share, $1 will be donated to MADD Victim Services by Persistent Drunk Driver Committee funds. Victim services help provide free support to cope with grief, navigate the judicial system, assist victims in court and more.
"This is a timely reminder about drunk driving as summer approaches," Amanda Allee, assistant dean of students, Dean of Students Office said. "There's typically more drinking and driving during summer and it helps to remind people to make a plan."
In 2017, El Paso County had more DUI-related deaths than any other county in Colorado. Twenty-nine people died as a result of impaired drivers, according to Ray Fisco, prevention and outreach manager, Dean of Students Office.
#SmartMoveUCCS is a three-year social norming campaign, created to close the perceptual gaps about impaired driving that exist on college campuses. The program was created by the Persistent Drunk Driver Committee of Colorado, a statewide committee, and implemented by the Dean of Students Office.
#SmartMoveUCCS co-sponsors events on campus at least once a week, hosts branded events two times a month and "Trunk Treats" with the stats mobile two times a semester to help spread the message.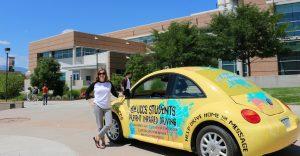 More than 200 students stopped by the stats mobile for "Trunk Treats" to kick off the social media campaign April 9.
"We've received positive feedback from students on the campaign," Fisco said. "It's encouraging to hear they love the campaign and know what the stats mobile is."
The three-week social media campaign ends April 27. #SmartMoveUCCS will also make appearances at campus events throughout the month – including an impaired driving simulator April 18 in partnership with Drive Smart Colorado.
The three-year grant with Persistent Drunk Driver Committee ends this year, but the committee will continue to support the program on campus in other ways. The Dean of Students Office plans to sustain the program and incorporate other aspects of #SmartMoveUCCS – like being a good bystander, taking care of yourself, and more.
"We hope to make a positive impact with this social media campaign, and we're excited to see how the program evolves in the future" said Allee.