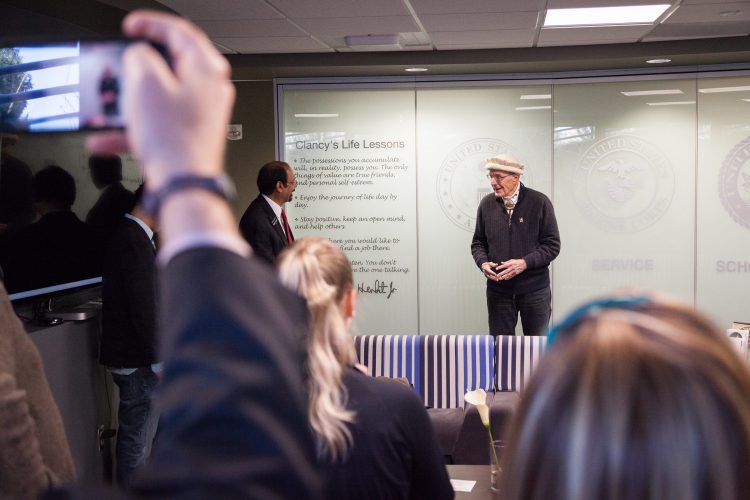 Clancy Herbst thought he was visiting campus for a meeting with the staff at the Herbst-McCord Student Veterans Center April 3. But his wife, Linda, had been working with the staff for an early 90th birthday celebration.
A group of 30 individuals were waiting on the other side of the entrance when he rounded the corner to a chorus of "Happy Birthday." Two panels of glass were covered, hiding the present that had been installed the previous week.
"You live your life with very strong core values, and the things you believe in," Chancellor Venkat Reddy said during brief remarks. "We want to share that wisdom with everyone who visits this center."
Clancy's Life Lessons:

The possessions you accumulate will, in reality, possess you. The only things of value are true friends, and personal self-esteem.
Enjoy the journey of life day by day.
Stay positive, keep an open mind, and help others.
Decide where you would like to live and then find a job there.
Listen, listen, listen. You don't learn when you are the one talking.
Seek the big picture. Don't be overwhelmed by the world's noise.
Take lots of pictures, save them, particularly of people. You will cherish them later in life.
Work and lead by consensus since all of your associates' views have value.
Mistakes happen, learn from them.
Travel, particularly overseas, if you can. And listen.
And that was the cue for two people to uncover the present, a set of 10 quotes called "Clancy's Life Lessons" that will be prominently displayed in the center.
The short phrases like "mistakes happen, learn from them" and "stay positive, keep an open mind, and help others," were notes he had written to his family throughout the years. Herbst went through each of the lessons individually, providing stories and background about how he developed each one.
"I actually brought my lessons with me today, a paper I did for my great-grandchildren," Herbst told the group. "You all should do that in your lifetime with your children and grandchildren. Teach them what you have learned that's important."
Herbst and his wife, Linda, committed $400,000 to the veterans center that opened in 2016 for a dedicated space for student veterans and active duty military members to study, socialize and receive personal services for academic counseling, financial counseling and referral services. He was a former member of the CU Foundation Board of Trustees and was chairman of the CU Frontier 2000 campaign and the honorary chairman for the Beyond Boundaries campaign.