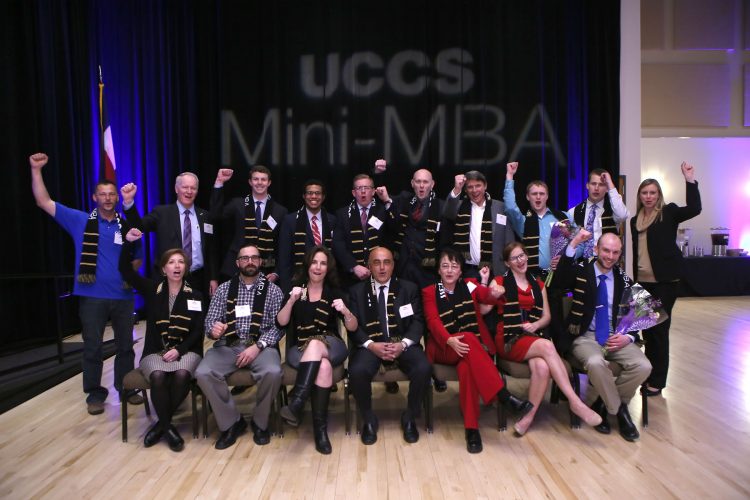 The inaugural graduates of the UCCS Mini-MBA program celebrated the completion of their program with individual capstone project presentations that represented $2,898,400 in achieved and planned financial impact in Colorado Springs.
Fifteen program graduates provided briefings of their individual capstone projects, $75k in 75 Days, demonstrating a direct financial impact to their referring organizations in a 75-day time frame. Sponsoring organizations attended the final event, along with key stakeholders from the university. Participants were recognized for successfully completing the program and project, and were given a certificate of completion by the UCCS College of Business and the program $75K Gold Award.
"We are very proud of the UCCS Mini-MBA program achievements," said Shawna Lippert, director, Office of Professional and Executive Development. "The real excitement for us is to witness both transformation in our participants and long-term, measurable financial impact in our community. These professionals learned big-picture business theory and then applied it in big ways. They made ongoing impact of $2.8 million in 75 days."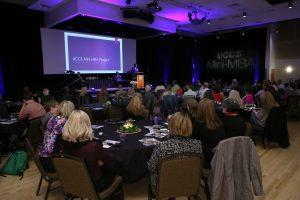 The UCCS Mini-MBA, a non-degree executive education program offered through the UCCS College of Business' Office of Professional and Executive Development, was created in response to the business community's demand for high-level business acumen programs. Students attended classes once a week for 13 weeks on the UCCS campus, with an additional 75 days to complete the capstone project. Each participant was required to develop a project with a financial impact of at least $75,000 through new revenue streams, cost savings, or a mix of both.
Utilizing the business acumen and tools gained from the program, the 2018 UCCS Mini-MBA graduates collectively accomplished more than double the requirements of the project at nearly $2.9 million of achieved and projected impact in the next year. All of the referring organizations are located in Colorado Springs.
"Introducing the UCCS Mini-MBA program is the continuation of our commitment to offer relevant, high-quality business programs that will more than meet the demands from the professional community," said Eric Olson, interim dean, College of Business. "This program truly exemplifies our passion for preparing motivated and driven working professionals for successful business careers in the Pikes Peak region and beyond."
Registration is currently open for the second cohort of the UCCS Mini-MBA program, beginning Sept. 11, 2018 on the UCCS Campus. CU and OPED alumni are eligible for an exclusive lower rate to attend the program. Additionally, successful program graduates who choose to pursue a UCCS MBA in the future will receive a GMAT/GRE entrance exam waiver.
For more information about the UCCS Mini-MBA program, visit www.uccs.edu/business/OPED or call Lippert, (719) 255-5215.
–By Sami Meyer, College of Business